PJH is 50! As the company celebrates this major milestone, CEO Richard George looks back at past trends and reveals the 'obsession' that drives the company's success.
Q. 50 years is a long time – in what ways has the KBB industry changed do you think?
A. There have been so many changes, from products to buying behaviour, and customer service to interior trends – too many to mention! In particular, pure product functionality has been replaced by stylish, innovative and multi-functional designs that reflect modern lifestyles. For example, clever storage solutions are now key – hence the growth in bathroom furniture – and multigenerational living has seen a change to innovations such as walk-in showers. Quality and great design are now more affordable than ever, and therefore accessible to a wider market, and superior customer service must envelop the whole package. One of the biggest changes is the shift to online, with technology allowing retailers and their customers to research styles, find inspiration and plan their purchases.
Q. How has PJH evolved as a business over that period?
A. As the business grew from being a 'local' company to its present large national coverage, it has focussed far more on constantly increasing the level of service it provides customers. This extends to continuous investment in our people, product development, distribution centres and logistics to make PJH the respected and reputable distributor it now is. An important part of our service evolution is around our own dedicated fleet of vehicles, which has expanded steadily over the decades and means our service now incorporates a Next Day Delivery service to some 91% of UK postcodes. Of course, this growth meant difficult decisions had to be made along the way and include altering the product categories offered in order to grow others, but our continued success supports these decisions. PJH has also widened its manufacturing base and now sources product on a global scale, from the UK to Europe and China, allowing us to have excellent product availability and competitive pricing.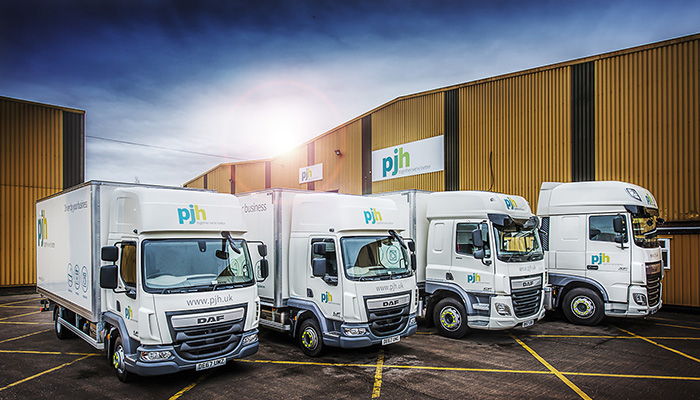 Q. What are the biggest challenges that the company has had to overcome in that time, and how did it go about doing that?
A. The biggest challenge was – and is always going to be – meeting ever-more demanding customer expectations, and this alone has become almost an obsession within all facets of the company's operations. As a result, the company has become much more customer-focussed, recognising that it is how you treat and deal with your customers that is the true differentiator. Initiatives such as our 'Voice of the Customer' programme allow us to regularly listen to customer feedback and then use this to continuously improve our service.
Q. What are the priorities for the immediate future and beyond?
A. We strive to be the 'customer's first choice' and on delivering growth. PJH's 'together we're better' culture, which underpins all our activities, highlights how we value our customers, suppliers, and staff as partners in what we do and that our success, and growth, is inextricably linked to theirs. This growth through a partnership-approach will continue to be our main priority, which means we will continuously invest not only in new products, but also in the service we provide our customers.
Q. How will you be celebrating the 50th Golden Anniversary
A. Recognising how important people and customers are to the business, PJH has plans in place to celebrate its 50th year with its 550-strong work force, including special celebratory lunches. We will of course be also including our network of customers in celebrations as we look to our next 50 years of success!