As Bushboard extends its Nuance bathroom panelling system, we catch up with product sales manager Paul Findley to hear what the new range offers designers, and find out how the brand is supporting retail partners as they look to capitalise on a growing strand of the market.
Q: Tell us about the new Bushboard Nuance range – what does it consist of?
A: Our new Nuance collection includes 11 new, easy-to-install options that enhance our existing ranges – Nuance, Nuance Designer and Nuance Acrylic – as well as Nuance Vanity Worksurfaces, which offers a wide choice of laminate surfaces that can be mixed and matched to coordinate perfectly with any decor.
Nuance is inspired by nature and combines the appearance of stone, marble, wood, travertine and quartz with textured finishes that have a realistic look and feel. Our new additions to this range include the stone inspired Lumiere and Light Portland panels, plus Cirrus Marble and Doux Lime Quartz, which are also replicated as vanity work surfaces.
The latest addition to our Nuance Acrylic range is called Aqua Kaleidoscope, which has an eye-catching, abstract pattern and means designers and installers can create a look that is hard to achieve using individual tiles alone.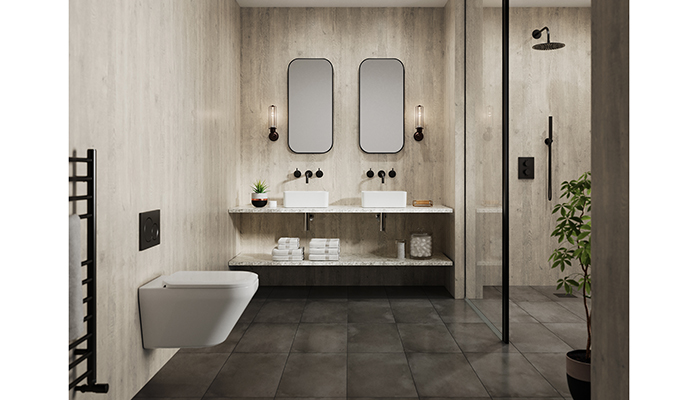 Q: Why have you launched it now?
A: Aside from the home improvement boom that prompted many manufacturers to accelerate new product development where possible, interior trends are often a big driver of innovation within our business. People generally spending more time at home has made it even more important that the bathroom is a real escape and place of calm, which lends itself to natural patterns, finishes and textures. This is exactly what designers, retailers, installers and homeowners can benefit from when they take a look at our latest additions to Nuance.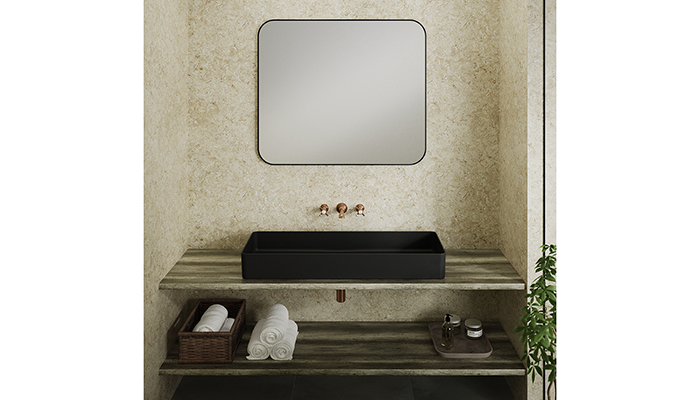 Q: What does the new range mean for bathroom designers and why should they get on board?
A: We believe that our Nuance range is now so comprehensive and so well engineered that when designers are approached by their clients, recommending Nuance is undoubtedly a win-win scenario that makes perfect sense, every step of the way.
While aesthetics may be the driving force behind the new additions, designers can count on features such as flexible panel sizes, a tongue and groove linking mechanism and its patented trim-free design to offer assurances that the desired look is straightforward to achieve in next to no time.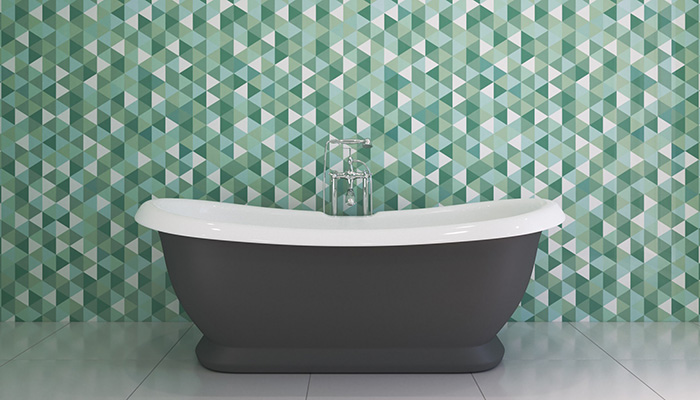 Q: What are the top current trends in bathroom surfaces, and what is coming next?
A: As well as the popularity of natural textures and patterns, we're also seeing a real shift towards products which are both easy to maintain and hygienic to use. This has prompted growing levels of interest in bathroom panelling, which is free of the unsightly grout lines associated with tiling, making cleaning so much easier.
More and more people are also opting for a larger shower enclosure instead of a bath, which again makes panels such as Nuance a popular choice given the importance of that seamless aesthetic and watertight finish.
Q: What support are you currently offering your retail partners in terms of displays and marketing material?
A: Our retail partners are a genuine extension of our brand, so we have a plethora of support mechanisms in place for them, led by our sales development team, in addition to the bank of resources available to download via our website.
As standard, we offer free point of sale stands, brochures and swatches to retailers looking to add Nuance to their existing product offer, while existing retailers were all provided with an upgrade kit following the launch of the Nuance range extension. Those who do sell our products can count on us for 48-hour delivery via our nationwide network of distributors.
Product knowledge is paramount, which is why we also offer bespoke training sessions for retailers wherever suits them best – at our headquarters or their showroom. When it comes to design, our products are available on Articad and Virtual Worlds for full flexibility.