Buckinghamshire-based Simon Taylor Furniture prides itself on its 'truly bespoke' offering. MD Simon Taylor tells Tim Wallace how the business is faring, what retailers should do about product delays, and why he feels other designers don't always match up to his exacting standards.
Q: Your furniture is made to the precise requirements of each client but some of your competitors sell options from pre-designed ranges. Are their claims that these are bespoke therefore misleading?
A: The word 'bespoke' is often used as a catch-all term in kitchen marketing these days and it can be confusing for potential purchasers who believe they are paying for something unique, when they aren't. How can companies that sell pre-sized carcases and doors on their websites claim to make bespoke kitchens? They do, though, and that frustrates me.
Q: How does your proposition differ?
A: Since 1985, my business has specialised in designing and making truly bespoke furniture in any style, colour or material, and in any size, within reason. Everything is made to their exact requirements in our cabinet workshop where we have CNC machinery, while our skilled craftspeople use traditional cabinetmaking methods to handmake and hand finish individual pieces.
We have never created named furniture ranges, because they have limited options – usually in terms of cabinet sizes and finishes. It can be a lot easier to sell from pre-defined ranges and many of my competitors do just that. I have no issue with companies that do that, because many are absolutely superb, beautiful and very high quality. But if you can go to the house next door and see the same kitchen, then it isn't a bespoke kitchen.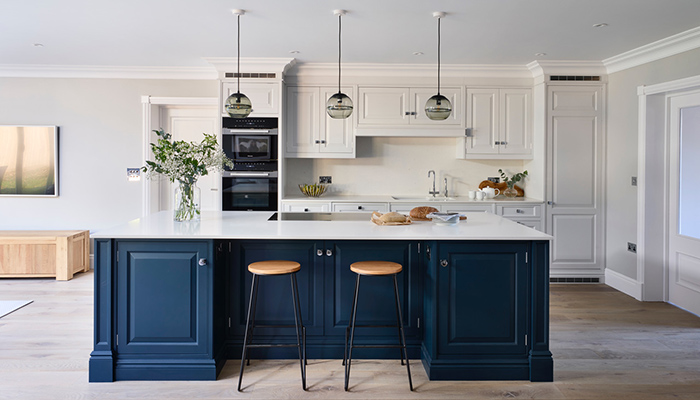 Q: How has the pandemic changed you and your business?
A: During the first lockdown I pressed the reset button and concentrated on long-term strategies including a brand refresh, a new website and a brochure. I also made the manufacturing business run more efficiently, adding containerised storage outside my workshop, which is used as warehousing, and installing an energy efficient wood burner, which now heats our workshop using our wood waste.
I will always be a fan of print advertising, but the business now also has a digital marketing strategy on Facebook and Instagram, using targeted organic and paid-for messages.
Q: How well has the business coped?
A: We bounced back slowly, but things then drastically improved. We now have a much higher value order book, but over a longer period – mainly because of the supply chain. Property is one of the safest places to invest right now and since restrictions eased, many clients have decided to invest in their homes. It is a similar story across the industry but we all have to be prepared for quieter times ahead.
Q: What advice would you give designers struggling with product delays?
A: To be in this situation two years down the line is ludicrous, and it is impacting on cash flow for all of us. Many appliance brands sell direct via online retailers that can deliver quickly so my advice is to find similar or upgraded appliances online and then negotiate with the manufacturer to achieve your margin. If that is not possible, find alternative suppliers that can stick to a delivery date. They are out there.
Q: How much are rising costs affecting the business?
A: Some of our raw material costs have risen threefold since the pandemic. In most cases we absorb the costs if projects are already underway. In others, we have to pass them on to our clients, but we find other ways of delivering efficient solutions to them.
Q: What other new or evolving design trends are you seeing?
A: A shift toward installing concealed home offices behind pocket doors that can be installed in kitchens, bedrooms, living rooms or hallways. We have also seen a lot of interest in libraries and bookshelves, because of the popularity of video calls.