Scavolini's new Jeomatrica collection by Luca Nichetto enables designers to create a cohesive look in separate rooms – CEO Fabiana Scavolini explains how the range gives endless scope for personalisation, and how the brand is looking to strengthen its UK presence by expanding its dealer network.
Q: Tell us about the new Jeometrica collection – what does it consist of?
A: Scavolini's new Jeometrica collection was created in collaboration with world-renowned designer Luca Nichetto, and reflects Scavolini's holistic approach to design with stylish solutions for the kitchen, living room and bathroom. Characterised by geometric shapes offset by clean lines, Jeometrica is heavily influenced by three iconic 20th century designs: Ellsworth Kelly's Sculpture for a Large Wall, Gio Ponti's multifunctional wall units and Donald Judd's three-dimensional structures.
While Nichetto's nod to the past has influenced several defining features of Jeometrica, Scavolini's manufacturing expertise brings the collection bang up to date. In fact, it includes a number of elements seen for the first time. These include the laminate wall panel, which is available in rectangular, teardrop and circular shapes. Flexibility is a key feature of the wall panel, and this is made possible by a series of holes onto which shelves, containers and small accessories can be attached and moved as required.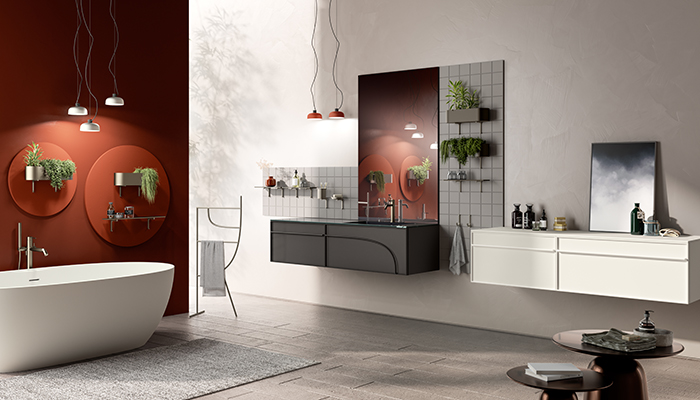 Another distinctive feature of the collection is the curved tubular handle, which instantly transforms a functional piece of furniture into a decorative statement. Available for the fronts of kitchen and bathroom furniture, its beauty is brilliantly demonstrated in this living room setting where the curved handle sweeps across the front of the cabinet doors, adding movement to the scheme. To create a cohesive feel across the collection, all cabinet doors are 29mm deep and available in a choice of lacquer, veneer, decorative melamine or glass. Moreover, all cabinet fronts feature an aluminium frame available in white, Anthracite and Titanium.
Nichetto's vision is that homeowners have fun with the various finishes, mixing and matching to add depth and personality to their space. An excellent example is this kitchen. The tall unit doors are textured melamine in Birch while those on the island are light grey polished glass. To add a splash of colour, the open shelving, wall panels and chairs are seen in Rosso Tegola matt lacquer. To complete the Jeometrica collection, Nichetto has designed a range of furniture including chairs, stools and tables. He has also added pendant lights, seen here in this living room in Prestige White to match the base unit.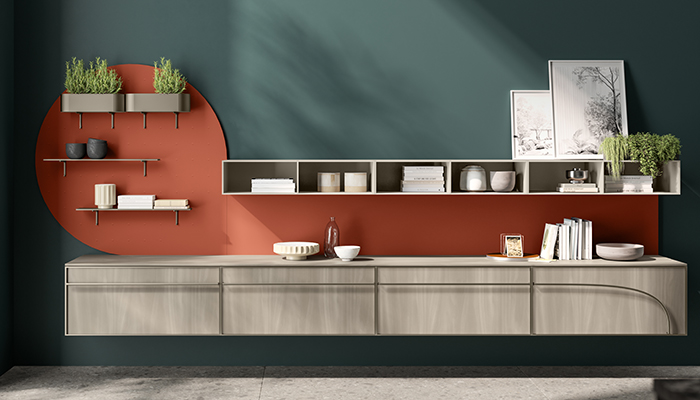 Q: Has Jeometrica been launched in response to any particular consumer trend?
A: At Scavolini we prefer to create the trends rather than respond to them. We have achieved this through a series of collaborations with internationally renowned designers. This approach makes it possible for us to explore previously unexplored possibilities and to develop new interpretations for the most significant rooms in the home.
Q: Why was Luca Nichetto the right partner to collaborate with?
A: Luca Nichetto is known for experimenting with materials and production processes, which is aligned with Scavolini's core values. We also immediately shared his vision for Jeometrica, drawing on the past to create a collection that defines the present. Jeometrica comprises kitchen, bathroom and living furniture instead of just one area of the home.
Q: Does this reflect a more holistic approach to design?
A: If you treat every room as a new canvas for completely new ideas, you will create a 'choppy' look that results in a home feeling unfinished. For this reason, Scavolini has increasingly focussed on creating a cohesive feel across all rooms so that one space flows effortlessly into the next. This sense of cohesiveness is particularly important in open-plan kitchen-living spaces, where success often comes down to how well the different areas work together. At Scavolini we have simplified the process by extending many of our kitchen collections to include furniture that is designed for the living room, such as TV units, storage and shelving. Jeometrica is no exception and ensures stylistic consistency across the home.
One of the biggest obstacles to creating a sense of cohesion is tackling rooms one at a time. This can result in them feeling disjointed. Reasons range from financial to time pressures, or, quite simply, because it is overwhelming to deal with everything at once.
Scavolini understands this, which is why we have designed collections that cross over from the kitchen into the living room, bathroom and even the bedroom. This means it doesn't matter if you renovate the kitchen first, the bathroom six months later and the bedroom after that, because there will always be a strong visual connection between the spaces.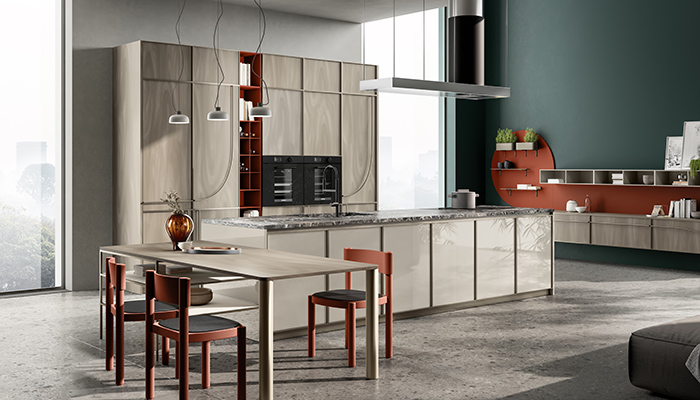 Q: How many retailers does Scavolini currently have in the UK? Is it looking to expand its UK retailer network?
A: Scavolini has over 20 showrooms in the UK (including two exclusive Scavolini stores in London's West Hampstead and Preston). While we always prefer to deal with fewer selected partners with a higher degree of commitment rather than a multitude of minor retail representatives, we're looking to further strengthen our presence in the UK and Ireland by adding more dealers, whether these are exclusive Scavolini stores or more classic bathroom/kitchen resellers.
Q: What benefits and support does Scavolini offer to retailers?
A: In certain countries, Scavolini operates via national branches and the UK is no exception. The purpose of each branch is to manage the country's network of retailers with several levels of support: creative, technical, logistical, pricing and marketing. By having a physical presence in the territory, Scavolini can help facilitate dealers' day-to-day operations and build further confidence in the Scavolini brand.