The Spanish ceramic tile industry is one of the largest European exporters of tiles in volume and continues to be at the forefront of innovative tile design. Here Tile of Spain – the international brand representing 125 ceramic tile manufacturers belonging to the Spanish Ceramic Tile Manufacturers' Association (ASCER) – reveals the 7 tile trends that are dominating kitchens and bathrooms now.
1. Keen on Green
Almost all of the Spanish brands are offering green in their fashionable décor ranges. Despite the fact that it has not been endorsed by a well known paint maker, the shade is everywhere. Used by interior designers for its calming properties and loved by homeowners for its outdoorsy vibe, green brings the natural world inside.
2. HEX-cstatic
The hexagon shape is hot. It has increased in popularity for practical reasons, working equally well on walls and floors or in external applications. Yet it's stylish too and offers a contemporary vibe. Patterns that can be achieved with a hex allow for the intriguing placement of tiles, which is appealing for those seeking a custom look. Many new tile collections offer a hexagon alongside other formats, so that they can be mixed or matched. Other ranges are more ambitious, combining marble-effects with wood and cement effects or juxtaposing plains with complementary décors.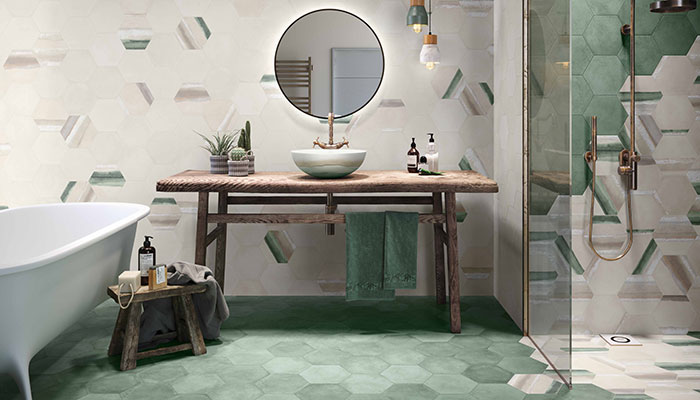 3. Glam Metal
Metallic effects are not new. Recent times have seen a great enthusiasm for industrial looks such as rusty steel or oxidised copper. In this platinum year, a glance at some of the new launches shows an interest in much more glamorous finishes. Surfaces that would suit a high-end bathroom refurb or a luxurious spa are offered in sophisticated colour palettes and are notable for their elegant details. Finishes are polished rather than distressed. Titanium and silver are popular colours.
4. Pleasing Placements
New ranges of tiles by Spanish manufacturers are often designed to give users a degree of flexibility with installation. Small formats that can be arranged in a variety of ways allow designers and architects to make their mark. Instead of traditional laying patterns, tiles can be mixed up or placed vertically or diagonally. Using blocks of colours can be very effective as with these wide bands of mosaic pennies.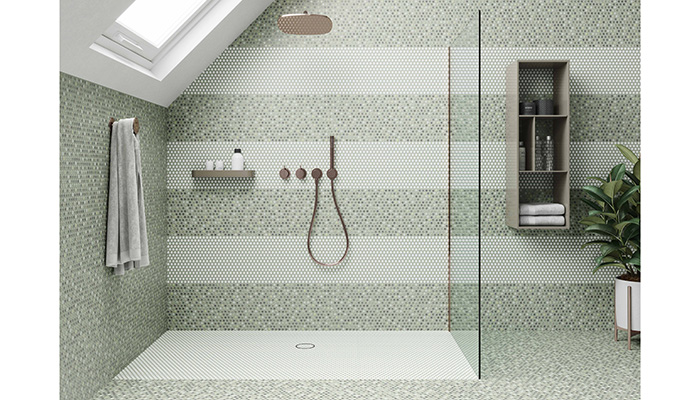 5. Macro-Tastic
Competing with all-over marble effects, geometrics that flow boldly over a ceramic surface feature in many of the new launches. You'll need a decent sized space to use these designs since the pattern is only complete by piecing together multiple tiles. The designs can be seen on small 20x20 formats, but also on larger 60x60cm formats. There is nothing subtle about this style.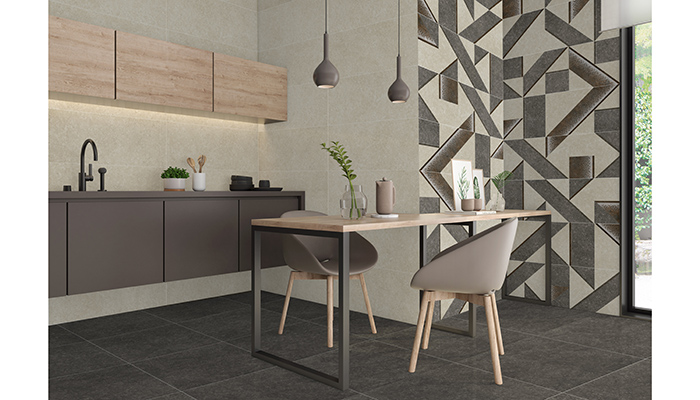 6. Clean Cut
Ceramic and porcelain tiles have always been a hygienic choice. They are easy to clean and don't absorb moisture. But in response to the pandemic, Spanish manufacturers are adding an extra layer of anti-bacterial protection during the firing process. This anti-bacterial technology is already widespread. It can be seen in all formats and styles including cement, marble and wood-effects. Some brands plan to roll it out on all of their ranges, not just as an optional extra.
7. Warm it Up
A soft earthy palette of bone, beige and terracotta is vying with our perennial favourite grey. Décor ranges are taking inspiration from baked clay, mud, shells and fossils rather than anthracite and charcoal. Interiors once again feel warmer and today's tile collections reflect this.