Robert Stein, product manager for appliances at Rangemaster, discusses the most popular range cooker fuel type, the impact on energy usage and helping consumers choose the right one for them.
The rate of inflation is forecast to keep rising this year and the energy price cap is set to increase again in October – simply put, the cost of living and energy is reaching an all-time high. After heating, kitchen appliances use the most energy in a home and, unsurprisingly, consumers are looking for ways to reduce energy usage and keep costs down.
The good news is that range cookers are energy-efficient appliances. A recent survey by Which? looked at the most expensive large appliances to run – range cookers were safely nowhere to be seen. Having larger capacity, multiple ovens make it possible to cook or bake as much as possible in one go, therefore using less energy, so consumers needn't sacrifice their dream cooking appliance over fears of energy usage. When considering the cost of running appliances, an electric oven will use fewer units of energy than its gas counterpart. For instance, the gas ovens in the Classic 110cm range cooker use 1.61 kWh each, while the electric ovens for the ceramic, dual fuel and induction models use 0.83 kWh.
The three range cooker fuel types – electric (ceramic or induction), dual fuel and all gas – each have their own unique benefits and are loved by consumers for different reasons. Induction ranges are favoured by consumers who like an easy-to-clean cooker and hob surface, plus they provide even heat distribution, from hob zones to grills and oven cavities. Sales of electric range cookers with induction hobs have increased significantly year-on-year, while ceramic has decreased considerably. After all, induction offers speedier cooking times and is considered a safer option than gas in multi-generational households. They are also incredibly responsive, controllable and efficient – heat is only generated when a pan is placed within a zone and it is transferred directly to the pan. Plus, many of today's models are equipped with functions, such as dedicated settings and automatic switch-off, and specialist features, including griddles, to make cooking easier.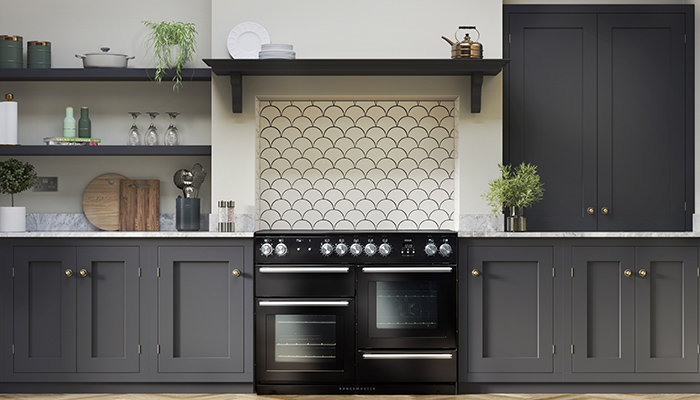 Range cookers with gas hobs are a traditional choice loved by amateur and professional cooks alike, due to the quick response and precision of the flame/heat when adjusting the control knobs. Unsurprisingly, dual fuel represents more than half of range cooker sales in the sector but in spite of that, growth over the last two years has slowed and induction is increasingly gaining traction.
There is no doubt that induction range cookers will continue to be included at the top of consumer wish lists, but fuel type is a personal preference largely influenced by previous experiences. When retailers help consumers choose a new range cooker, we recommend explaining that the difference in energy usage is minimal, while focusing on the features and cooking functions that matter most to the customer. That way, you can be sure to provide the best product for everyone's needs.