Sophie and Neil Harrold of Surrey-based Simply Bathrooms reveal how they revolutionised a bathroom space with a completely reconfigured floorplan, and a timeless blend of classic and contemporary styling.
Q: Tell us a bit about this project – what was the brief?
A: Our customer had a beautiful period property in Putney and was planning a modern extension, which meant refurbishing three bathrooms within the house. This bathroom was 'her en suite bathroom' within the first-floor bedroom's newly created en suite and dressing-room space. Within the bathroom our customer wanted a large feature walk-in shower, a full-sized bathtub, and a spacious vanity area with a mixture of classic and modern styling.
Q: How did you go about meeting the brief? Were there any particular challenges you had to overcome?
A: This room was an unusual shape and part of the room was quite dark. As a result, we suggested changing the original plans around to create a large walk-through shower area into a lighter position on the back wall to create a feature. In doing so we moved the bath into a more prime position under the window.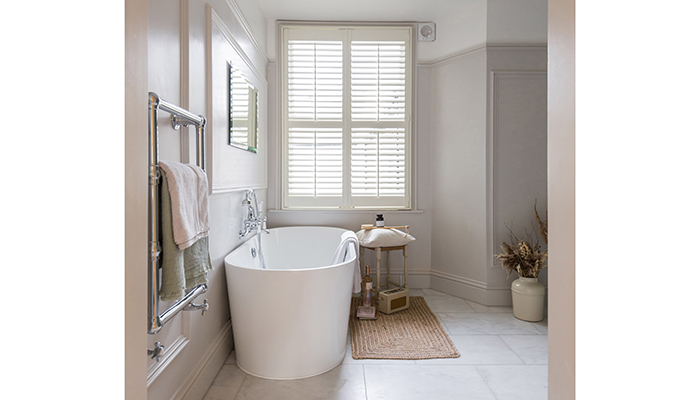 Our customer loved the idea of a larger shower area and shower alcove storage, so by moving the shower and WC onto the same wall, we were able to build this into the plan to allow a large walk-through shower to take centre stage. As the room backed onto the dressing area, we were able to work with the plumbing teams to ensure necessary pipework was concealed to create a seamless finish. The shower area gives this design a real point of difference and means the vanity unit is in full view when entering the room.
Q: What different materials did you use? Did you use anything different or unusual?
A: Our customer wanted a timeless bathroom design and liked a mixture of classic and contemporary styling. To deliver the classic elements, our team crafted elegant wooden panelling at three-quarter height around this spacious room, which created a luxurious backdrop that elevates the design. We paired this with Ca' Pietra's stunning Long Island Marble tiles along the floor and feature shower wall. Real marble stone has a natural beauty and depth of colour that can never be replicated, and it had the perfect soft neutral tone that we were looking for to deliver a timeless style for this bathroom.
Q: Are there any design features you particularly like?
A: To balance the traditional elements and keep the design current we used contemporary white sanitaryware, lighting and mirrors. Ordinarily in a classic marble bathroom we would have opted for a more traditional roll-top bath or more ornate porcelain WC. However, we wanted a modern neutral family bathroom, so we kept clean and simple sanitaryware and we love the end result. The Viado bath was the ideal size and style, and looked right at home under the window, with the sleek contemporary silhouette being the perfect partner for the classic chrome brassware.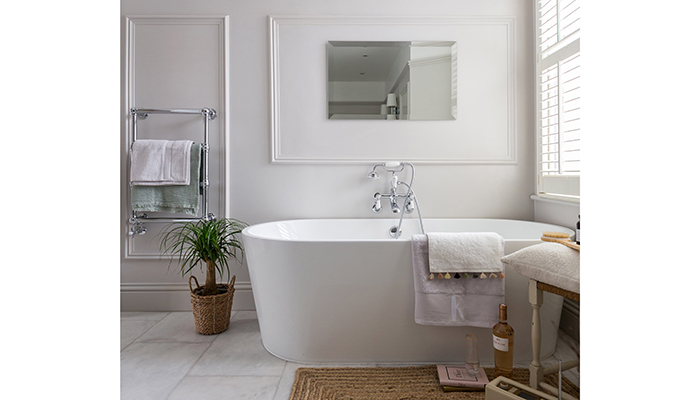 Q: What is your favourite product within the design why?
A: We adore BC Designs Victrion classic chrome brassware – not only is it affordable, it's also versatile. The classic chrome will undoubtedly look as good today as it will in decades to come.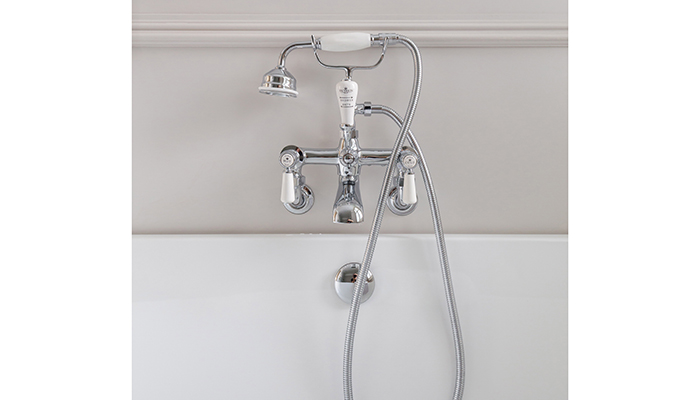 Q: What tip would you pass on to someone embarking on a similar design?
A: I would say always review layout options to consider the positioning of furniture within the layout. Having the vanity unit or bath in view of the door and the WC out of sight (in a more private location) would always be our recommendation. In this design the vanity unit and glamorous wall lighting adds real drama against the wooden panelling, and the WC is tucked neatly away from the eyeline of the dressing room.