After a summer of droughts and hosepipe bans, it's clear the need to save water has never been more pressing, so what are the alternatives for clients keen to make less of a splash in the bathroom? Angelica Hedges rounds up 10 water-efficient showering products.
1. From Ideal Standard, the Ceratherm S200 Exposed Thermostatic Shower System features a 12-litre-per-minute eco flow regulator in the fixed head and an 8-litre-per-minute regulator in the hand spray. In addition, the Ceratherm S200 works in conjunction with Ideal Standard's Firmaflow Therm cartridge for user-friendly temperature control, and the Cool Body technology keeps the heat of the internal waterflow from the external material for safety and convenience.
2. The Tempesta 100 shower rail set from Grohe features Grohe EcoJoy to limit water flow to 5.7 litres per minute, which is supported by the Grohe DreamSpray balancing the water flow from each nozzle, to maintain a satisfying experience. Offering two spray patterns – Grohe Rain Spray or Grohe Jet Spray – this product is Cradle to Cradle Certified, meaning it can be recycled to create new resources for sustainability.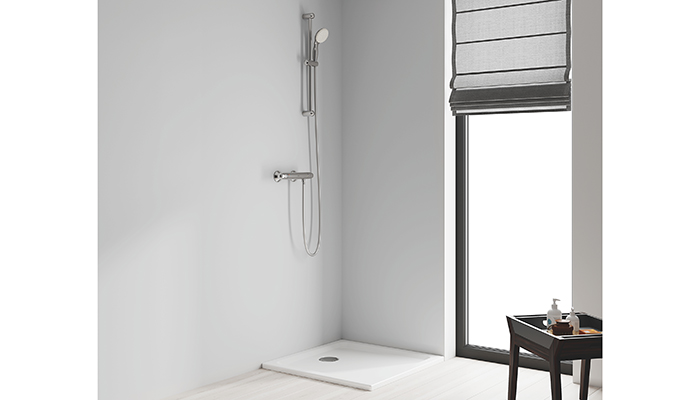 3. The Rainshower SmartActive 130 from Grohe (shown here in a Cool Sunrise finish) features the manufacturer's EcoJoy technology, which enforces a flow limiter to reduce water consumption and waste by up to 50%. This feature is supported by the Rainshower's 'one-click showering' – a controller on the top of the handheld shower, giving the user three optional spray patterns: The Rain, Jet, and Active Massage, ensuring an uninterrupted showering experience.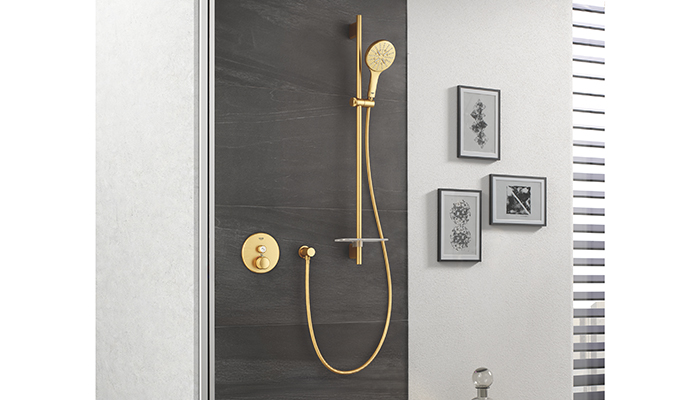 4. The BubbleSpa from Kelda Showers combines water and air to create innovative shower systems, and waste less water. The microprocessor mixes water and air in the overhead shower, and dispenses it via one of the 16 HydrO2 nozzles, breaking the water into myriad water-saving bubbles, all around 20mm in diameter. The minimum water pressure required is 1.5 bar (2.0 for the Mixer Shower System) along with an electrical connection to the shower point, and a hot and cold-water supply.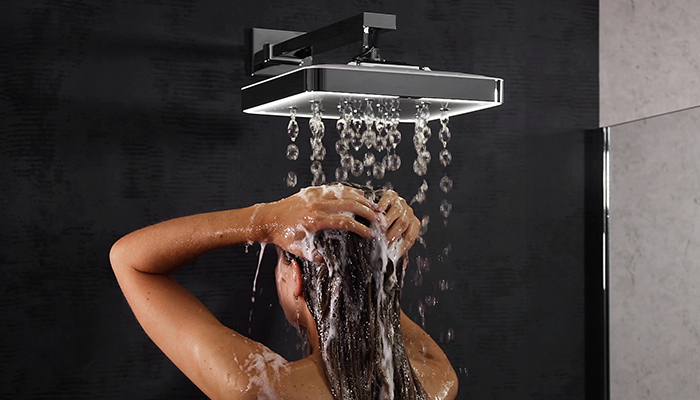 5. The Quartz Touch Smart Shower from Aqualisa features the ShowerMe app, allowing each member of the household to create a customised profile, setting their temperature, water flow and shower duration preferences. This feature comes with the setting 'eco mode', which decreases water flow up to 33% due to the SmartValve. The app can be used to monitor each user's shower duration and can set a maximum limit on their water usage. Using the remote control, the shower can be turned on or off, and work with Wi-Fi and other smart home systems such as Alexa.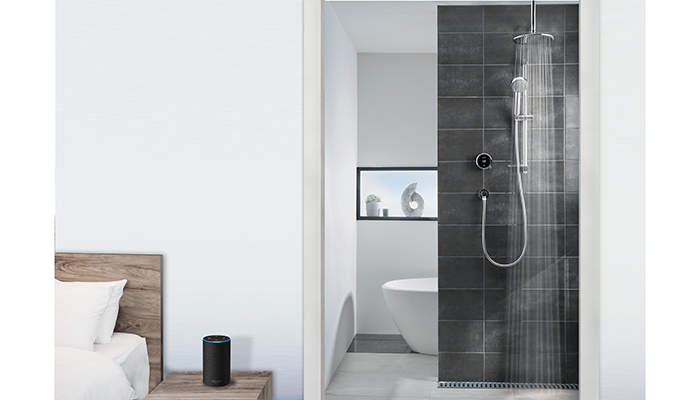 6. Roca's Smart Shower features the innovative Smart Profile, which installs up to three different user profiles, and stores their preferred temperature, flow rate and customised water outlet parameters, enabling them to save water. Furthering user customisation, the Smart Shower comes with five different shower packs and can be paired with three different outlet options, which provide differing waterflow combinations. The Smart Shower requires a minimum 1.5 bar water pressure.
7. The Rainfinity Overhead Shower 250 3 Jet EcoSmart from Hansgrohe comes equipped with a water flow controller inside the overhead showerhead, which limits the flow rate to 9 litres per minute (at 3 bar), using 60% less water. This is supported by the three different spray pattern options in the showerhead – Rain, RainStream and PowderRain. It comes with WRAS approval and a 5-year manufacturer's warranty.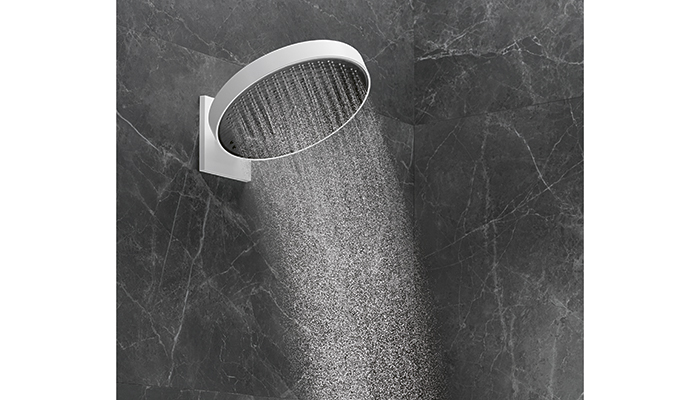 8. From Hansgrohe, the Vernis Blend Overhead Shower 200 1Jet Green has a maximum water flow of 5.7 litres per minute for full water-saving potential, and has a water flow controller capping the flow rate. Featuring an overhead shower that can be wall or ceiling mounted, it's available in a Polished Chrome finish, is WRAS approved and protected by a 5-year manufacturer's warranty.
9. The Aio S Cool Touch Diverter Shower from Methven uses just 5.7 litres of water per minute, which is the lowest rate of all Methven showers. The slimline overhead shower operates at 8 litres per minute, and with Methven's Aurajet technology, it saves money on water bills, while giving the user up to 20% more spray coverage, which the company says doubles the usual amount of skin contact.
10. From Methven, the Aio S Cool Touch Bar Shower reduces household water consumption to just 5.7 litres of water per minute, which the company says it achieves without compromising the showering experience. The 38° temperature hot stop offers a safe water temperature, while an additional override component allows those who prefer a warmer shower to enjoy one.