As Masterclass Kitchens announces the launch of two new ranges and colours, we catch up with brand manager Cassie Jones to hear all about the latest colour trends, and how the company aims to offer designers maximum creative flexibility.
Q: What key trends are you seeing coming through in kitchen design at the moment?
A: Kitchen design will always revolve around functionality. Since the pandemic, we've seen the acceleration of customers creating their home spaces to reflect their style and lifestyle. They opt to have hidden internal storage that can neatly file away the weekly shop. Aesthetically, customers are going for tactile finishes in modern design – textured or smooth finishes help to reflect their personality in the space. In classic kitchen design, our customers love green! Whether it's Sage Green, earthy New Forest or jewel-toned Hunter Green, the colour offers a timeless style with a contemporary twist. Classic blue now has a rival!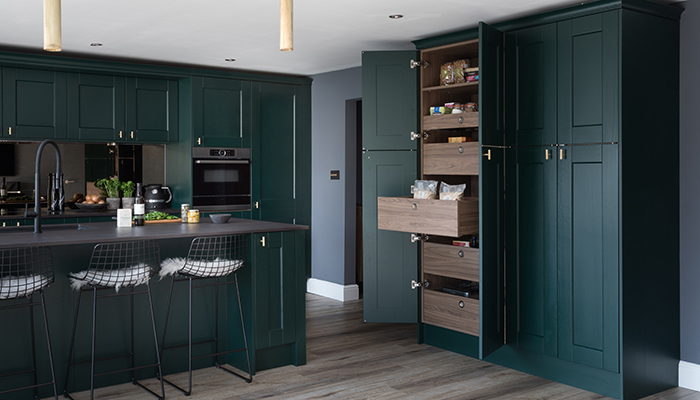 Q: Tell us about the two new Masterclass ranges – what trends are they responding to, and how do they fit into the broader portfolio?
A: Leading on from the current trends that we're seeing, our two new ranges are Amalfi – a flat slab smooth lacquered door, and Padstow – a hardwearing 5-piece matt vinyl Shaker. Amalfi's dream-like finish offers any kitchen design a warm and tactile feel. Amalfi will make a versatile addition to any space when teamed with wood or stone finishes. Padstow is a super hardwearing door that allows customers to create a contemporary Shaker look. We've even introduced a brand-new navy colour called Moonlight Blue. This new colour gives customers a cost-effective option when designing their space.
Q: Tell us about the new colours that have been introduced – what advantages do they give kitchen designers?
A: The two new colours added to our Amalfi range can create a bold look. However, the big opportunity for designers is to create a stylish kitchen that mixes texture, finish and colour. This mix-and-match ability sets them apart from their competitors. Our favourite combinations are a mix of warming woods with a bold colour, such as Onyx or Sunset, and stone finishes. Additionally, metallic accents can help to create an ultra-modern look.
The recently added New Forest painted colour easily creates a heritage look. The new tone is a particular favourite with designers as they can produce the look of a bespoke kitchen, with the addition of Oak or Walnut effect internal cabinetry and drawer boxes, at a much more affordable price for the customer.
Q: In general, do you think consumers are playing it safe with colour, or going for bold?
A: There is undoubtedly a customer willing to embrace bold tones and will go big with their choice of cabinet colour. We, as a collective, have become so used to richer tones in interior spaces, such as navy blue and earthy green, that we accept these as if they were the new neutral. Customers can choose to mix their finishes with warm or cool tones of grey to add a brighter element to the design. What we term 'playing it safe' now certainly wouldn't have been considered the safe option 10 years ago. Our customers choose to adapt to colour by embracing timeless styles and adding a contemporary flair. Every colour we bring to market will work seamlessly with our warm or cool base colour palettes. The designer can dial down or up the use of bold colours exceptionally easily!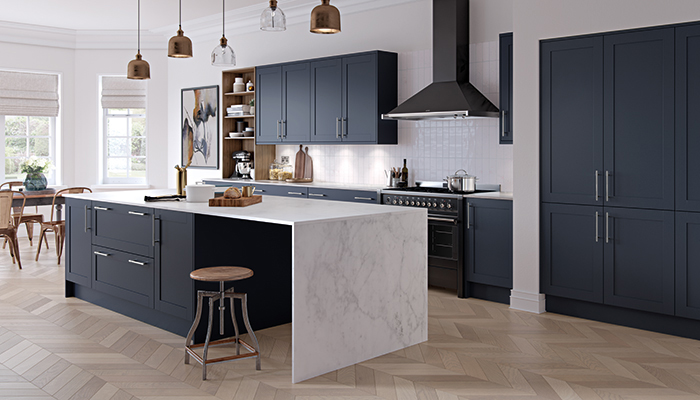 Q: What trends do you see coming on the horizon?
A: Following current trends, the addition of natural finishes and textures will come through into 2023. Natural tactile and textured finishes in kitchen design will connect the organic materials in the customer's homes to their kitchen space. The feeling that the kitchen is an extension of the living space will create a calm area that the whole family will love to experience. The durability of textured finishes also makes a greater selling point for the designer, as the space will look fantastic and stand the test of time.
Q: Are there any more launches in the pipeline that customers can look forward to?
A: We have already teased some new range options and anticipate a rather exciting launch as of Spring next year, but we will need to keep that under wraps for a bit longer!