For a building to meet Passive House standards, there are strict criteria in place when it comes to air quality, ventilation and temperature. So how do you go about choosing a cooker hood if you're designing a kitchen in a Passive House? Owain Harrison, country manager for Novy, reveals the key elements to bear in mind.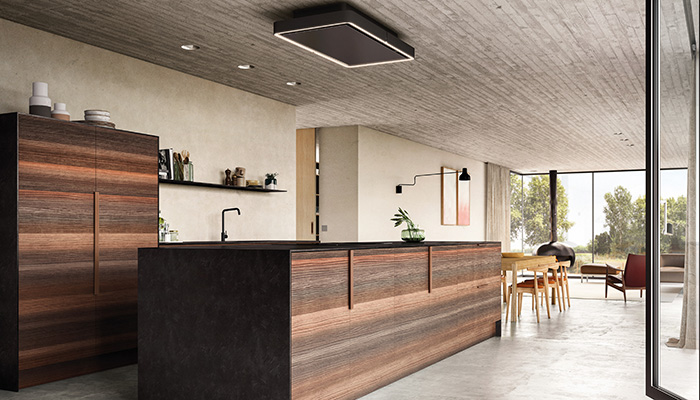 In September, the Government restated its commitment to a target of net zero carbon emissions by 2050. This will affect all aspects of life, from how we live in our current properties to the way homes are built in the future and anyone planning a new or self-build property will already know that they have to conform to rigorous regulations in terms of energy usage. However, there is an emerging trend in new build properties – Passive Houses are already leading the charge for truly energy-efficient homes and The Passivhaus Trust advises on retrofit options too.
The reason these houses are so efficient is because they have to be as airtight as possible, with strict standards of ventilation throughout the entire home using a heat-recovery ventilator called an MHVR. They also have to be very well-insulated to keep any external noise to minimum. Because Passive Houses are designed to negate air leakage, they can save up to 90% of heating costs, maintaining a pleasant environment all year round. Already exceeding current building regulations in terms of energy efficiency, there are more than 1,300 Passive Houses already built in the UK in towns, cities and in rural locations and more to follow.
If you haven't yet been asked to design a kitchen in a Passive House, then it is only a matter of time until you are. The kitchen has to to conform to the Trust's guidelines in order to achieve certification, therefore use of sustainable materials is preferred, together with efficient appliances so an induction hob is an ideal surface cooking option. It is also important for the MHVR to be located in a place where continuous airflow isn't affected by grease or cooking vapours, so separate kitchen extraction is usually required and recirculation options are recommended over exhaust systems to minimise electricity consumption. According to the Passive House Institute: "In buildings with a very small heating demand, such as Passive Houses, the Passive House Institute recommends the installation of recirculation air hood systems. Exhaust air hood systems may increase the heating demand of energy efficient buildings significantly; in addition, it is usually easier to integrate recirculation air systems."
Together with being a specialist in silent extraction, Novy is also a keen proponent of recirculation hoods because of their energy efficiency. However, it is our recently introduced PURE 3.0 Recirculation Technology, available in all our models, which makes Novy's cooker hoods ideal for kitchens in Passive House dwellings.
Thanks to Novy's high-performance motors, both cooking fumes and dust are immediately extracted, while all fat particles released during cooking are captured by our efficient multilayer grease filter. The carbon particles of our exclusive internal monoblock filters have a natural coating that then neutralises the strongest odours – even fish – from 95% to 100%. Our closed, sound-absorbing airflow system captures the hot cooking fumes and this prevents moisture from accumulating on the ceiling or on cabinetry. The purified hot air is then re-introduced into the kitchen guaranteeing perfect recirculation and heat recovery. Together with being highly efficient, the carbon filters are also cost effective as they only need replacing every three to five years, or after 900 hours of cooking.