Origins Living sales & marketing director Sofia Charalambous reveals her wish list, her bucket list and what bathroom trends she sees coming next in 2023.
Q: Tell us about the latest products at Origins Living – if you had to pick a favourite, what would it be?
A: We're launching a fabulous collection of new products for 2023, including a modern versatile range of black open storage. We're also super thrilled to be introducing our new Kenji range of eco-friendly bamboo mirrors. And we're adding my very favourite finish 'bronze' to our best-selling range of Docklands mirrors.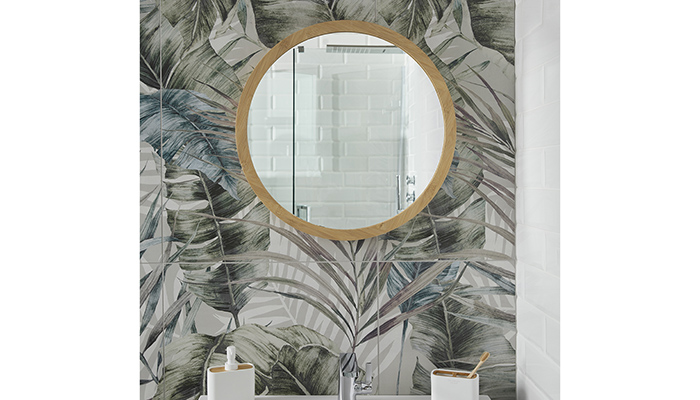 Q: What key bathroom accessories trends are you seeing coming through for 2023?
A: Our sales insights have identified the following trends:
* Sales of our brushed bronze finished mirrors have doubled.
* Brushed Nickel has increased by 60% in 2022 compared to the year before.
* And from our January 2022 launch, we can reveal that knurled brass accessories and curved mirrors are trending.
Q: How about bathroom trends in general?
A: We're seeing that consumers are looking to transform their bathrooms into a spa-style retreat. Connecting with our outside environment has increased the popularity of natural materials such as bamboo and wooden furniture. And they're experimenting with 'wow' wallpaper – especially in cloakrooms.
Q: If you were to re-design your own bathroom, what would you change?
A: That's a difficult question, because being in the industry, I see new ideas all the time, so I really want to change it every week. Saying that, I would probably remove the wall between the bedroom and bathroom and make the space into a relaxation area, with some seating. I'd also use a lot more wood and marble and introduce a botanical theme with green into the scheme – but it's really more about the decoration than the actual sanitaryware.
Q: What would be top of your wish list?
A: Marble, marble and more marble…
Q: What inspires your work?
A: Inspiration for me comes in many forms. Anything can spark my imagination – taking a walk in the forest, the pattern and colour of leaves, the shape of trees, a pattern in the sky. I'm a lover of all things Greek (as you would expect) and Japanese architecture.
Q: Name an activity on your bucket list
A: A trip on the Orient Express from London to Venice, dressed in 1930s-style clothes.