CRL Bespoke Shower Screens is a new offer designed to take the pain out of bespoke shower design and installation – Amelia Thorpe talks to MD Simon Boocock to find out more about the complete solution.
Every luxury bathroom retailer will recognise the need to be able to offer clients a bespoke showering solution – as showering spaces get larger or more imaginative to fit into unusual spaces. That's the opportunity that Simon Boocock, MD of CRL Europe, recognises – and the reason behind the launch of CRL Bespoke Shower Screens. "Our offer is about providing all the choice and flexibility of a bespoke product, whilst taking the pain out of it for our customers," he says.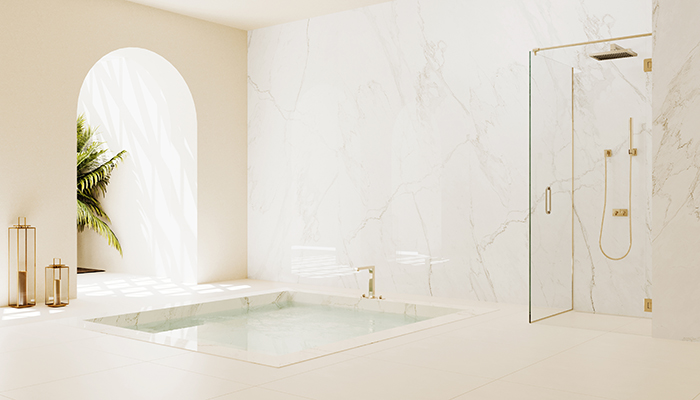 CRL has two divisions in the UK: a glass products division that majors on selling shower hardware to a network of glass suppliers and fabricators, and a stone division that sells CRL quartz, Ceralsio and MDi Inalco porcelains, currently primarily to the kitchen worktop market. The new shower offer combines CRL's shower hardware with the 6mm-thick variant of its porcelains designed for wall cladding, to offer retailers a tailor-made complete shower solution, without the need to pull all the elements together themselves.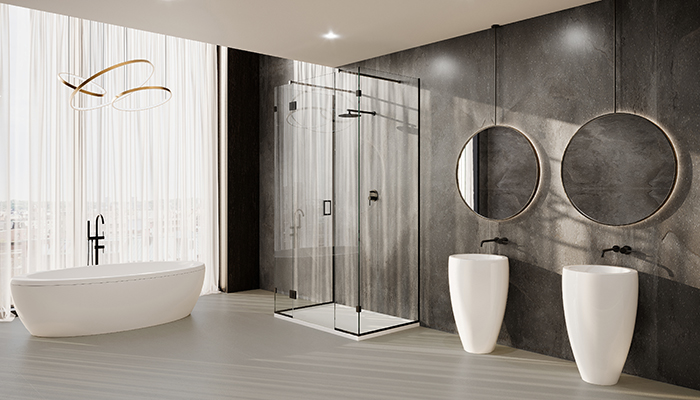 "We realised that we had the potential for synergy between our two divisions, because Ceralsio is a particularly good material for the damp, humid bathroom environment," continues Boocock. Durable, easy to clean and care for, non-porous, hygienic and stain resistant, the 6mm material can be used as extra-large-format 'tiles' – up to 3.2m x 1.6m in size – in the bathroom and shower. "Nowadays, often shower enclosures, walk ins and wet rooms can be quite large, so floor-to-ceiling wall cladding with minimal joints and grouting is very effective, while the designs, colours and patterns including book-matched marble-effects, add to the impressive look," he explains.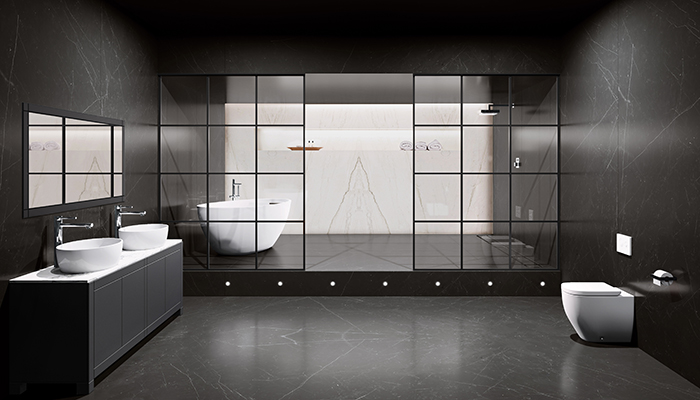 As part of the CRL Bespoke Shower Screens offer, customers are offered a choice of two software packages: CRL Shower-Plus is the professional version aimed at customers who do the design and installation of bespoke showers, and Shower-Lite is for showrooms to be able to do a quick design to show clients what the finished product will look like.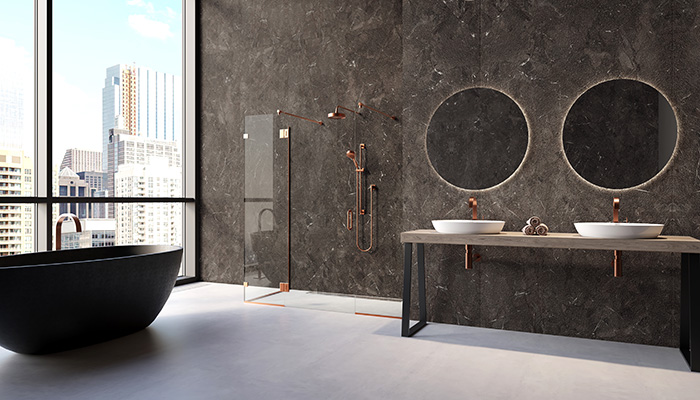 The product, says Boocock, is "always bespoke". "Regardless of the shape or size of your bathroom, the shower will always fit the space, whether it's a sloping ceiling in a converted loft or a huge walk-in – you can control every element of the design," he says. The hardware is available in 11 different finishes, including Antique Brass, Matt Black, Satin Brass and Polished Copper alongside classic chrome. "Another advantage is that our lead time is actually very quick," he notes. "Our customers – the glass suppliers – have been installing bespoke showers for many years and they stock the glass, while we stock the hardware – so within a few days, they can create a bespoke shower enclosure." He also suggests that the glass companies are unfazed by working with large slabs of Ceralsio, since they are already used to installing large sheets of glass. "We also know that we are competitively priced – after all, the products are not coming through a long chain," he says.
Business (across both divisions) in the UK, says Boocock, has been strong. "We had a record year last year," he says, "with 2021 at more than 20% growth on the previous year. This year, we are running about 7% growth on last year – I think we've done incredibly well, considering that the market is definitely starting to show signs of slowing down – and it is unquestionable that we're moving into quite a strong economic slowdown." And his ambition for the new shower product? "Once retailers have an awareness of what we've got to offer, we will be looking for steady growth for many years to come," he says.