Over 80 Spanish tile brands showed off their latest designs this year's Cersaie, and from nature-inspired decors to dramatic marble lookalikes, there was plenty for keen trendspotters to take note of for 2023. We take a tour with tile manufacturers' association Tile of Spain to find 6 key new tile trends.
1. AUTUMN LEAVES
Whether bold and sharply drawn or soft and impressionistic, leaf patterns are the motif for post-pandemic interiors. As many of us have acquired a new appreciation for nature and its soothing qualities on our lockdown walks, it is no wonder that we're welcoming the outdoors in.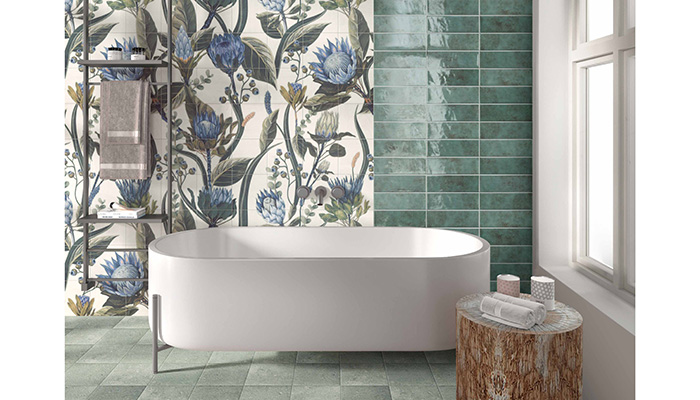 2. SHAPELY FIGURES
One of the most innovative types of surface, 3D tiles can take a variety of forms. Relief surfaces can have a purely decorative purpose – adding interest to a wall – or they can offer a practical solution. Many ceramic pieces, for example, offer ventilation or acoustic barriers, so when seen in the bathroom or kitchen may be unexpect, but undeniably dramatic.
3. DECOMANIA
The simplicity and streamlined forms of Art Deco suit contemporary interiors, so tile manufacturers regularly produce small formats that pay homage to this aesthetic movement. Black and white geometric designs are perennially popular as they're easy to live with and less likely to need updating when fashions change. They go well with co-ordinating marble effects that add to the luxurious feel the Deco era was known for.
4. HEX-cstatic
Offering a contemporary vibe, the hexagon shape is holding on to its appeal. Spanish manufacturers have launched many variations for both wall, floor and exterior. This popular tile format is successful when laid out as a single colour, but lends itself to experimentation with an imaginative placement of tiles.
5. FLIPPING THE FINISH
Mixing matt and gloss finishes in a single colour might seem an unorthodox approach to tiling, but it can be very arresting, allowing the eye to feel the full saturation of colour and yet teased by the unexpected switch from plain to polished. To emphasis the contrast further, the formats can be alternated between vertical and horizontal.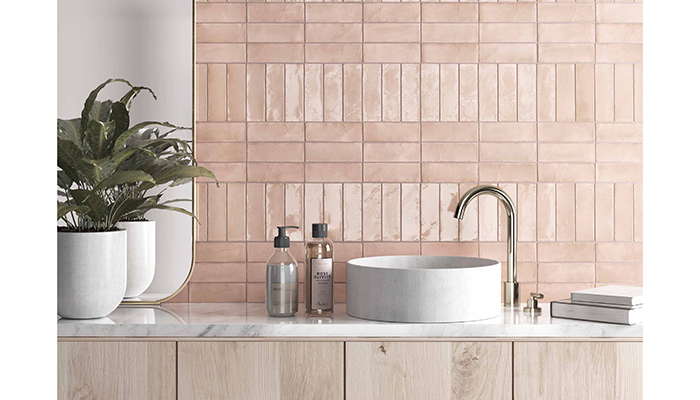 6. GOLDEN WONDER
For a luxurious look, marble-effect porcelains are a popular choice. They're dramatic and often demonstrate an advantage over the raw material with colours or striations that have been unashamedly enhanced. This year's designs are as eye-catching as ever and have gone towards the warmer end of the spectrum.