The 2023 UK Houzz Kitchen Trends Study has been released with the key findings offering clarity when it comes to the design choices homeowners are making when embarking on a kitchen renovation. We take a look at the highlights and takeaways.
Today Houzz – the leading platform for home renovation and design – has released its 2023 Kitchen Trends Study and the findings make essential reading for any KBB industry professional. For a start, the survey of more than 1,000 respondents found that the vast majority of homeowners incorporate sustainable features during a kitchen renovation (94%). Popular choices include LED bulbs (76%), energy-efficient appliances (60%) and energy-efficient windows (39%). Also, more than 2 in 5 homeowners opt for a timeless design as a sustainable choice during renovations (43%). While the most frequently cited reason for incorporating sustainable options is "long-run cost-effectiveness" (80%), making choices that are environmentally friendly is also top of mind for more than half of renovating homeowners (58%).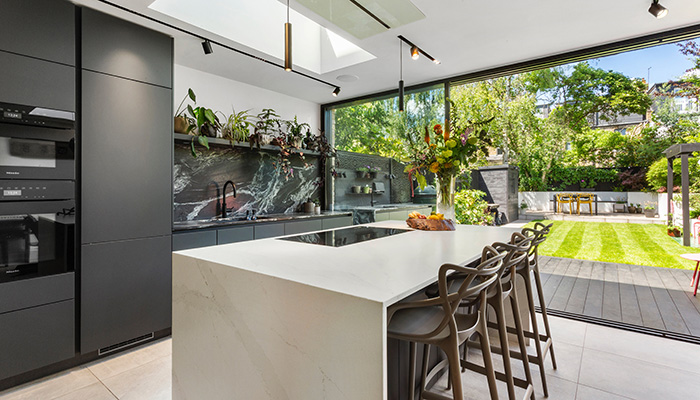 "Homeowners are gravitating towards sustainable choices during kitchen renovations, and it is interesting to see the intersection of economic solutions and environmental concerns. The most frequent reason behind choosing sustainable options is long-run cost effectiveness, with environmental-friendliness as a secondary consideration," says Marine Sargsyan, Houzz staff economist. "In addition, we see homeowners continue to invest more in their kitchens than in any other areas of their homes, as they make major changes to their spaces."
According to Houzz, kitchen projects command the most significant investment in the home, with median spend on renovations increasing steadily since 2019 (£10,000) to £12,000 in 2021. Hiring professionals for kitchen renovations also continues to be strong with 92% of homeowners working with a professional for their project. Tradespeople (e.g. electricians, painters, plumbers, stonemasons) are in the highest demand for kitchen renovations (65%); other popular categories include kitchen designers (51%), kitchen fitters (49%), home builders (31%) and architects (27%). Three percent of homeowners hire dedicated professionals to advise on eco-friendly options.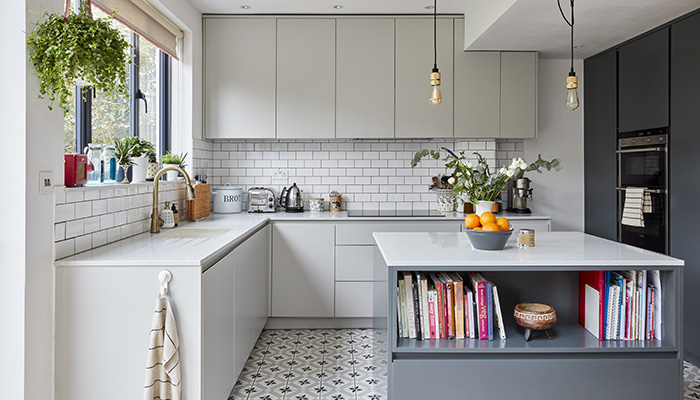 Additional insights from the 2023 UK Houzz Kitchen Trends Study include:
- Contemporary leads the way: Contemporary is the top style choice for renovated kitchens in 2023 (27%), followed closely by Modern (26%) and at some distance by Traditional, Country and Scandinavian (11, 6 and 5%, respectively).
- Popular pantries: When it comes to built-in features, 41% of kitchen updaters are installing pantry cabinets and 15% make space for a walk-in pantry.
- Classic colours: For walls, worktops and splashbacks, white is the most popular colour (51, 45 and 39%, respectively). Grey is the most common alternative to white, with 13% of renovating homeowners painting the kitchen walls grey, 11% opting for grey splashbacks and 11% installing grey worktops. That said, blue, green and beige bring visual interest to the space through contrasting kitchen cabinet colours (17, 13 and 7%, respectively). Additionally, when it comes to cabinetry, 21% said they prefer grey cabinets, while 19% prefer white.
- Materials: Engineered quartz is now the most popular worktop material (41%), with laminate and granite both at 15%, wood 13%, and a solid surface 10%. The least popular worktop material is marble at 4%. Regarding splashbacks, tiles are the material of choice at 32%, followed by quartz at 26%. Brushed nickel is the most popular door handle material at 22%, followed by chrome at 12%.
- Electronic upgrades: Renovating homeowners updating their appliances as part of their kitchen renovation, incorporate technology into their kitchen appliances with Wi-Fi connectivity, smartphone/tablet controls, and colour touchscreen displays (18, 17 and 15%, respectively).
- Kitchen usage is varied: While the majority of homeowners (98%) use the kitchen for cooking, they also eat (70%), bake (58%), entertain (52%) and socialise (46%) there. A quarter of homeowners (26%) also work from their kitchen. One in three homeowners report that their lifestyle is healthier post-renovation (35%).