In 2022, it was estimated that almost 10% of UK homes now have a wetroom – Lidia Cetrangolo, marketing manager for Multipanel, reveals why she believes wall panels are the considered choice for designers looking to achieve a modern wetroom setting.
Q: Why do you think wetrooms are so popular?
A: The popularity of wetrooms can be attributed to a few key factors. With the rise of multi-generational living, accessibility is an important consideration for many families, and with their level flooring, wet rooms can provide freedom for families with mobility issues. Wetrooms are a popular choice for prospective homeowners and customers with smaller bathrooms, increasing the area of useable space. They open up the opportunity for contemporary design, without the need to squeeze in raised shower trays or a shower enclosure. As shower enclosures notoriously attract dirt and mould, easy maintenance also makes wet rooms an attractive proposition for prospective homeowners or tenants.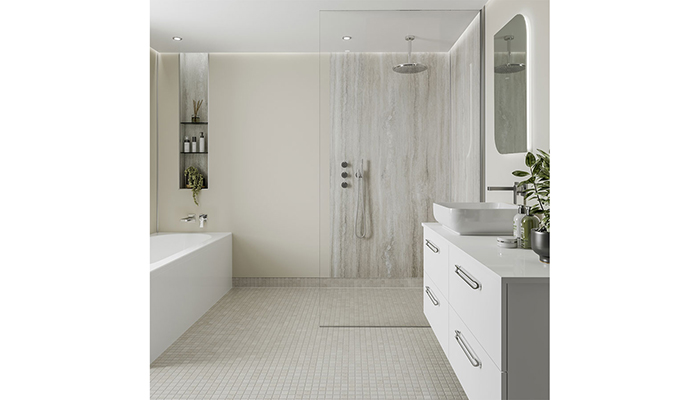 Q: Talk to us a bit about the issue of waterproofing wetrooms – where do wall panels come in?
A: Wetroom surfaces need to be robust enough to withstand a lot of water exposure, to ensure that no water leaks through any cracks. The traditional method for waterproofing wetrooms is to tank the walls, ceilings, and floors, before tiling, grouting and sealing. Tanking proofs the surfaces that will be laid with tile or paint, which can be done with either a physical membrane, or more commonly with a liquid mix that is spread onto walls. Once the tanking has dried, which can take any time from 24 hours to one week, tiling is then laid with grout and sealant. Unsurprisingly, this method is time-consuming and requires a lot of manual labour. It's certainly important not to cut any corners when it comes to waterproofing, but modern innovation has led to a quicker, easier and more full-proof solution for wetrooms: wall panels.
There are huge benefits to using wall panels to achieve a waterproof finish for wetrooms. Instead of spending time preparing wall surfaces before tiling, panels can be installed directly on top of almost any sound surface whilst maintaining their watertight integrity, saving time and effort. They can even be installed over existing tiles, and, unlike tiled surfaces, newly panelled bathrooms will be ready to use in just 24 hours. Additionally, wall panels can be installed with an almost seamless joint. This makes it possible to join two bathroom wall panels together without a mid-joint. At Multipanel, we use technology called Hydrolock for our panels, which are supplied as standard with tongue and groove edges for a quick and easy installation.
With Hydrolock, or a similar technology, no grout is required. This has the advantage of saving time spent on labour. In fact, using wall panels saves on average 15 hours of installation time per bathroom, which helps achieve a quicker and more successful renovation, reducing snagging without cutting corners. By choosing waterproof wall panels instead of traditional tiles, you can eliminate the costly problem of water leakage due to improper tile installation and grouting in wet bathroom areas. Eliminating the need for tiling also provides assurance to tradespeople, specifiers and homeowners that the finish of the surfaces in their bathroom is truly waterproof, as the risk of human error is vastly reduced. And, for complete piece of mind, most leading wall panel brands should be backed by a 30-year warranty.
Q: Are there any other advantages of using wall panels?
A: Thanks to the evolution of bathroom panels, customers can achieve the look and feel of tiles, with the high-performing benefits of bathroom panels. For instance, at Multipanel, we have recently launched our new Tile Collection. These panels are precisely engraved with a 2.5mm grout line, achieving the stylish look of tiles without the hassle. We are also proud that this collection is the only tile-effect wall panel to be both Made in Britain and Forest Stewardship Council (FSC C128180) certified in the U.K
Comprising solid colours, marbles and vibrant minerals, the Tile Collection presents a fresh, modern palette with a contemporary feel. Multipanel is also available in a wide range of finishes, designed to complement a variety of bathroom fixtures and fittings. Using wall panels for your customer's next wet room project will reduce snagging issues, completion time and guarantee a watertight finish, all while showcasing the latest styles and designs. For a low maintenance, long-lasting and beautiful wetroom, it's worth considering Multipanel as a solution.