Have you ever thought about having a contracts division, but not sure what it might entail? Chris Reeves, director at home interiors designer and distributor Glotech, reveals why this could add another string to a kitchen retailer's bow.
Q: Why should kitchen retailers explore having a contracts division?
A: We are fiercely ambitious, which is why we think it's vital for every kitchen retailer to give serious consideration to branching out into the contract interiors sector as part of their growth strategy and commercial succession planning.
With the post-pandemic global market continuing to readjust to new challenges, we anticipate that property will remain a mainstay of the UK economy as property developers continue to consolidate their portfolios and repurpose brownfield sites and cater to the buy-to-let market. According to the ONS, with the UK population projected to rise to 69.2million by mid-2030 and to 71.0million by mid-2045, there is set to be even more opportunity to work with architects and builders on homes that are tailored to specific demographics whether that be super-premium branded residences, multi-generational family homes, student accommodation, eco-homes, retirement living or social housing.
We note that there will be considerable opportunities for contract work in the East Midlands, South West and the Core Cities of the UK given projections for development. Targets for London to be net zero carbon by 2030 also underline the importance of sustainable trade kitchens.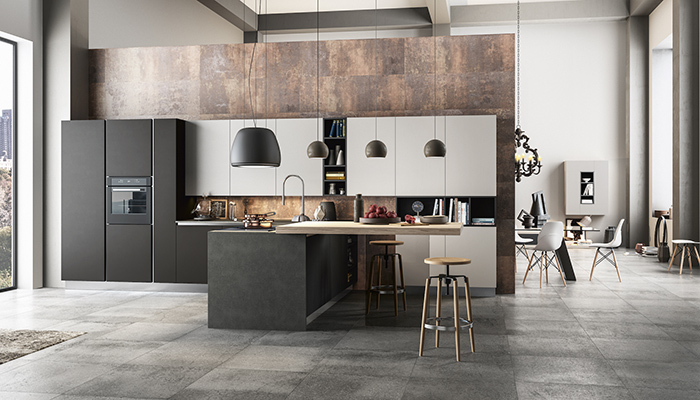 Q: What sort of projects have you worked on and what is trending?
A: As a leading light in trade kitchens, we have enjoyed working on many prestigious Central London projects including in and around Mayfair to exacting standards and have some exciting projects in the pipeline as the London market continues to appeal to a new generation of global property owners and investors. We are finding that there is growing interest in projects where we can lean into our expertise by offering whole home storage with bespoke cabinetry and surfaces throughout for a cohesive feel and signature style in landmark developments. This means kitchen retailers are well placed to show their expertise in delivering media units, wardrobes, home bars, home offices and utility room solutions alongside integrated appliances and custom worktops.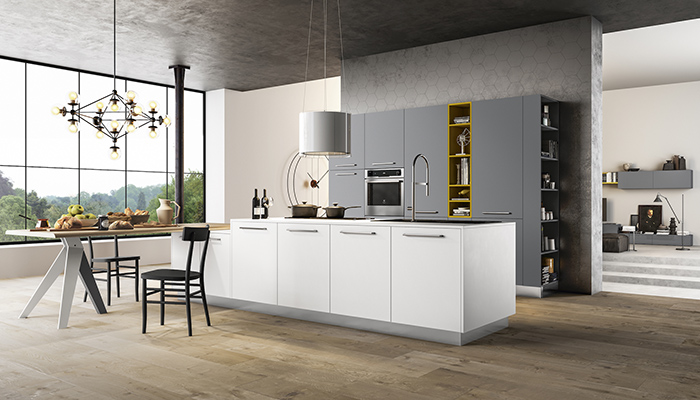 Q: What is key to a successful contracts operation?
A: Running a successful contracts division does involve extensive project management and flexibility as you will be working as part of a team with interior designers, architects and property developers rather than dealing directly with an individual householder. Working on a bigger scale in non-traditional kitchen spaces is an exhilarating and rewarding process so you need to have a strong knowledge base and a hands-on team who are excellent at thinking on their feet and see the bigger picture. For example, our contract designers will liaise with an architect's clients and arrange a home visit to complete the initial survey and discuss design options which involves three-way trust and extra layers of communication.
Every project has its ups and downs and there can be an added intensity when highly desirable properties are sold off-plan and completion dates may need to be brought forward. In addition, as we are dealing with a greater number of moving parts in terms of appliances and furniture for anything from 5 to 500 kitchens, managing expectations is key as is ensuring that as designers and fitters we can deliver on every aspect of our customer charter and be fully up to speed with the latest building regulations. This is particularly important when working with renovations and extensions, or 'from-the-ground-up' new builds, our drawings and concepts have been easily integrated into our client's homes.
There is no doubt that the contracts market is dynamic and lucrative, and it can be a great way to have another string to your bow as well as giving your team new career pathways. My advice would be to start small and scale up so you can see if it appeals to you, then the sky's the limit whether you want to work with local authorities, branded residences, housebuilders or alongside property developers and interior designers specialising in conversions, for example. There is nothing quite like the contract market if you want the opportunity to be commercial and creative with kitchen design and keep plugged in to the bigger picture of the UK housing market.
Whether you are working on a new development, have a client looking for a beautiful kitchen, refurbishing a house or fitting out for a contract, the Glotech design team is here to help.