Wetroom installation continues to be one of the fastest-growing sectors in the UK bathroom market, but in spite of the demand, some common myths about installing them persist. Impey's brand marketing manager, Sarah Hodgson, tells us all we need to know.
A wetroom is a multi-functional showering space that incorporates a waterproofed, level access shower area with built-in drainage – it's as simple as that! The rise in popularity of wetrooms can be attributed to the fact that it is an ideal showering environment for almost anyone. Combining attainable luxury with the easy access and easy clean functions of a showering space, using modern technology to create a leak-free showering area.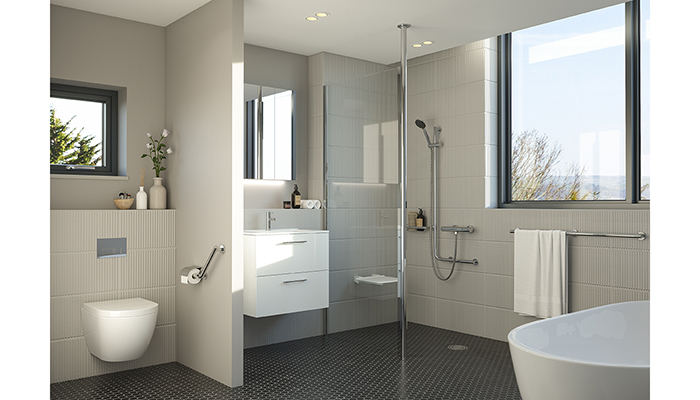 One of the key benefits of a wetroom is the versatility it can offer to its users, but still some homeowners have misgivings. Here are four things about wetrooms that you can reassure your clients about.
Myth 1 – 'Wetrooms are for Ground Floors Only'
It's a common misconception that a wetroom must be installed on a ground floor. A wetroom can be installed anywhere in the home, providing the correct fitting process is followed. Regardless of the age of the property for the proposed wetroom, the key consideration is choosing the best kind of wetroom floor former for the job.
When installing a wetroom on an upper floor or in a converted loft/attic, the easiest and most efficient way to create a drainage gradient is by using a prefabricated wetroom floor former. The strongest type of floor former can be fitted directly onto joists, waterproofed and then tiled upon to create the perfect gradient for drainage. The chosen wetroom floor former needs to be lightweight and easy to carry, yet strong and rigid. An ideal choice would be a model that has a built-in gradient and can be trimmed to suit any size. Look out for floor formers that incorporate a rotating drain plate making it simple to avoid joists or existing pipework, without the need for under-boarding; this can save valuable time and money.
When installing on a solid floor, a template that allows creation of the drainage gradient by hand-screeding is an ideal choice. In this situation, it is best to specify a screed template. Look out for options that feature a click-together matrix that offers wetroom drainage across one-, two-, three- or four-way falls. And for versatility, choose a product with both square and linear drainage options that can be placed directly onto the subfloor, with adjustable feet for installation on uneven of surfaces.
Myth 2 – 'Wetrooms are Prone to Leaking'
A wetroom that has been installed correctly by a trained professional wetroom installer, using high quality products, will not leak. There are two main methods of tanking (waterproofing) a wetroom; liquid tanking, which is a waterproof solution painted onto the area with a roller, or a tanking membrane, which is a self-adhesive option, applied to the walls and floors.
The most effective, cleanest and fastest method is to choose a highly elastic tanking membrane, which, if it is to be used on walls, has good load bearing abilities. Butyl rubber-coated self-adhesive sealing membranes are easy to fit and come on a roll for easy application and handling. Remember to opt for a product that has built-in decoupling properties (ideally of 10mm), and load-bearing capabilities of 30kg/m2, as this will ensure it is suited to handle heavy wall tiles.
Myth 3 – 'Wetrooms Need to be Installed in a Large Space'
Of course, spacious luxury wetrooms in high-end hotels and apartments across the world have been a source of inspiration for modern residential wetrooms. In reality, a wetroom can be installed in virtually any size room. In fact, a compact space like a disused utility area, a downstairs cloakroom or a converted attic space are all viable options for a wetroom installation.
When converting a smaller space, it can be a good idea to use a glass screen (or configuration of screens) to minimise splash whilst maintaining the open-plan feel.
Fitting in tricky locations with sloping ceilings or unusually shaped floor areas does not rule out a wetroom installation. With trimmable floor formers available as well as bespoke glass screens, it is possible to fit a wetroom into an awkward space perfectly.
Myth 4 – 'Wetrooms Always Look Institutional'
By virtue of the level-access nature of a wetroom, it makes an ideal showering environment for individuals who require an accessible showering space. Because there is no step-up to the showering area, the open plan style of many wetrooms means that they are ideal for accessibility. A wetroom can benefit people who have decreased mobility, elderly people, people with disabilities, families with young children and individuals who use a wheelchair, as there can often be adequate room to create a turning circle.
All these benefits are naturally part of a wetroom design, and none of them have any bearing on the style or aesthetic that can be adopted when designing a wetroom.
A wetroom that has been constructed for accessibility can look incredibly modern and still contribute to creating an on-trend modern home and even add value to a property. And of course, even when accessibility isn't a driver for the installation of a wetroom, it may still prove to be an added benefit.
Like any installation project, for best results, fitting a wetroom requires specific knowledge and high-quality product selection. If you're a retailer or bathroom specifier, and are keen to learn more about wetroom fitting, products and processes, book a place on the free Impey 'We Are Wetrooms' online training course. Click HERE to find details of the next available session.