The final in the HIP Female Skills 2023 competition was held last month with Grohe as headline sponsor – Emma Hedges was at Loughborough College to catch up with Timo Kurz, leader GIVE Program and WorldSkills, Lixil EMENA and Chris Penney, leader GIVE Program, Lixil EMENA, and hear about the brand's initiatives to help support the next generation.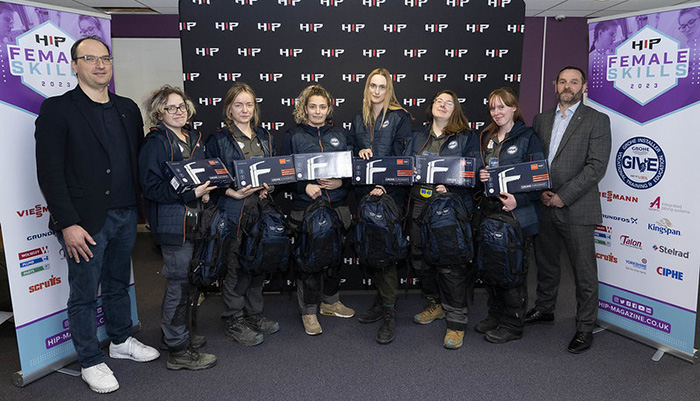 The atmosphere was charged and the six finalists in the HIP Female Skills 2023 competition were hard at work in their respective bays in a training room at Loughborough College, completing an enhanced practical installation. Today's task was complete with a shower from Grohe, the headline sponsor of the event. "It's a really nice product," says Chris Penney, leader of Grohe's GIVE Program, Lixil EMENA. "It's probably a little bit too advanced for where they're at, but we wanted to give them the challenge to see if they were up to it." So far he's been greatly impressed by the standard on display. "Some of them are fantastic – I can't get my pipework to look like that in my own house!" he laughs.
The competition was created by plumbing and heating magazine HIP, who recognised that the industry was lacking a dedicated space to nurture the talents of enthusiastic young females in a male-dominated trade. Twenty-four Level 2 and 3 plumbing and heating learners of all ages, from colleges nationwide, competed in two regional heats to get through to the grand final. "When I spoke to some of the ladies at the events in the North and the South, some said that it was the first time they'd met another female plumber," says Penney. "Just having that networking opportunity for them is amazing."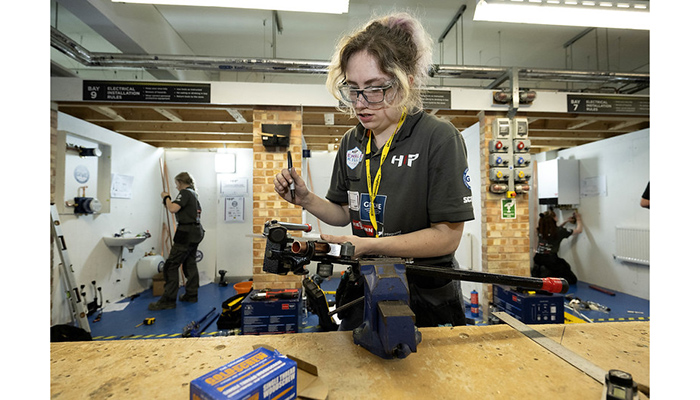 Grohe's efforts to support young people all over the world gain access to high-quality training are impressive. The GIVE Program – GIVE stands for 'Grohe Installer Vocational Training & Education' – is open to all plumbing students at participating schools and colleges, and collaborates with 65 institutions across Europe, the Middle East and North West Africa. It's more than just a way to get the plumbers of tomorrow familiar and comfortable with the brand's products – it's a way to address the skills shortage, and in the future have the ability to recommend qualified people to Grohe customers should they require them.
"We care about skilled workers and we care about the trade especially – we want to bring it to the next level," says Timo Kurz, leader GIVE Program and WorldSkills, Lixil EMENA. "We also want to 'give back' – that's why this name really fits – to society from the corporate social responsibility perspective."
Plumbing schools working alongside the GIVE Program are provided with a 6metre training rack with Grohe products on it for the students to work on, while the students receive a 'welcome box' and workbooks for the different modules. Each module must be completed with a practical exam, and those who pass receive a certificate from the NOCN Group – an internationally recognised training provider – as well as a graduation pack with a toolkit.
"We had a graduation ceremony in Ghana in February," says Penney. "We had 50 students that enrolled on the GIVE Program training and we managed to get 47 of them passed. The top six will have a week's work experience with our distribution partner in Ghana."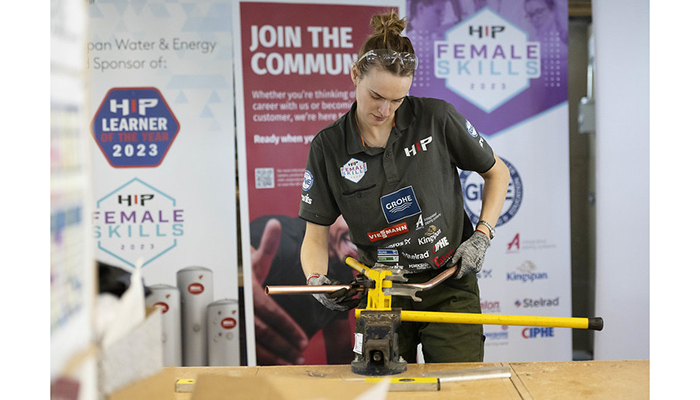 Grohe is also a global partner of WorldSkills International, and Kurz is particularly proud of the fact that the brand was able to step in to host the WorldSkills 2022 Special Edition at its production site in Lahr, Germany, when it looked like the event was going to be cancelled because of Covid restrictions. It was, he says, "a once in a lifetime opportunity". "We had 20 international competitors from all over the world including Iran, Hong Kong, Chinese Taipei, Canada – you name it – and they did three days of competing with very complex tasks, and we sponsored maybe 80% of all the products in the competition setup."
Plans are currently underway to introduce a careers advisory element to the GIVE Program, to help students with their next challenge of finding employment in the industry. The service will offer support with interview techniques, CV writing, cover letter writing, building LinkedIn profiles, and also cover entrepreneurial skills for those looking at setting up their own plumbing businesses. "We're piloting it first in Poland, France and the UK," says Penney. "It's important in terms of how we're moving the GIVE Program forward."
Back in the training room at Loughborough College, and the HIP Female Skills 2023 judges were facing a challenge of their own – choosing a winner. Standards were so high that marking was said to be 'tough', however, Tiffany Baker from Group Llandrillo Menai finally emerged as the clear winner. But Grohe's involvement with this year's competition does not end there – she'll now be invited to Grohe's customer event in Lisbon in May to see more of its products. "She's also invited to Porto where we have our manufacturing plant," says Kurz. "It's a chance for her to get really hands on."