The owners of this elegant London mews house were after an interior that exemplifies 'quiet luxury' – Dornbracht brassware and fittings proved to be just what was required to take the project to the next level.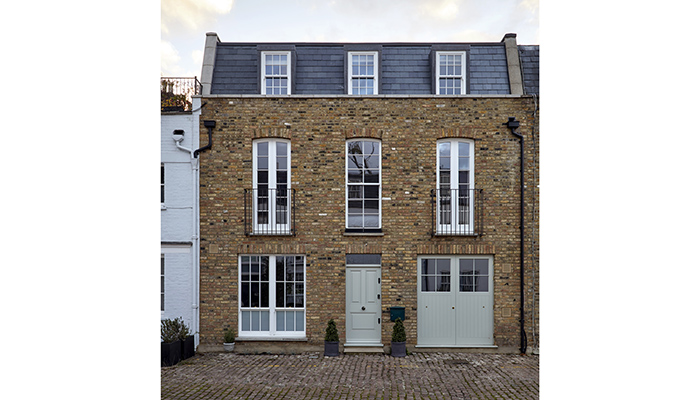 Quiet luxury is the latest trend taking off on catwalks, social media and television this season, advocating calm, pared-back style and a neutral colour palette. As this aesthetic filters into our interiors, the more subtle approach to luxury is evident in a residential project featuring German fittings manufacturer Dornbracht.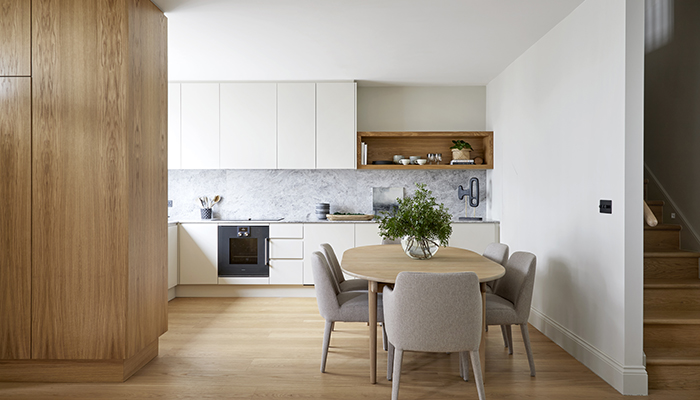 Tucked away in a traditional Kensington mews, the architecture is synonymous with London townhouses and has been streamlined and updated with timeless decoration. Functionality was at the heart of the interior design of the space in order to maximise storage and living solutions. This is channelled by simple and consistent materials throughout, and sleek, uncluttered surfaces. Warm woods, solid marble and travertine showcase the tactile beauty of natural textures, while the soft, soothing colour palette evokes a rustic warmth and richness.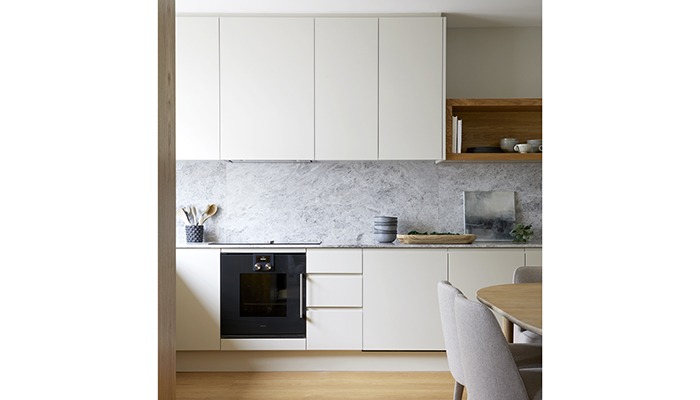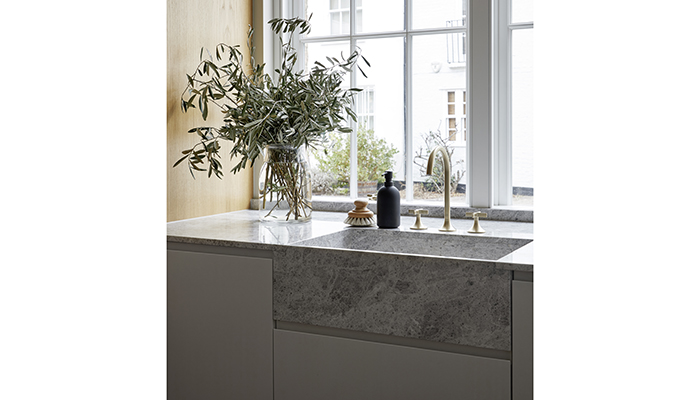 The kitchen and dining space sums up this look – both are furnished in a chic minimalist style and underpinned by mellow, caramel-hued flooring and wall panels that bring a cosy and comfortable feel to the setting. The decadent butler sink of the kitchen features Dornbracht's Vaia mixer tap fitting, with a warming gold finish that comes to life in the sunlight. Its signature curved silhouette enhances the contemporary worktop and units, and the marbled grey surfaces expertly contrast with the warmth of the wood.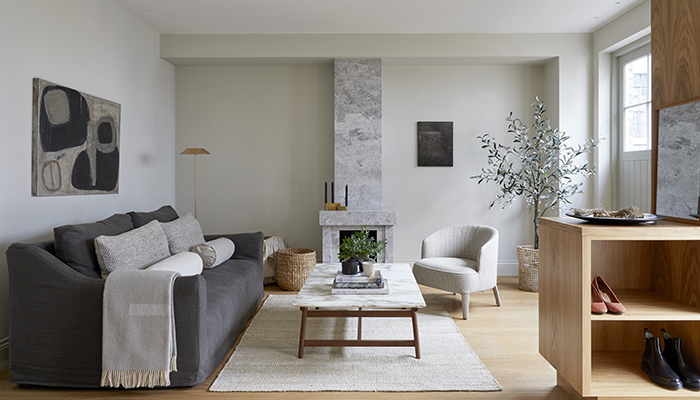 Continuing through to the living space, the furniture and accessories have also been carefully considered in discreet earth tones that accentuate the elegant textures of wood and stone used. Layers of tactile linen, woven and rattan accents marry everything together for a laidback haven bathed in natural light.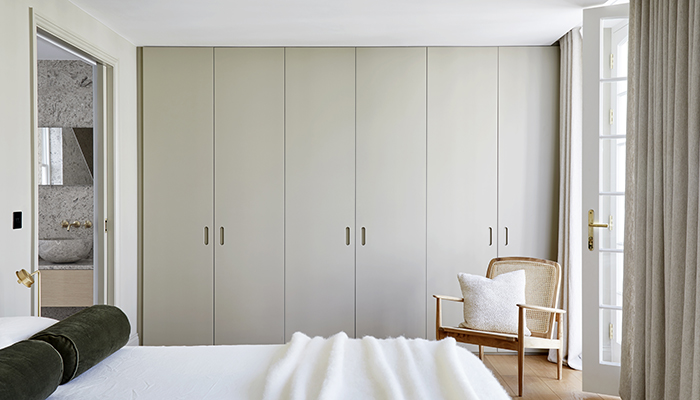 This approach to the overall interior continues in the bedroom, with floor to ceiling balcony-style windows bringing a bright, airy feel to the simple off-white colour scheme, that is, appointed with sumptuous accessories for an added layer of luxury and comfort.
The en-suite bathroom boasts an oasis-like appeal that prioritises lightness and space, complemented by the cream and wood tones, and enriched by Dornbracht's Meta and Vaia fittings. Their Brushed Durabrass (23kt Gold) finish provides a unique brilliance and depth of colour that harmoniously blends with the home's tonal palette.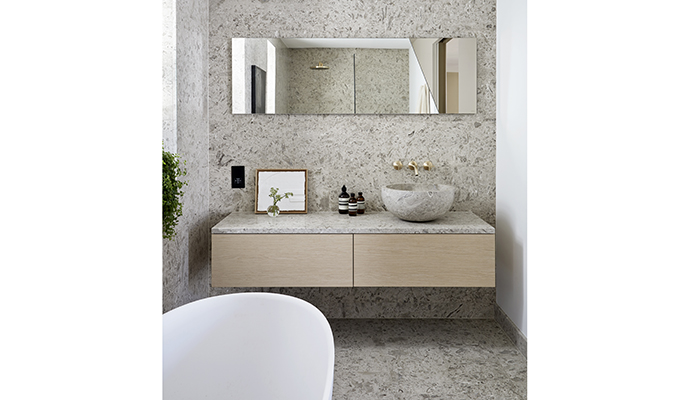 The elegant Vaia fitting features in the walk-in shower and washbasin area, bringing a refined silhouette that nods to the understated sophistication of the home. The sleek curves of the contemporary Meta freestanding bath mixer and hand shower set contrast beautifully with the naive, pebble-shaped bath tub, consistent with the respect for stone textures and patterns throughout the home.