The owner of Quarrybank Boutique in Wilmslow tells Tim Wallace how displaying the colourful work of a local artist has given her bathroom store a distinctive ambience that's proving a big hit with customers.
How do you make a bathroom showroom look and feel genuinely different from the rest? There can't be many original ideas left by now, but one retailer who's succeeded is Kora Hume, director and co-founder of Quarrybank Boutique, based in Wilmslow, Cheshire.
Four years ago, she and her husband Steven set up a plumbing and heating business but were having to turn potential customers away. So last summer, the Polish couple decided to convert a dilapidated high street betting shop into a boutique bathroom showroom – and the move has quickly generated local attention.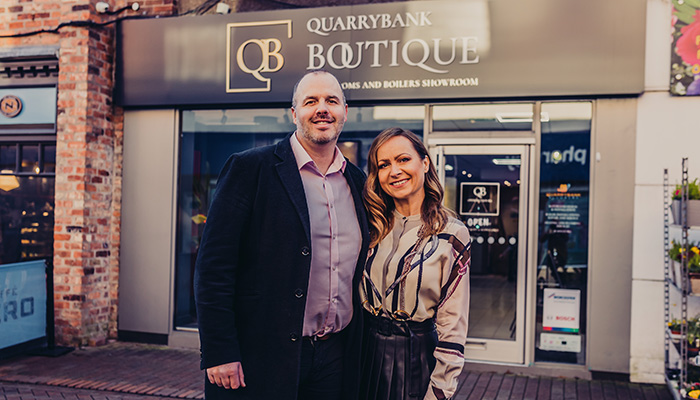 Before moving to the North West, Kora worked as an investment banker in the City of London. But interior design has long been her passion and once the new venture had been launched, an idea began to form following a visit to Manchester Art Fair. It was here that she quickly fell in love with the work of local artist Lily Greenwood who agreed to allow some of her paintings to be displayed in the showroom. Since then, a whole gallery has been developed, giving the store that key point of difference that immediately wows visitors.
The artist's colourful paintings and lampshades reflect her love of nature, and give an eye-catching backdrop to the store's niche collection of furniture and sanitaryware. The canvases are also covered with a clear gloss varnish that secures the work making it perfect for humidified spaces, and this has become a major selling point.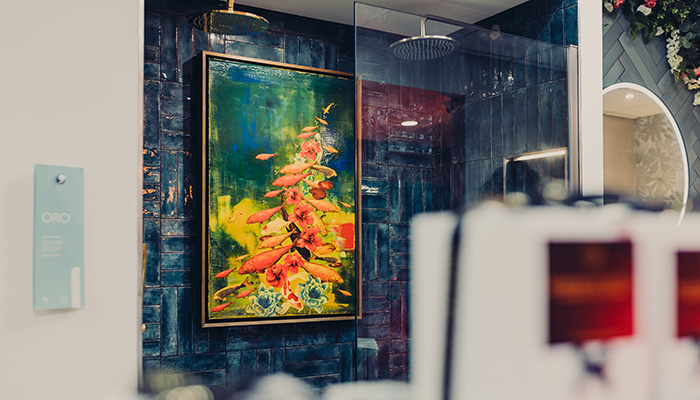 "We may be starting a whole new showroom trend here," Kora laughs. "The bathroom is still neglected – it's still just the place we go and wash and brush our teeth. It can be so much more. The market is moving on. When I saw Lily's work I thought, oh my God, this is fabulous. It relates to water and ties in with the values we have for the shop."
One of the first suppliers she turned to was Armera, and many other brands have since come on board including Flair Showers, Roper Rhodes, The Shower Lab, Heritage, Villeroy & Boch and Arteform. Handmade furniture from Parker Howley is also available.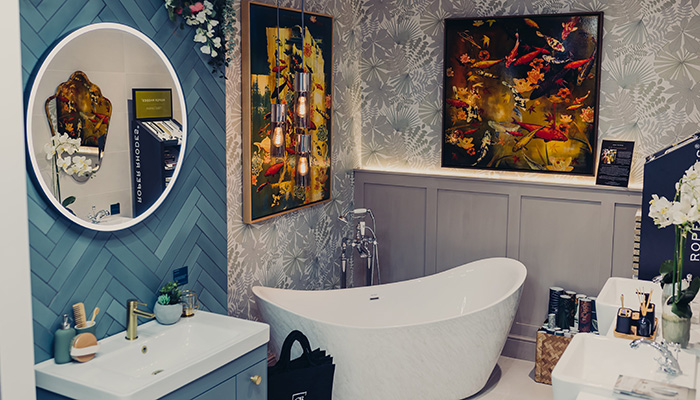 Talks are also underway with local mosaic artist Mark Kennedy whose work has featured on the streets of Manchester for over 30 years. With the showroom still taking shape, Kora hopes to incorporate one of his mosaics into a new steam room in a refurbished area on the first floor. She has also introduced a collection of striking wallpapers and a bespoke range of branded candles.
"We are more about the whole feel of the bathroom and providing customers with the extra care that boutique shops can offer," she explains. "We don't want brands that are over-saturated in the local market. Part of the selling experience is to be like a clothing boutique where you're offered a glass of champagne then walk out with five bags and a hat," she continues. "But for bathrooms it's very challenging. The showroom is very small. You have to work out what customers feel to create this magic."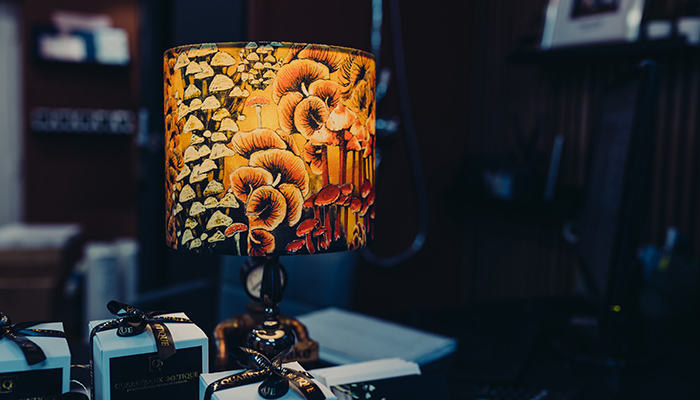 Kora says she's focused on taking extra care with features like the front window with its big copper bath: "But as soon as you open the door, you'll hear jazz music and our showroom manager will jump up to meet you," she says. "He won't ask what your budget is and when you want your bathroom."
The store also reflects a new interest in colour among customers: "People are getting bolder," Kora says, "so we've got a lot of greens and red wine coloured tiles in our displays. Bottle green is trending along with taupe and beige. Grey is coming out and people are heading back to the more earthy colours. We're also seeing a lot more sustainability and use of wood. People are looking for a warmer feel and they also want quality and long-lasting products."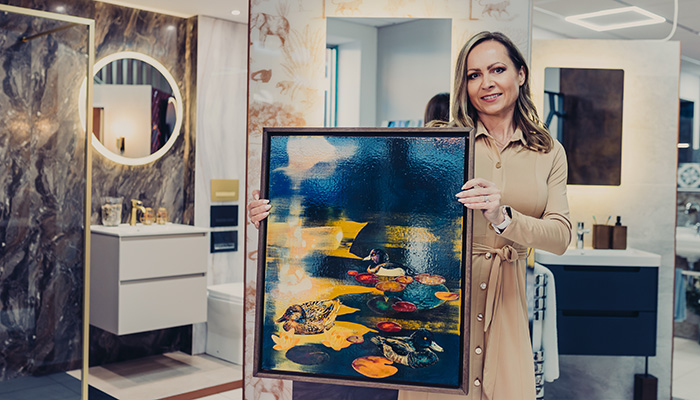 Business is flourishing, underpinned by the store's installation arm, and there's also no sign yet of a drop-off in orders. Six full-time fitters are employed, offering full project management under one umbrella. The shop is operated by Jake, the showroom manager/designer, with Kora supporting him. The plan from here, she says, is to "continue to offer unique products and open people's minds. If things go really well we'd like to open another showroom in another affluent area of Cheshire," she reveals. "We're getting people from as far afield as Knutsford, Sale and Salford because we have an active social media strategy. People say they've seen us on Instagram and love what we're offering so they recommend us to people they know who need a bathroom.
"Everyone who visits says they've never been to a place like this before," she smiles. "I'd like to eventually become the go-to shop in Cheshire when it comes to bathrooms."