We are going to be hearing a lot more about Laminam's porcelain worktops in the UK, say sales director Luca Bottazzi and general manager Toni Lleo. Amelia Thorpe finds out more.
In the ever-evolving world of kitchen worktop materials, there can be little doubt that porcelain surfaces are becoming increasingly visible – and a challenge to the popularity of quartz. "Porcelain slabs have become one of the best options for kitchen studios, especially with the silicosis problem with quartz," says Luca Bottazzi, pictured left, Laminam sales director for North Europe, Israel and China.
While long-term lung disease silicosis and unsafe practices in quartz-surface fabrication remain under debate, there is no suggestion that quartz worktops in kitchen settings represent any danger. However, Bottazzi – together with UK general manager Toni Lleo, pictured right – are, as you might expect, resolutely focused on promoting Laminam's porcelain, made using sustainable technologies and including between 20% to 40% recycled material. Like other porcelain products, the material has very low porosity and is known for its stain, scratch and thermal shock resistance. "We want to be the number one reference for porcelain slabs in the UK," says Lleo. "We believe that we have the largest selection of products – not just for kitchen worktops and furniture, but also for flooring, bathroom furnishings, outdoor kitchens, facades and wall cladding." Today, there are 13 collections, including the latest Diamond series, with a mix of finishes amounting to almost 130 different colour and texture variations.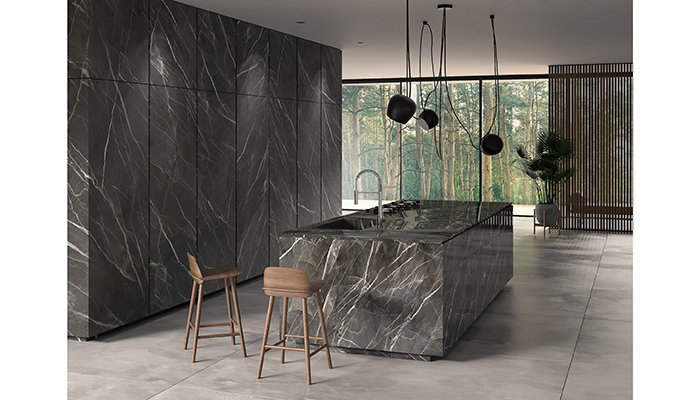 Laminam was founded in 2001 by Franco Stefani in Sassuolo, Italy, in the area famed for production of ceramic tiles thanks to the abundance of local clay. "Franco Stefani invented a new technology to manufacture 1m x 3m slabs, at a time when the biggest tile was 30cm x 30cm," explains Bottazzi. At 3mm thick, the large panels were quickly taken up for vertical applications, including indoor walls and ventilated facades. In 2008, Laminam introduced a 6mm thickness for flooring applications, before moving into kitchen worktops in 2015. "We invested close to 50million Euros and opened a second production site in Italy," he continues. "We started with a new size (160 x 320cm) in 12mm and 20mm thicknesses. And, I must say, after 8 years, it has been extremely successful."
While Laminam is today controlled by private equity fund Alpha and holds a global leading position in the sector, manufacturing some 7million sq m per year, what are its plans for the UK? "It's early days for Laminam UK," admits Lleo. "Having only entered the UK market in 2020, which of course proved to be a tough couple of years due to Covid, we are taking a very personal approach." As well as developing one-to-one relationships and exhibiting at shows such as Clerkenwell Design Week and HIX, there collaborations with premium kitchen brands such as Scavolini, Poggenpohl, Ghloss and The Outdoor Kitchen Collective.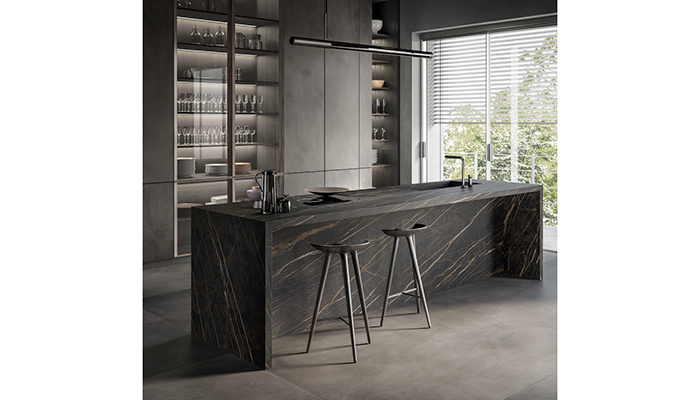 And what makes Laminam stand out? "We are made in Italy and work with all the top Italian kitchen brands, participating in Salone del Mobile every year – we have continuous access to trends in the design world ahead of our competitors," says Bottazzi. The second advantage, he says, is Laminam's knowledge and focus on one material. "With over 20 years of know-how we have managed to achieve exceptional control of the production, which leads to a better product and better quality – we were the first," he says.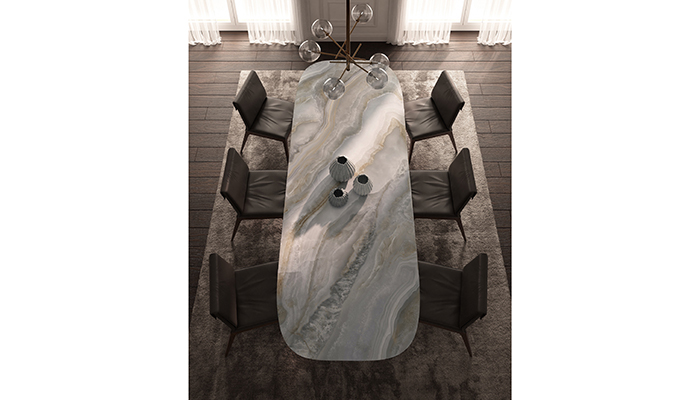 At Cersaie Bologna in September, Laminam will introduce veining through the body of the material, in response to one of the main criticisms of porcelain worktops, and will launch a 3mm thickness in 120 x 300cm size for kitchen doors. "We will be able to provide a total solution for kitchen designers," says Bottazzi.