Kitchen studio The Myers Touch has recently become the exclusive UK retailer of Italian kitchen and furniture brand CopatLife – directors Keith and Helena Myers reveal what they believe the new partnership will bring to their offering.
Q: Tell us about the partnership with Copatlife – why did it come about?
A: Keith Myers – Having previously implemented a successful strategy in our studio by partnering with middle-to-high-end market German kitchen product manufacturers, we have always felt that we were missing something in terms of creativity and options to offer consumers when it comes to European-designed kitchens. To address this, we began exploring Italian suppliers at the Milan Furniture Fair in recent years.
In 2021/22, we initiated discussions with potential Italian kitchen partners with the goal of bringing an exclusive range to the UK marketplace. When we came across the Copatlife range and met the people behind the brand, we immediately recognised a strong synergy in terms of their design, vision, creativity, and innovation. They demonstrated a clear understanding of our business in the UK and how their brand could fill a gap in the marketplace for UK consumers. Consequently, we established a connection with Copatlife to launch their products in the UK marketplace, starting with our Winchester studio.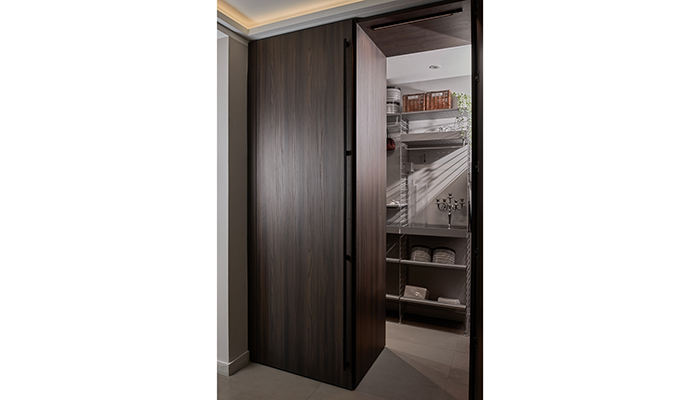 Since unveiling our new display featuring the Copatlife range, we have received tremendous enthusiasm from both consumers and our B2B customers. It showcases the superior Italian kitchen designs that we can offer, and it has generated significant interest and excitement.
Q: How do you think it will enhance your offering?
A: Keith Myers – It will appeal to customers who are looking for contemporary Italian designed kitchens with innovative design features at a mid-price level. The brand offers a range of cutting-edge materials, shapes, storage solutions and technologies and also extends into furniture solutions for living spaces, making it the perfect option for customers who are seeking high-quality shelving, dining tables, storage units, desks and home bar areas that blend as part of their kitchen-living space.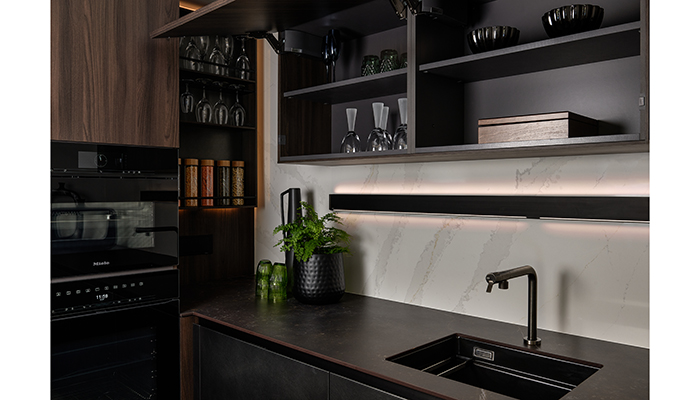 Q: How did you go about devising the new Copatlife display in your showroom?
A: Helena Myers – We always look at the showroom as a whole whenever we are renewing a display. This ensures a consistent and harmonious client studio experience and thoughtful consideration of the unique attributes offered by each brand. The area for this display has no natural light source and three existing built-in features which we wanted to retain. These are a small walk-in utility area; a coffered ceiling; and a floor-to-ceiling quartz feature wall.
We started by identifying the ambience we wanted to create- a dramatic, sleek and sexy feel, and then began on the outline and flow, maximising the use of clever 75cm appliance housings to reduce the carcase joins and create an understated elegance. We ensured that every cabinet offered something different for a customer to discover. Finally, we selected dark but warm materials-Dark Elm laminate and metallic-look lacquer to create the drama and contrast with the feature wall.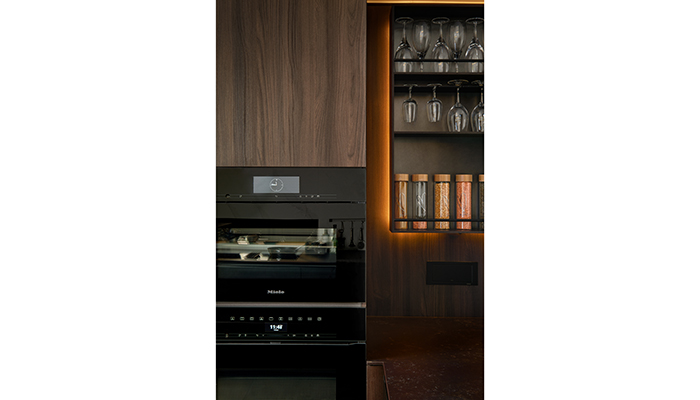 Q: What were the key elements that you wanted to prioritise in the display?
A: Helena Myers – Copatlife offers some beautiful door finishes that we have not found elsewhere. We also wanted to showcase the contemporary tabletop which provides a light and design-led introduction to the kitchen itself, offering a pause place for guests and a great working area for the cook which we can utilise when we hold live cooking events.
Q: Now the display is finished, what do you think is the most successful part of it?
A: Helena Myers – This is difficult to answer because we love it all. Perhaps the most successful thing is simply how well it met the brief and how many customers are drawn to its beauty and apparent simplicity.
Q: How are showroom visitors interacting with the display?
A: Keith Myers – The display is fully functional in terms of all the design features, appliances and lighting systems so customers can interact and truly experience what the brand can offer in terms of its choice of innovative and design possibilities. The modern, extra-wide 75cm-wide cabinetry is shown in Copatlife's Dark elm arabica and metallic-effect lacquer that we matched with Miele appliances, a sophisticated light system from Novy, Silestone wall cladding and 12mm Dekton Keyla Suede worktops. We also include a hidden walk-in utility/larder space within the display to showcase to customers how hidden storage features can be customised in various sizes and solutions to help them keep their main kitchen space tidy whilst storing dry foods and appliances.