These days a mirror over a basin doesn't just complete a design – it plays an important role in enabling the user to change the mood and purpose of the space with lighting. Angelica Hedges rounds up 10 of the latest illuminated bathroom mirrors.
1. Launched at the beginning of the year by Origins Living, the Lomax Light Mirror comes in sleek Brushed Brass and Black finishes, and measures at 70 x 40cm. The mirror itself comes with a demister pad to prevent steam from the bathroom causing misting. Pictured here is the Daylight White light at 4000K.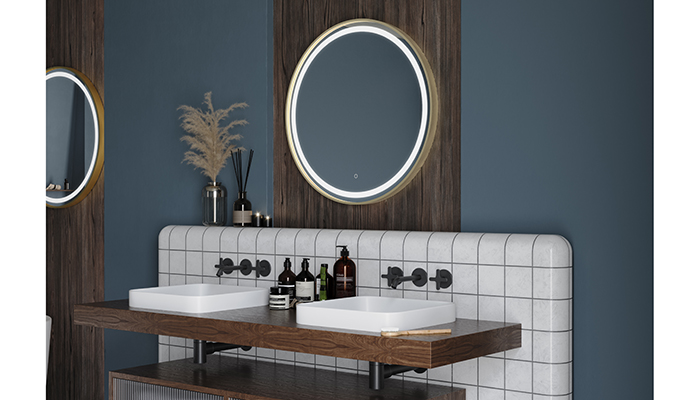 2. The Luna Ambient Mirror from Roca draws its inspiration from the Full Moon as a source of light and its uplifting, glowing qualities. This wall-hung horizontal rectangular mirror is able to blend seamlessly into any space due to its clean edges, it measures at 100 x 70cm, and is pictured here showcasing its perimeter LED lighting.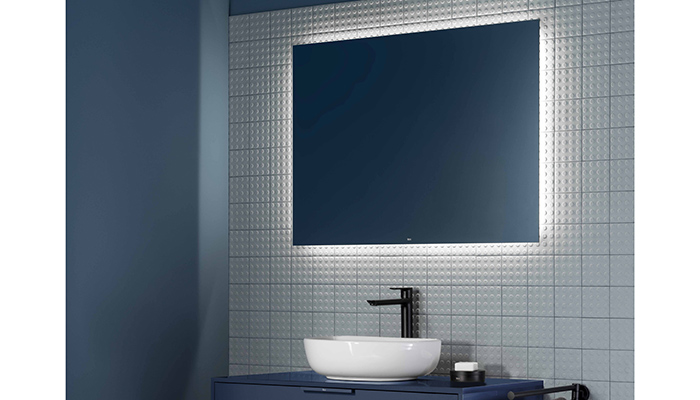 3. Pictured here is the RAK-Ornate from RAK Ceramics, which blends intelligent touch control technology with LED lighting. Its features a demister pad to tackle steam in the bathroom and comes with a useful storage shelf, which is available in on-trend Matt Black, Chrome, Brushed Nickel and Brushed Gold, pictured here. It comes in 60 x 80cm, 60 x 100cm and 60 x 120cm, and features curved edges, blending modern and classic stylings.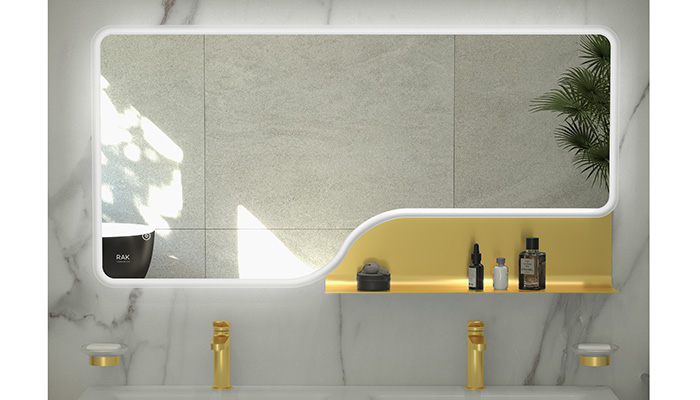 4. The Cassini Curve mirror from HiB is available in both Curve and Round options, and features LED illumination with built-in colour temperature adjusting technology. It comes with a chamfered diffuser so the user can adjust the glow to suit the bathroom ambience, as well as a heated pad to reduce condensation. The Cassini Round is available in two sizes, 60cm and 80cm, with the Cassini Curve available in 60cm (pictured here), 120cm and 140cm.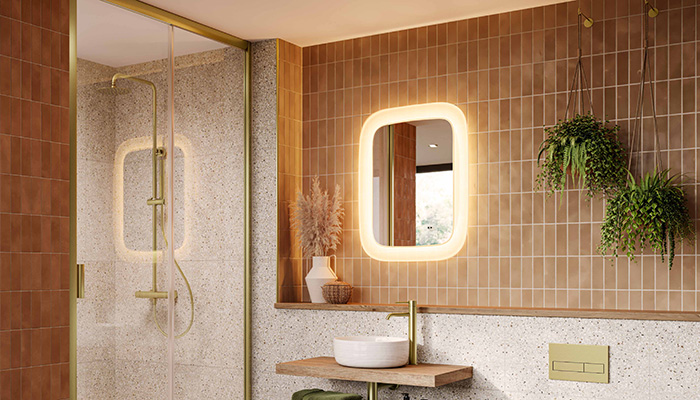 5. Pictured here is the new Bellus 100 from HiB – a 100cm version of the popular mirror that is already available in 80cm and 60cm versions. The patterned illumination and bold design are enhanced by integrated colour-changing technology, so that the user can alter the light from Cool White to Warm White to suit their mood. In addition, it has a heated pad and is designed with touch-free operation.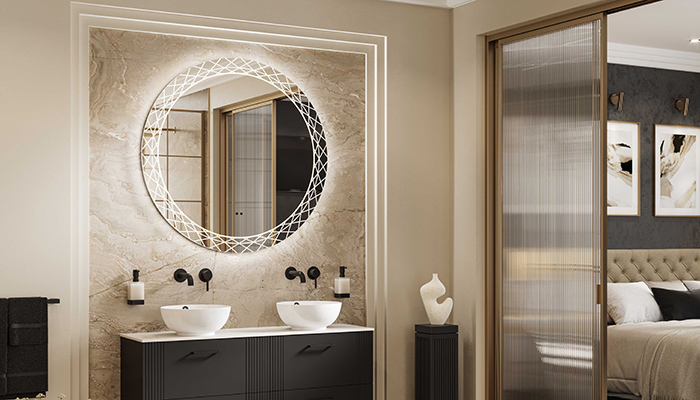 6. This is the RAK-ART round mirror from RAK Ceramics, which comes in a range of finishes allowing it to pair well the brassware in the space, including Chrome, Matt Black, Brushed Nickel and Brushed Gold. It features touch-sensor activation, LED lighting, and a demister pad in addition, and comes in Round, Square, Soft and Oval versions.

7. The HALO Round Front-Lit mirror from Bathrooms to Love by PJH features a 3cm front-lit LED strip and has a Brushed Brass coated aluminium metal frame, which is also available in Matt Black. Its many functions include an on/off touch sensor, a demister pad to keep the mirror steam free, and Cool-to-Warm lighting settings to adjust the atmosphere.

8. The Iridia Round mirror from Roca features perimeter LED lighting and comes with an integrated demister pad and built-in power socket for shaving. It comes in two Round versions measuring 100cm and 80cm, and is also available in six rectangular versions of: 140 x 70cm, 120 x 70cm, 100x 70cm, 80 x 70cm, 60x 70cm and 40 x 70cm.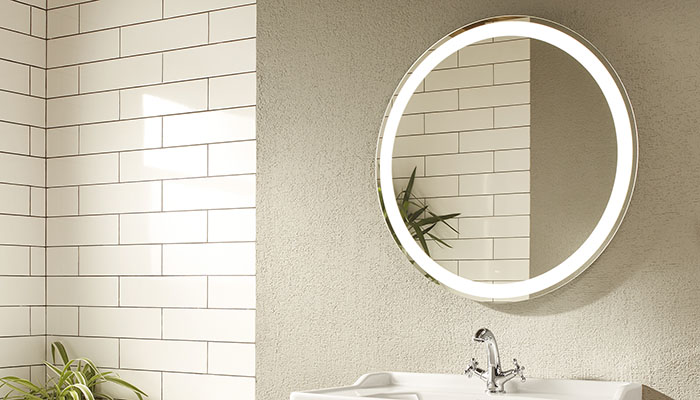 9. The Vitrium Mirrored cabinet was designed by Christian Werner for Duravit, and intentionally shares the same design language as the straight-lined console vanity unit and cabinet. It features sensory controlled LED lighting with a dimming function, two mirror doors, as well as a built-in shaver socket for added convenience.

10. From Keuco, the Edition Lignatur light mirror features a touch-sensitive keypad panel, allowing it to be dimmed and adjusted for warmer relaxing mood lighting, or cool and bright task lighting, depending on the user's preference. The integrated mirror heater allows for steam-free vision in mere seconds.