Layered lighting schemes using the latest innovative systems are a vital element in designing a contemporary look in the kitchen. Sally Smith finds out how to do it from the experts.
A 'standout' kitchen design must have a well thought out layered lighting scheme that includes integrated cabinet lighting, sophisticated illuminated overhead extraction, and stylish island lighting that fits seamlessly with the kitchen furniture, and – importantly – is easy for the client to use.
"A good lighting scheme is one that matches, enhances and complements the kitchen space, and layering lighting is a key design feature that must be considered by the kitchen designer. If a customer has an ultra-modern taste, strip lighting placed in line with the top of base units and under the kitchen island worktop works well. Subtle coloured lighting can help to differentiate between task and ambient lighting," explains Cassie Jones, brand manager at Masterclass Kitchens.
She adds: "Interior cabinet lighting is a particular focal point that customers love at the moment. All our cocktail cabinets and dressers, for example, hold either spotlights or strip lights, as does 'The Lansbury', our flagship corner pantry. Depending on customer preferences and logistical needs, they can operate them via a switch, infrared sensors, or a remote."
A successful kitchen lighting scheme needs to seamlessly integrate task, ambient, cabinet and shelf lighting to achieve an optimal blend of functionality, and a range of lighting scenes to suit the customers needs.
Häfele offers a specialised order service to retailers to cut, assemble, test, pack and ship lighting strips based on customers size and profile requirements ready for easy installation.
Jamie McLaren, business development manager for Lighting at Häfele UK, says: "Kitchen lighting must be well thought-out to ensure what's included in a lighting plan is going to benefit the users. Studios should delve into the needs and lifestyles of their customers to understand what lighting features would suit them most."
Mclaren adds: "It's important to ensure that a sophisticated lighting scheme isn't disruptive when it comes to installation. Plug and play technology has made it easier than ever to fit clever kitchen lighting, and it's suitable for all budgets, too. In many cases, you don't even need a qualified electrician to fit it. Our Loox and Flex Lighting systems, for example, can be managed via an app – something that is familiar to anyone with a smartphone, so customers will see LED lighting as accessible and easy to use, rather than complicated."
Accent lighting is the ideal solution to highlight different features within a room, pendant lighting looks great over a kitchen table, island, while LED strip lighting can transform everything from plinths, handleless cabinets, worktops and splashbacks.
Matt Phillips, head of UK operations at Rotpunkt, agrees: "Kitchen designers need to become lighting experts too – both decoratively and operatively. Leading manufacturers are supporting this with products that are reactive and practical so that LED options can ride the line between task and ambient lighting. We're finding that integrated smart lighting is really taking off as end users enjoy the freedom to control their home with their voice using personal virtual assistants like Alexa or Siri. Premium manufacturers have now made this process even easier by incorporating long-life, energy efficient smart-enabled LED lighting into glass cabinets as standard to enhance the overall look and feel of a kitchen space."
It's vital to discuss lighting with the customer at the very beginning of a kitchen project to fully optimise the potential of task, ambient and overhead lighting to create an inviting atmosphere in the kitchen space.
Jo Sargent, sales and marketing director at Franke UK, explains. "When advising customers on kitchen lighting, it's important for retailers and designers to highlight the role of extractor hoods within the overall lighting scheme. Extractors are more than a functional element in a kitchen design, particularly with islands being so prevalent now; they occupy a prime position over the island unit and provide a role in providing both task and ambient lighting.
"For example, our Mythos Full Light ceiling hood offers a combination of a ceiling hood and a light fitting. Its tunable white LED lighting with adjustable levels can be moved between ambient and task lighting as required, while at the same time providing powerful yet discreet extraction."
Customers will need at least three circuits and probably more for a larger open plan space. Lighting experts recommend having overhead ambient, task, and accent lighting on separate circuits to allow the customer to easily create different lighting scenes.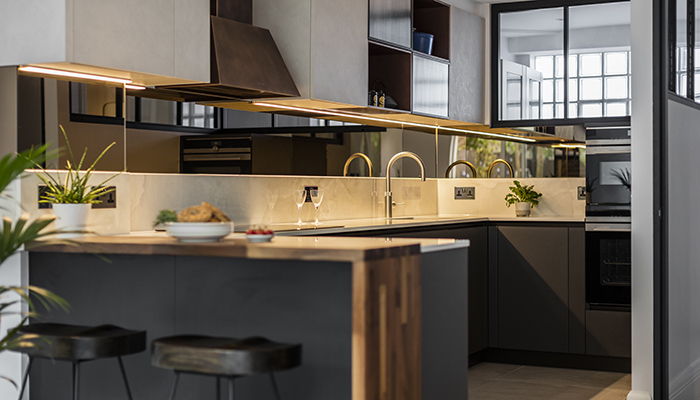 Brani Hadzhi, head of design at Multiliving by Scavolini, says: "Overhead lighting, such as ceiling-mounted or recessed fixtures, are essential for providing overall illumination and setting the tone of the space. However, it can create harsh shadows. Therefore, it is essential to have task lighting to illuminate specific work areas and ensure that customers have enough light to work efficiently without straining their eyes."
She adds: "The most popular type of task lighting is under-cabinet lighting, with energy-efficient LED strip lights illuminating the worktop below, providing better visibility for tasks. But importantly lighting needs to be versatile so it is a good idea to install pendant lights with dimmer switches. These allow people to adjust the brightness of the lights to create different moods depending on the occasion."
The newest generation of integrated cabinet and shelf lighting now come with gesture and voice control allowing the customer to easily manage a layered lighting scheme without the confusion of multiple switches.
Novy has developed a Designer Lighting Collection – a range of minimalist contemporary lighting products designed to complement its ceiling hoods and vented hobs that retailers can display and sell in their showrooms.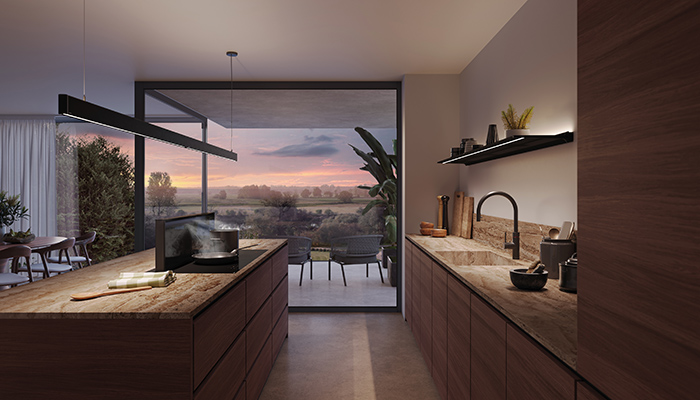 A growing trend is to illuminate island units as customers look to add customised design elements to their kitchens. HIMACS worked closely with Stuttgart-based furniture maker to achieve backlighting for this bespoke kitchen unit.