If your client is after a statement tub but their bathroom is a bit on the bijou side, don't despair – we round up 10 beautiful baths that are smaller than the standard 1700mm.
1. At 1600mm long, the Voss bathtub is the smallest in Spanish brand Acquabella's portfolio, and has been added to the Acquawhite product family. Made of soft-touch material Dolotek, which is formed of resin and dolomite stone, the bath has a clean, contemporary silhouette and is particularly space efficient as it is installed with one side set against a wall.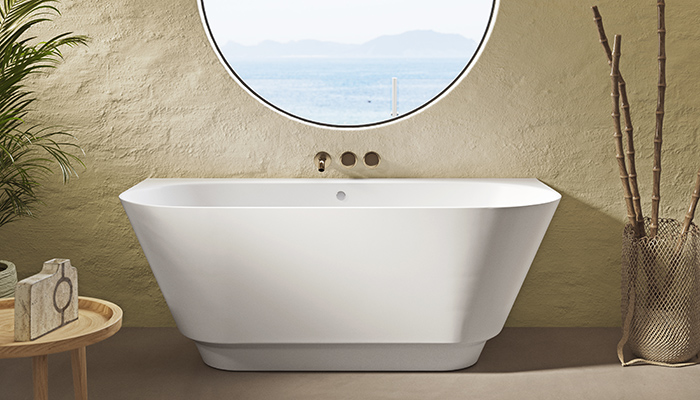 2. The Lussari freestanding tub is a statement piece from Victoria & Albert Baths with a sleek, double-ended design and smooth, organic curves. It comes in three sizes, the smallest of which is 1500mm long, pictured here, and all three can be matched with the Lussari 55 basin which shares the same elegant shape. The recently launched collection is made from Volcanic Limestone, which is said to strong, and also stain and scratch resistant.

3. The Tweed small cast iron skirted bath from Drummonds is said to be ideal for a smaller bathroom as it measures only 1520mm long. Inspired by the 'bateau' style bath of the 18th century, the double-ended design offers all the comforts plus the visual impact of a classic freestanding tub, but on a more compact scale.

4. The Tubby Torre Plinth Bath from the Albion Bath Company follows the original deep Tubby design, but features a purpose-built plinth. The roll-top bath measures a diminutive 1195mm in length – perfect for compact spaces – and can be finished in any Dulux Trade or Farrow & Ball colour, or one of Albion's three metallic 'burnished' finishes – Gold, Iron or Bronze.

5. The single-ended Clevedon Freestanding Corner Bath from Bathrooms to Love by PJH can be installed flush within a corner, so is ideally suited to rooms where space is at a premium. Made from white acrylic, it comes in two sizes, with the smaller one (pictured here) measuring 1500mm long, and can be fitted with a bath screen for bath-shower installations.

6. The BetteStarlet Oval Silhouette bath measures 1500mm long and 800mm wide – the smallest size Bette offers – and comes in 8 glossy colours, 6 matt colours and a bi-colour option with a white interior, and either a black or violet exterior. It's made from glazed titanium steel, so is fully recyclable, and comes with a 30-year guarantee.

7. The new Penny bath from BC Designs is the smallest bath the company does, measuring just 1360mm long, and can be used to create a striking focal point in an en suite. An acrylic slipper bath, it can be painted to match any colour, and is designed with comfort in mind as the deep sides provide substantial back support for soaking and relaxing.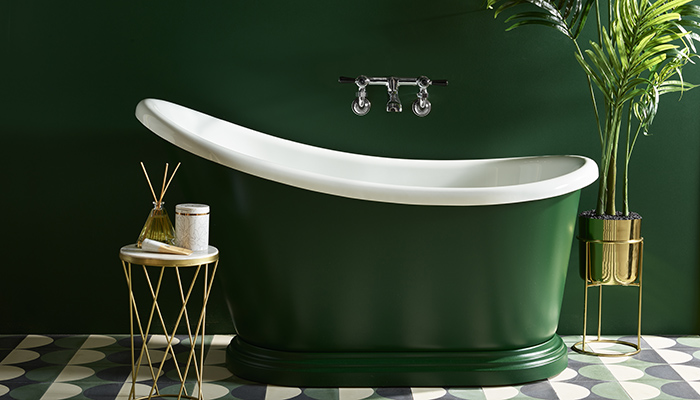 8. The oval-shaped RAK-Cove bathtub from RAK Ceramics comes in three different sizes, with the smallest one measuring 1600mm long. It is made from RAKSOLID – a durable material made from a mix of natural minerals and resin – and features a minimalist shape for contemporary schemes. The Matt White finish adds refinement and is smooth to the touch.

9. The elegant oval Kauai freestanding bath from Roca has a minimal footprint and measures 1600mm long. Made from Stonex, Roca's own composite material for anti-slip shower trays and baths, it is cast in one piece so there are no sharp corner or joints, and is said to be smooth and warm to touch. Pictured here in dark shade Onyx, it also comes in Pearl, Beige and Coffee.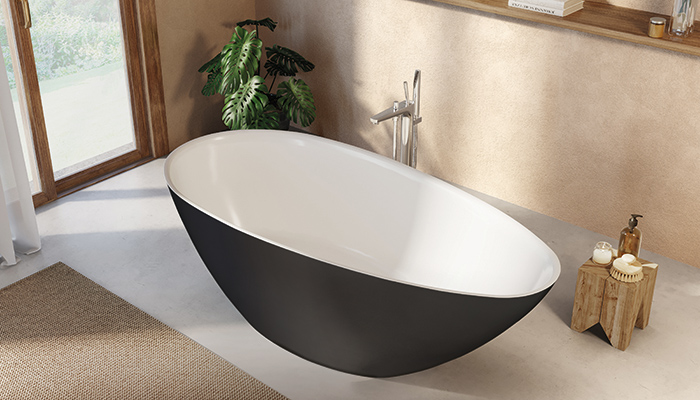 10. Laufen's circular Val freestanding bathtub, designed by Swiss bathroom specialist Konstantin Grcic, features simple architectural lines and narrow edges, and is made from the brand's Sentec solid surface material. It measures 1300 x 1300mm and has an intergrated overflow and feet. An optional back rest is available for added comfort.