We asked the design team at Ripples to gaze into their crystal balls and reveal the 5 hottest trends set to redefine the bathroom sanctuary in 2024.
1. UNDERSTATED LUXURY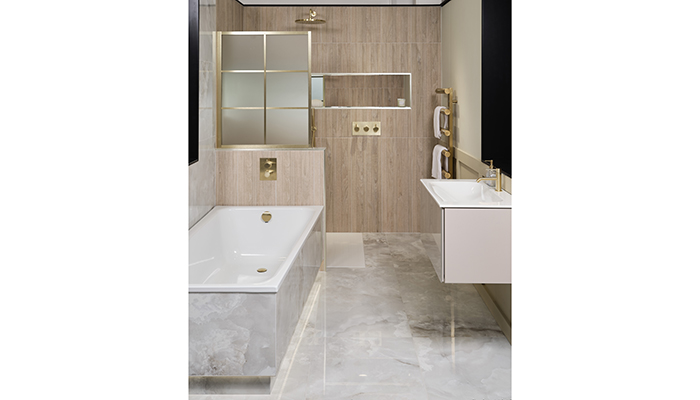 Pared-back and minimal...stylish but not trend-led. Where there's space, these clients are opting for a walk-in shower and a freestanding bath. They're choosing special finish brassware in warm tones such as bronze and brushed brass. Tiles are in neutral tones and either incorporate marble patterns or Zellige finishes, offering variations in look for a finish that gives texture and plays with light. Texture is also introduced with fluted finishes, on wall lights or shower glass. The overall aesthetic is elegant, hotel-inspired and old money but never bling or flashy.

2. KITSCH
At the opposite end of the spectrum is the country-cottage finish, but with a twist. Clients are incorporating antique and upcycled furniture but juxtaposing them against shiny new rolltop baths and brushed gold brassware. The walls are adhorned with quaint wall lights with miniature lampshades, dressing room mirrors and whimsical artwork. Clashing fabrics are incorporated through textiles, from towels to drawer curtains, all giving a nod to the nostalgia but in a refreshingly new way.

3. CHEQUERBOARD TILES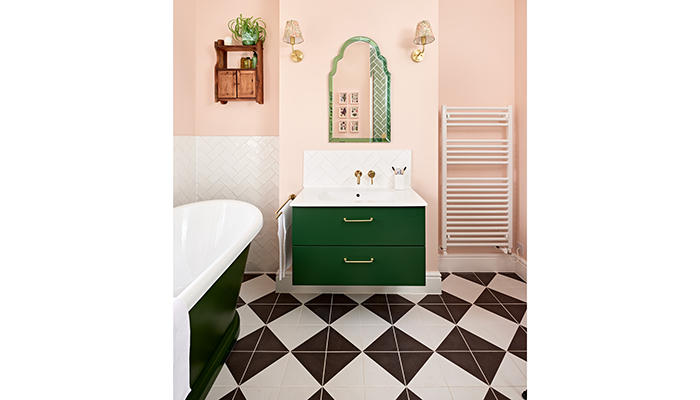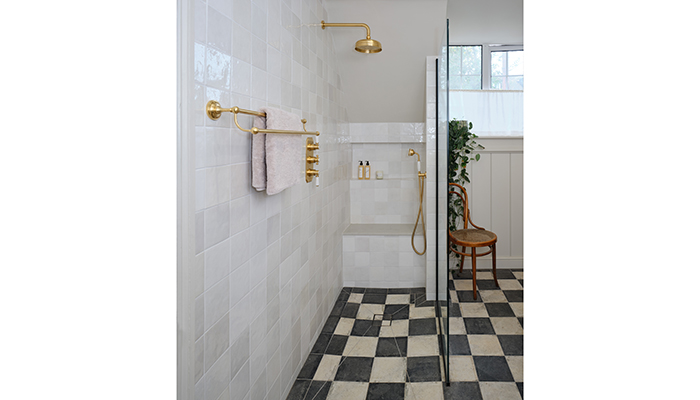 Chequerboard tiles are a highly versatile choice as they have the ability to work in both traditional and ultra-modern settings, depending on how they're laid and what they're paired with. When paired with sleek fixtures and fittings, chequerboard tiles create a contemporary finish which can be further enhanced by using soft pastel tones and special finish brassware. In more classic schemes, chequerboard tiles add an authentic Victorian feeling, especially when used with classic fittings and furniture, such as a boat bath and bronze brassware.

4. AU NATURALE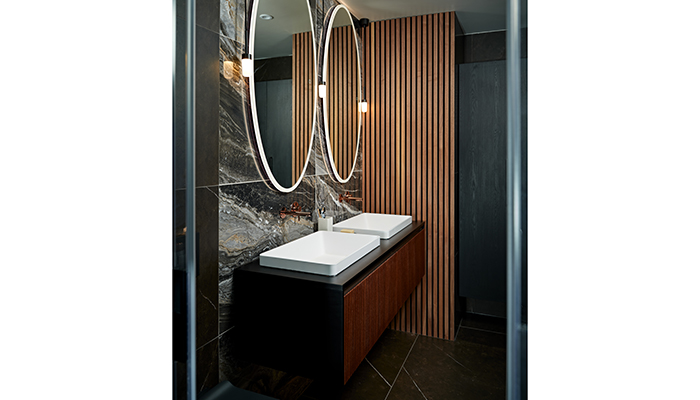 Drawing inspiration from the natural world is nothing new in bathroom design, but it's becoming more prevalent than ever. Slatted wooden walls and panels are the biggest trend we're seeing here, as wood, especially reclaimed, brings a tactile and textural element to a scheme. The use of recycled materials is becoming increasingly important, primarily for the environmental benefits but also as a way of adding character to a design.

5. FEATURE WALLS
If you're wanting to make a small change that has a big impact then a feature wall is always the way to go. 2024 is the year to experiment and be bold with the colours that you may have previously shied away from. Pink is the colour of the moment whereas oranges and greens are also popular for bringing a burst of colour into your client's room. A feature wall can be created with a lick of paint, a bold tile, or even wallpaper. You can choose how much space you want to use, be it floor to ceiling, half-height or even bringing your design up onto the ceiling. One advantage of a feature wall is that it offers a clever illusion of more space in smaller bathrooms, helping to blur the lines and edges of the room.