The rise of downdraft extraction and vented hobs is giving designers more scope to get creative with kitchen lighting – Nicola Hanley investigates this growing trend.
"Lighting used to be seen as an afterthought, an accessory to be added at the end of the kitchen renovation once everything else had been designed. Now, lighting is viewed as an integral part of a successful kitchen by designers and customers. It enables you to completely transform the look and atmosphere of a kitchen, instantly injecting warmth and personality," says Annie Tullett, sales director at Tom Howley's Cheltenham showroom.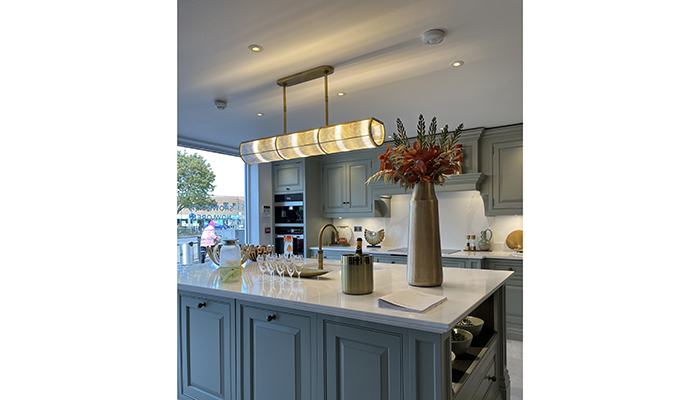 Darren Taylor, MD at Searle and Taylor, agrees that previously, kitchen designers focussed most of their attention on cabinetry and appliances, leaving interior designers or the client themselves to choose their lighting. "The situation is changing," he says. "With so many of our kitchen designs now incorporating vented induction hobs, there are definite opportunities for us to suggest, and recommend, statement lighting at the design stage – and to sell it too. With vented hobs becoming more popular in high-end kitchen designs, I believe there will be continued demand for statement lighting as this appliance trend is here to stay."
Richard Moore, design director at Martin Moore, also comments on the positive effect that discreet extraction is having on lighting within kitchen design: "Air venting induction hobs are becoming increasingly popular, as they are a subtler way of extracting steam than overhead extractor fans, which typically take up a lot more space. With more available ceiling space, there is more room for large ceiling lighting, such as an elaborate chandelier. We are seeing a dramatic increase in statement lighting, such as chandeliers or pendant lights using alternative materials or unique, modern designs to give kitchens the real 'wow' factor upon entry. Lighting is another great way of giving a kitchen an extra boost of personality and creating an interesting space that goes beyond functional."
In the past, Simon Taylor, MD at Simon Taylor Furniture, says he would have incorporated spotlights within a bulkhead for a ceiling hood or the lighting would have been provided by the ceiling hood itself. "Today, the fashion for statement lighting works hand-in-hand with appliance trends," he says. "Because we are increasingly specifying vented recirculation induction hobs in our projects, overhead extraction is no longer necessary and, instead, we are specifying and installing decorative or pendant lighting for our clients."
Another noting the trend is Sheraton Interiors' Mark Hassett: "The trend towards downdraft extraction and vented hobs has indeed opened up the space for more expressive lighting options above kitchen islands. With the obstruction of a hood gone, designers and homeowners are taking advantage of the opportunity to use bold and unique lighting fixtures."
Rebecca Nokes, design director at John Lewis of Hungerford, goes further and says she would now never recommend over-island extraction at the expense of statement lighting. "Downdraft extraction has massively created opportunities to be able to install statement lighting which is more aesthetically pleasing than overhead extraction. I personally wouldn't suggest anything else other than downdraft extraction if a hob is placed in an island."
Searle & Taylor's Darren Taylor points out how specialist vented hob brands are now adding dedicated lighting ranges to their portfolios. Following the acquisition of Netherlands-based designer lighting manufacturer Jansen & de Bont, appliance brand Novy is now selling its Designer Lighting Collection through kitchen specialists and Bora has plans to add lighting to its collection next year. "It provides us independent retailers with a further opportunity to promote their products in our showrooms," says Darren Taylor.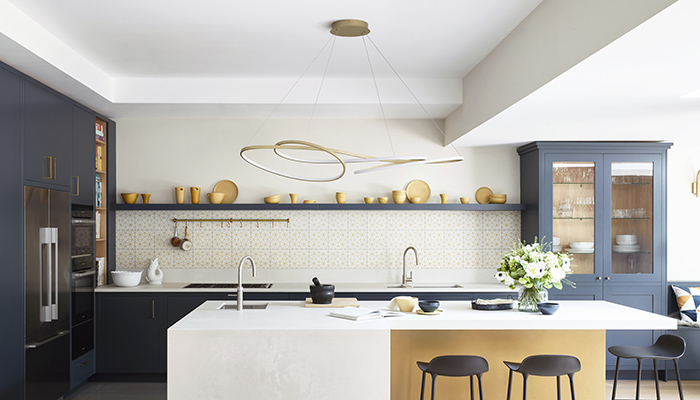 According to Graham Robinson, design manager of Halcyon, statement lighting can help create a more welcoming ambiance and is ideal in open-plan spaces where consumers are looking to blend the boundaries between kitchen and living zones. "Using downdraft or discreet ceiling extraction gives a lot more scope to be creative with lighting," he says. "The light becomes the centre of attention instead of extraction. It's a way to make a kitchen more individual and from a practical aspect it gives a light source over an island and works as part of the overall lighting scheme of the whole room to create atmosphere."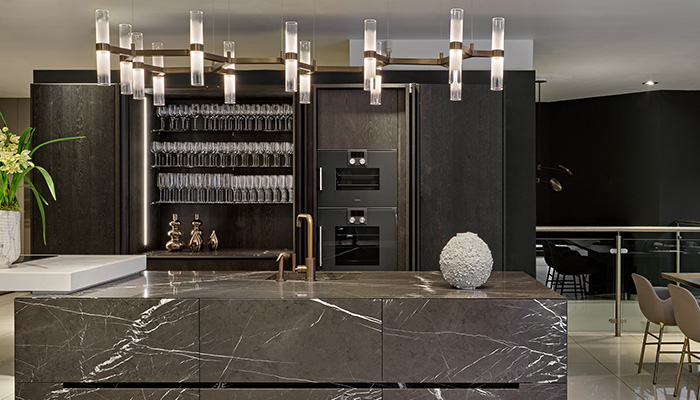 And what styles of light are appealing to consumers keen to personalise their space? "Currently, pendant lighting is a popular choice when it comes to kitchen design, with many clients opting for three lights placed above the island. Three pendants provide enough light to create an atmosphere, but do not overwhelm or clutter the space, however, larger islands may require a greater number of pendants," says Martin Moore's Richard Moore. "Glass pendants are a brilliant way to subtly introduce colour into a space and can be mixed and matched to create visual interest. There is also a focus on character lighting; large pendants are very popular, helping to introduce colour and a decorative focal point to the kitchen. In lofty rooms, pendant lighting helps to draw the focus downwards towards the island."