As we head into the last few weeks of 2023 the majority of consumers thinking about a new kitchen will be looking to next year to get their dream kitchen projects underway. At Caesarstone we have a long-standing history of driving worktop trends and providing a range of surfaces that meet consumer desires and have a timeless appeal to ensure your customers will love their kitchen for years to come.
Caesarstone have long-established relationships with some of the world's leading trend forecasters, and have a reputation for developing cutting-edge surfaces that meet the ever-changing needs and expectations of discerning kitchen buyers, so we are well placed to predict the popular aesthetics and emerging looks we'll see in the worktop category for the next twelve months.
White Marble Inspired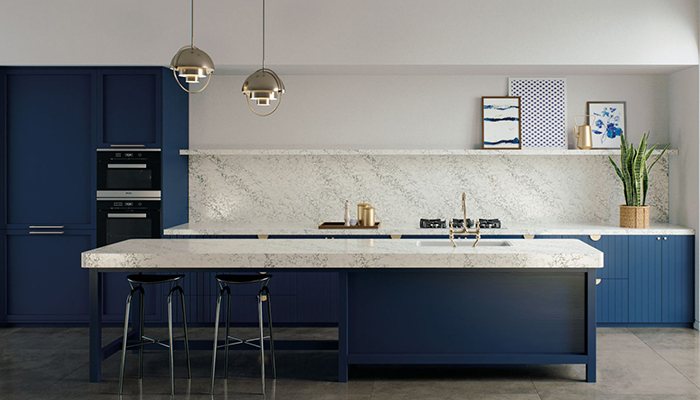 Caesarstone's Quartz and Porcelain worktops offer customers the opportunity to achieve all the opulence of white marble without the pitfalls. Caesarstone's surfaces are significantly more durable than marble as well as being stain and scratch resistant, and yet our experienced design team have perfectly achieved the same sense of luxury found in natural marbles with our white marble-inspired range. It's no surprise therefore that we foresee this trend that has been incredibly popular in recent years will continue to reign supreme.
However, what we have seen over the last few months is a move towards slightly bolder design choices, with dramatically veined surfaces increasing in popularity. We're seeing hero products such as 5171 Arabetto, 5143 White Attica and 506 Mirabel come even further to the fore, praised for their beautiful, bold designs that exude visual drama. This is a trend that we feel sure will continue in to 2024 and beyond.

Earthy Tones
Our appreciation of the outside world has grown considerably in the last few years and as such consumers have been filling their homes with products that bring warmth, softness and an earthy feel to their homes. This trend, having already taken off hugely when it comes to textiles and soft furnishings, is set to become a hugely popular choice in kitchen design next year, already reflected by the increase in consumers choosing wood finishes and earthy colour schemes. The trend for these tones is emblematic of a desire from consumers for a more grounded aesthetic rooted in the natural world; and we fully expect that beiges, greiges and brown shades will all increase in popularity.
Tying too strongly into any trend can be a pitfall when designing a kitchen, but this risk is significantly decreased when choosing a Caesarstone surface. Not only do we have a wide range of surfaces to choose from, making picking the perfect surface for each individual project an easy task, but our designers work with world-leading trend forecasters to ensure all of our surfaces have a timeless appeal that will ensure they are adored and stylish for years to come.
For any customer wanting to embrace the trend for earthy finishes recommendations such as, 1004 Stoneburst, 5212 Taj Royale (a recent addition to the collection) or 6046 Moorland Fog, are sure to be met with delight.

Rich Textures
In line with the need for a more natural appeal to our homes and spaces, customers are also loving adding an additional element by way of texture. Watch the next person that walks into your showroom closely, the first thing they will do is walk in and gently run their hand along the closest work top on offer.
Tactility has become such a critical element to any kitchen design and at Caesarstone we have a range of finishes to suit every kitchen design from; honed products offering a silky, but not shiny finish such as 5121 Layalite; or our extremely textured and matt porcelain surfaces such as 413 White Ciment with its almost fabric like texture; all the way through to our rougher concrete finishes found in 4011 Cloudburst Concrete or the intriguing 4043 Primordia that evokes feelings of a sandy beach.
Texture has always played an important part of any kitchen design, but due to Caesarstone's incredible experience in surface design and our rapid progressions in technology, more textures and options are available than ever, with no compromise on durability or ease of maintenance.
Hopefully, the above forecasts will help you in your conversations with customers over the coming months. As the leading surface provider, we pride ourselves on meeting the market demands and ensuring our retail partners are armed with the right products to meet consumer desires. To view our full product catalogue, click HERE.