Former architect Massimo Minale is the founder and creative director of Shoreditch-based hardware, lighting and home accessories brand Buster & Punch. Here he reveals why he believes retailers and designers should make decisions about home fittings early on in the design process to help create the on-trend look that consumers crave.
In the 2000's everyone wanted to hide their kitchen fittings and utensils behind seamless minimal polished doors, but times have changed and today the exact opposite is true. Thanks to Netflix and a constant stream of binge-worthy cooking programmes, we have all been inundated with visions of trendy chefs in front of stainless-steel kitchens and walls cluttered with pots and pans. Kitchens have gone from hiding everything away to putting everything on show, and now the professional utilitarian kitchen is without question the 'must-have' look of today.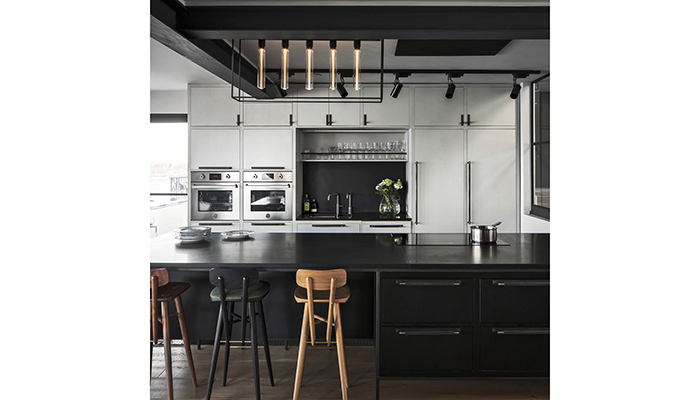 To achieve the best residential equivalent of this is purely down to how well you can curate the use of cabinet hardware, shelving, pan rails, and cooking accessories that surround your client's cupboards. Planning this in at the start of the project will help create a look that's carefully controlled rather than chaotic.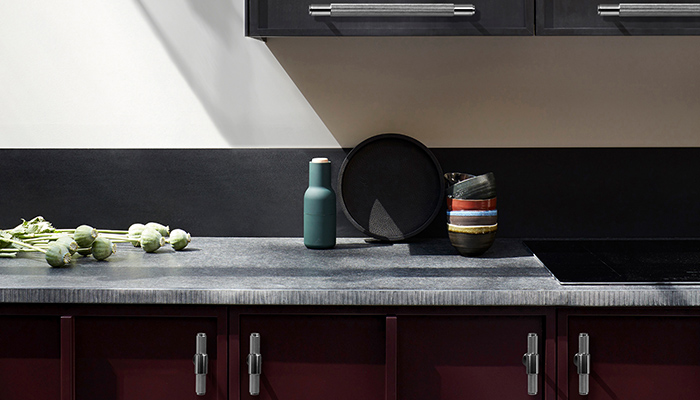 Firstly, all the metal handles that are touched need to be solid and heavy, as this will ensure they are cold underhand and feel professional. Handles are a lot more practical and satisfying to use compared with handleless doors with hidden mechanisms that continually break down. Our furniture knobs and T-bars, both with plates, are proving most popular for the simple fact that they are both unique and extremely flexible in the way they can be used throughout the kitchen.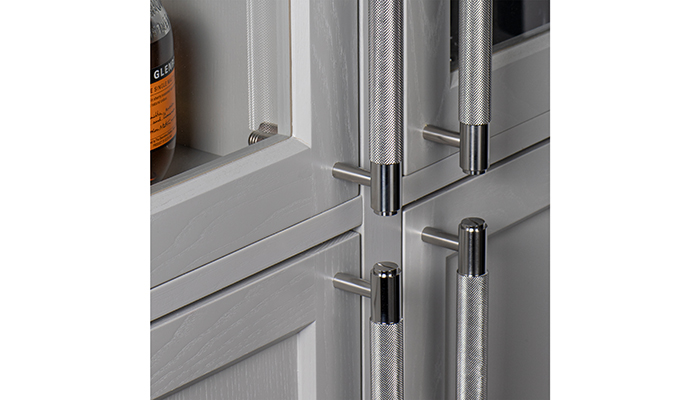 The professional kitchen is always low-contrast which means that metal hardware and fittings should be a close colour match to the kitchen doors – for example, light grey doors work best with steel and off-black with gun metals. Pan rails and open shelving are the kitchen designer's secret weapon – ensure you have a lovely length of a clear wall (doing away with wall units if you can) to allow as long a run of pan rails and open shelving as you can achieve.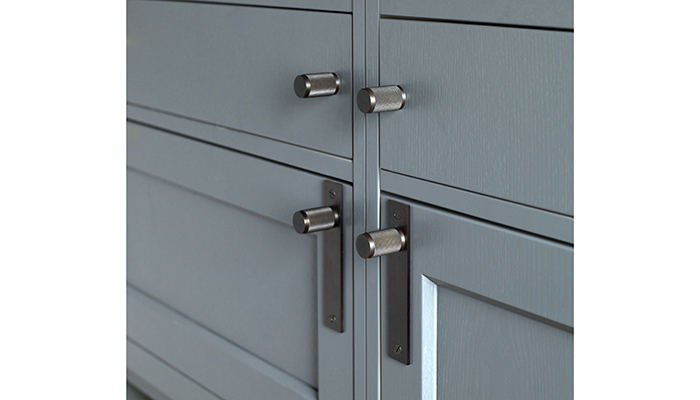 They can be curated with as many high-end pots, pans, utensils, and tableware as your client owns, but remind them that for a utilitarian feel, it's best if they are low-contrast to the cabinet hardware, rail, and door fronts.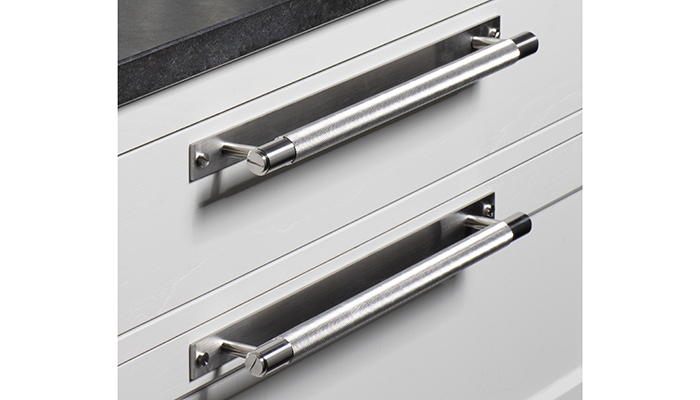 Lastly, to successfully re-imagine the usually cluttered professional kitchen into a useable residential space, ensure that all your metal fittings and hardware are placed at the same cadence, which will create the repetitive horizontal lines that are reminiscent of über-expensive chef's appliances, and the on-trend air of a hard-working professional environment.