Diane Berry's clients had two main requests in their brief – the first was that their new kitchen must be easy to keep tidy as with two young children this could be a challenge. The second was that the final kitchen must be a 'wow' design, and as the space was vast and dark, with low ceilings, beams and brickwork, this was not necessarily an easy feat to pull off. "Their budget was anything up to £100k but it needed to tick all the boxes. It had to feel bright and modern, but not clinical," she recalls.
Being given this amount of free rein when it comes to both concept and budget is a designer's dream, so firstly Diane set about tackling the issue of the low ceiling. "I used a structural engineer to redesign an RSJ and removed almost all of the beams. This allowed my team to raise the ceiling height. We boarded over all the exposed brick to lift and brighten the suffocating space, and I enlarged the windows and added glass in the roof."
On one of her first visits to the property she had wandered around the outside to see what happened in their deep fireplace and realised that there was a small area that could be turned into a walk-in pantry – a perfect solution to help to keep the kitchen tidy. The clients were happy with this idea as this meant turning a wall with an ugly fireplace into a straight run of units with a secret room off it.
The result is a pantry that gives the children a place to make breakfast and make as much mess as they like as nobody sees it. This also meant that the statement island could have a hob and sink facing the garden, and be kept clutter free.
"The breakfast bar is circular so that the four of them can all sit together and chat about their day," says Diane. The clients chose handleless units to keep the focus on design elements, with Alno Class Walnut Veneer adding warmth, and Alno Art Pro White glass doors with fine aluminium edges keeping the space light.
The utility room is linked to the back door so the children can come in, take off their shoes and deposit school bags and coats without impacting on the kitchen. A separate dining table provides space to host more formal meals. "I created a servery near the dining table. Behind the doors – which open and then pocket down the sides – are beer fridges, with hidden vents down the side allowing heat from the back of the appliances to escape. This is perfect for dinner parties and acts as a space for courses and drinks to be set up before guests arrive, or for help-yourself-style dinners to be set out."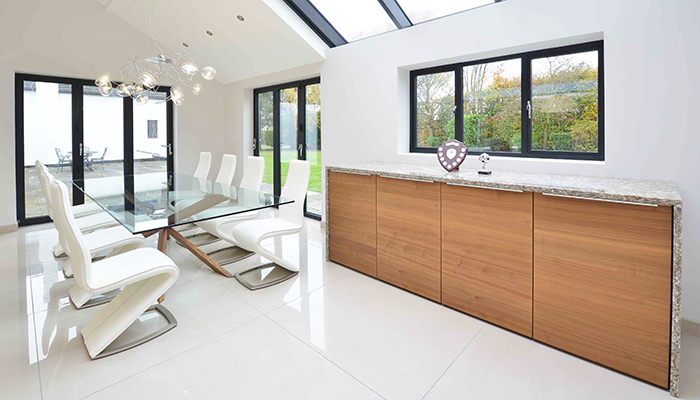 "It's hard to demonstrate the level of work I did to transform this space," says Diane, but the clients are delighted with their finished design, which has successfully changed a dark and suffocating ground-floor area into a light, open-plan space with statement kitchen, snug, dining area and utility. With plenty of elements that help them keep it uncluttered, it more than successfully meets the brief.