HiB MD Robert Ginsberg reveals to Amelia Thorpe the secrets to developing a successful company culture, and how he has learned that when times are challenging, it pays to think of the long game.
"We could have had our heads stuck in the sand throughout the year just dealing with the constant changes, but actually we've been making sure that we are still very much focussed on the long term," says Robert Ginsberg, MD of HiB, the manufacturer of probably the largest range of bathroom mirrors and cabinets in the UK.
"I learnt this from the recession at the end of the noughties, when we continued with R&D and innovations," says Ginsberg. "Because of the work we had done while we were in the recession, we were in a great place to thrive afterwards." It is the reason, he says, that HiB continues to launch new products at the moment, be it the new Fabrica bathroom furniture range in Carbon Grey, Emerald Green and Midnight Blue, the new brushed brass finish on its Solas and Solstice range of mirrors, the toilet roll holder with a shelf for a phone, and a range of multigenerational accessories. "When we come out of this, we are ready to help the industry and our customers recover," he says.
HiB was established in 1990 by Robert Ginsberg's father, Warren, and it remains a family-owned company, now with 115 staff split between its distribution centre in Tamworth, Staffordshire and an office in North London. The recipient of the prestigious Queen's Award for Enterprise: Innovation in 2020, HiB now supplies some 500 products, including bathroom furniture, ventilation, lighting and accessories, in addition to its mirrors and cabinetry. Products are designed in house and manufactured in Europe and the Far East, with 95% of its sales made to independent retailers.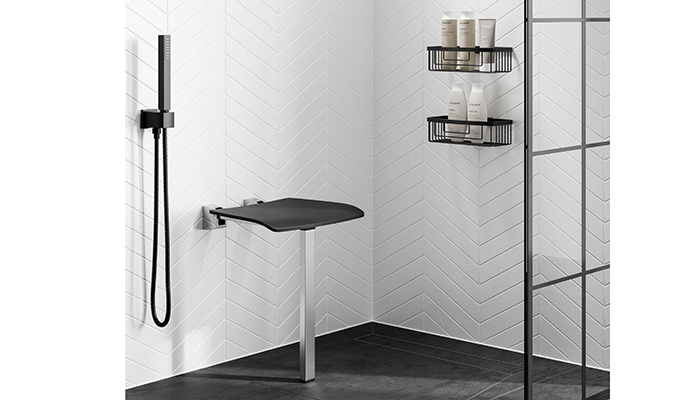 And how are sales? "We have had steady growth for years, and as of February 2020, we were looking at double digit growth for that financial year as well," says Ginsberg. "That came to a grinding halt come 23rd March and for the first 6-8 weeks of lockdown there was a significant fall in sales because customers were closed. But once things started to open up again, we saw an incredibly strong bounce back. That has been tempered a little in this latest lockdown, but nothing like the first – and sales are still surprisingly resilient." And his projection for the year ahead? "Depending on what happens with COVID, our current turnover would be heading for £30million," he says.
"Growth is also very much about getting the right team who are bonded together to develop a great culture in the business," he continues. HiB has recently launched an academy scheme to offer training opportunities for employees, sponsored a design competition at the University of Wolverhampton and its staff have completed charity fundraising challenges.
Ginsberg also points to improvements in its website to allow customers to see its product in different ways. "We want to enhance our marketing content to help drive business to retailers," he says. To support the growth, there will be continued investment in the business infrastructure, which he anticipates being some £750,000 to £1million in facilities, process and systems during 2021.
"We are all going to be at home a bit more than before – the 5-day office week has gone – so the home becomes more important," he says. "We must make sure, as a business and as an industry, that we are in a good position to take advantage of that."