As we all look forward to being able to resume our social lives outside, Caesarstone has unveiled its latest perfectly timed range of three new quartz surfaces – the Outdoor Collection. Here Jon Stanley, VP marketing at Caesarstone UK & EMEA, reveals the inspiration behind the range, how it's even been tested for resistance to bird lime, and why he is feeling optimistic about the market looking ahead.
Q: Why have you launched the new collection now?
A: The Caesarstone Outdoor Collection is a first, insofar that it's the first UV-resistant quartz available on the market. In order to achieve this technical leap, we've been developing the collection for a number of years, including a significant period of outdoor testing.
While we had always planned the UK launch to coincide with the forthcoming spring and summer months, the collection also arrives after a period of time – and the most bizarre set of circumstances – in which we have all come to appreciate and place far greater value on our outdoor spaces.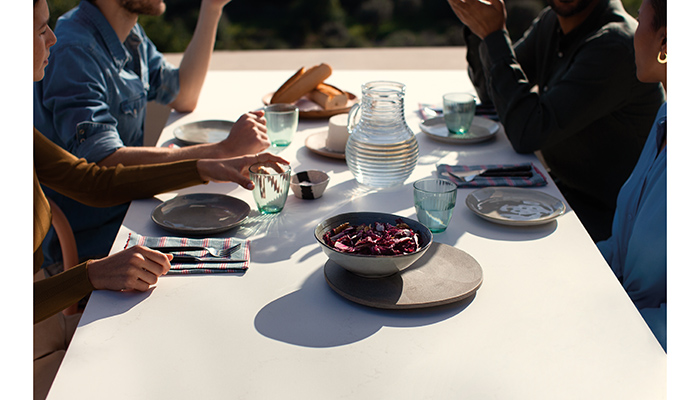 Q: Is it in response to any particular trend?
A: The trend for outdoor cooking and living in the UK has been growing steadily for several years and we are increasingly looking for more sophisticated spaces in which to do this. We now want to step seamlessly from our new kitchen, via our bifold doors, into an outdoor space that is every bit as well designed and inviting.
It is therefore not necessarily a new trend, but rather a trend that has gathered pace over time. Evidently, 12 months of lockdown has accelerated interest in outdoor kitchen and entertaining spaces.
Caesarstone first started the technical exploration for our Outdoor Collection in response to similar questions encountered globally, from both consumers and professional customers – "can I use Caesarstone quartz outside?". Now they can.
Q: Is there any particular aesthetic theme running through it?
A: We have deliberately taken a very nuanced approach to the products in terms of their tone and pattern. They have been designed to sit in harmony with the wider palette of materials they will work alongside; stainless steel, wood, tiling and, of course, planting. It's not about competing with the outside world, but more a question of how we create products that can sit comfortably within it.
Q: How does the new outdoor collection differ from previous Caesarstone products in terms of durability?
A: The Outdoor Collection has been designed, carefully considered, and developed over many months. The testing process has been significant. We are confident that it exceeds all current standards. Of course, UV resistance was the primary aim. However, proximity to heat and naked flames is a consideration as is the generally heavier handed use of outdoor spaces. We've even tested for resistance to bird lime. Perhaps of equal importance for the UK, we have also tested for severe low temperatures, down to -13 F / -25 C.
Q: How optimistic are you feeling about the market looking ahead?
A: We are very optimistic. There seems to be an air of positivity in the market, and we are regularly hearing similar sentiments from our kitchen studio partners and fabricators.
Our own data suggests a huge amount of interest in Caesarstone and kitchen renovations, with consumer leads increasing by 150% in comparison to the same time last year. We believe these figures to be indicative of a promising outlook for the kitchen market after an undoubtedly tough year in retail across the board.
This, paired with the six-month stamp duty holiday extension, means we can expect to see a continuation of activity within the market.
Despite the testing circumstances that came from Covid-19, many of us have a newfound appreciation of our homes. Homeowners have a desire to spend on quality products that provide longevity, with trusted brands. In Caesarstone's case, these big investments ensure peace of mind for the customer, with guaranteed ease of use and maintenance.
Q: What support are you currently offering UK retailers who have been facing challenges regarding COVID-19?
A: The past year was challenging for us all. Luckily Caesarstone has always enjoyed a strong, symbiotic relationship with kitchen studios and fabricators. We recognised that we all must survive for the industry to thrive; this wasn't a case of solely looking out for oneself.
During the COVID-19 crisis Caesarstone adapted to support other areas of our ecosystem, from kitchen studios, architects, housebuilders, fabricators, and the end consumer. In doing so we employed several methods to support our supply chain, such as changing delivery schedules to improve lead times for the end user, improving credit terms, and bolstering up our sample service.