Due to the Coronavirus crisis KBB businesses have been forced to close their doors and find new ways of operating and engaging with customers. Retailers and designers have had to be inventive in order to attract potential clients. From online appointments, virtual showroom tours and online kitchen and bathroom planning, to surveys and meetings based on Zoom and other online platforms, the determination and creativity of KBB professionals has been inspirational.
Here at Compusoft, we've helped our customers in every way we can with tools designed to help them adapt to this new way of working, and Winner Flex is the latest software development that we've added to the arsenal.
Winner Flex puts everything you could possibly need for your kitchen retail business, all in one place and accessible from anywhere, so that customers can be flexible about where they work.
It is built on 20 years of perfecting kitchen design software, adding cloud technology to connect showrooms in one place, and enabling customers to manage their projects and businesses more effectively.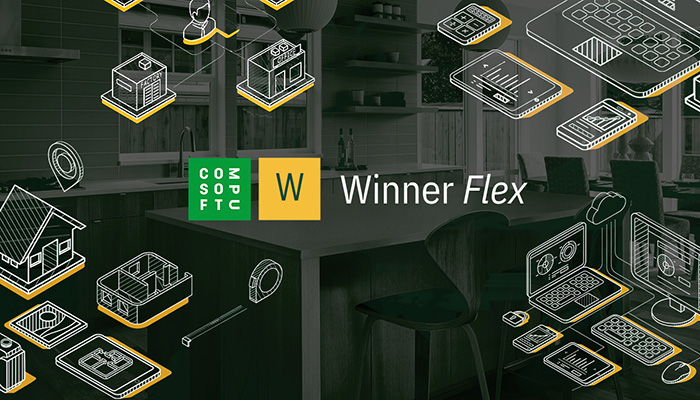 Accessible everywhere
Users can work on the same designs in the office and at home with access to all projects, catalogues and settings in the cloud and accessible everywhere.
Manage everything
Online projects hold all of the details needed, from customer details through to renders and plans, so everything can be accessed quickly and easily from any device. Plus, users can easily add pictures, measurements and customer details to a project while visiting a customer's home. This information can be accessed immediately, anywhere.
In addition, Winner Flex allows users to manage sales performance with a configurable dashboard, which gives a single view of how the showroom is performing. Detailed reports include showroom and sales performance vs the previous period broken down by shop or even salesperson.
Serverless Access
With Winner Flex there is no need to invest in costly IT infrastructure, as all data is directly saved and accessed in the cloud platform, saving the cost and the hassle of setting up a server while ensuring data safety.
We know how stressful this time has been for many of our customers, and there is a chance that, even after the pandemic is a thing of the past, it might be the case that retailers want to continue in this new flexible way of working. This tool has been specifically designed to take the hassle out of working from home and offer peace of mind, as retailers know they can work effectively wherever they are, and with whatever life throws at them.
Compusoft UK managing director, Alex Ainge said: "The new cloud-enabled platform Winner Flex will revolutionise the way showrooms are currently designing and managing their team, giving them full flexibility to adapt quickly to market changes and customer demands".
For more information about Winner Flex and to request a demo, please visit: Winnerflex.live.