The gas versus induction hob debate has been raging for years, but it finally looks as though consumers are ready to be converted. Diana Nappo, category manager cooking for Whirlpool UK Appliances, explains why home cooks are warming to induction, and reveals how the company supports its retailers to be in a strong position to sell.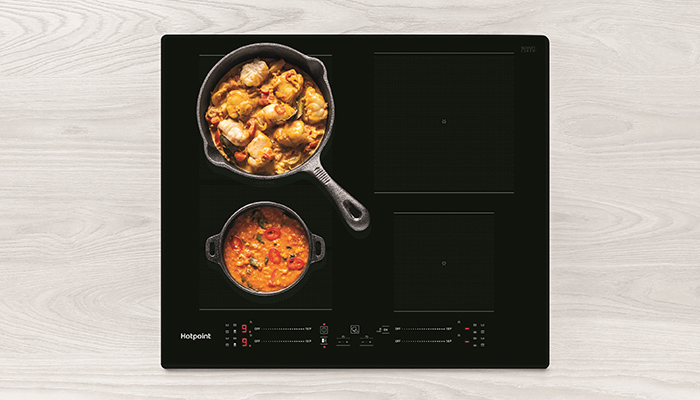 Q: Why do you think that induction hobs are increasingly popular?
A: A Whirlpool study found that during the pandemic consumers were utilising automatic induction hob features more frequently. Furthermore, according to Euromonitor International, homeowners became more interested in improving their cooking skills during the UK lockdown because they were unable to visit restaurants or rely on external family members to help cook. As a result, we're expecting to see that consumers will look to invest in the latest appliance technology to enhance their cooking experience at home. Furthermore, induction cooking is increasingly popular as energy efficiency is at the forefront of consumers' minds and now a key factor to consider when purchasing a new appliance. In my view, induction hobs are having a positive effect on the cooking market as they offer outstanding speed, energy efficiency, uniformity, safety and accuracy of heating that cannot be replicated in a gas or ceramic hob.
Q: Tell us about the latest induction hobs from Whirlpool UK.
A: We offer a variety of induction hobs to meet the needs of a wide range of family types, cooking requirements and kitchen sizes, at various price points too. In 2020, to meet the increased demand for intuitive cooking in the kitchen, Whirlpool UK introduced brand-new induction hob ranges from Hotpoint, Indesit and Whirlpool.
The new Hotpoint 600 mm induction hob (TS 5760F NE) benefits from a variety of easy-to-use functions and flexible options to make cooking a fast, efficient, pleasurable and healthy experience. Active Heat divides the flexible zone (the two combined zones on the left hand side of the hob) into a 'low, medium, high' pre-set power level. This enables users to move their pot or pan over the surface and cook at different temperatures, without having to adjust the controls, emulating the techniques of a professional chef.
The new Indesit Push&Go induction hobs boast automatic, time-saving functions, a DualZone and are finished in easy-to-clean black glass. The DualZone allows users to connect two zones, creating an extra-large zone, to suit the largest of saucepans, which is perfect for cooking hearty family meals.
Featuring 6th Sense technology, improved heat distribution and enhanced flexibility, the premium Whirlpool 770 mm black glass induction hob (WF S3977 NE) is designed to adapt to the individual users cooking needs. The new Whirlpool hob boasts automatic settings that enable the user to select popular hob functions, including keep warm, boiling, melting or simmering, with just one touch.
The new induction hob ranges also benefit from a 50mm slim platform and require no additional space for front ventilation, allowing for effortless installation in every kitchen.
Q: How does Whirlpool UK support independent kitchen specialists when it comes to selling induction hobs?
A: We work closely with all retailers to ensure they are in the best position to inform, educate and enthuse every customer that enters their showroom, physically or virtually. We have invested heavily into the development of our E-Learning platforms for each brand, which are accessible 24/7. We believe that it is imperative for retailers to participate in training opportunities that are provided by manufacturers, so that they know the appliances inside and out. This knowledge and confidence will pay dividends and put the retailer in the best possible position to convince a customer to invest in the latest technology or trade up to a premium model.