As Kast Concrete Basins launches the new Aura collection, MD Tim Bayes talks to Amelia Thorpe about his passion for the material, and reveals why he is still drawn to it after 25 years.
It was 25 years ago when Tim Bayes, founder and MD of Kast Concrete Basins, was studying art and found himself drawn to concrete. "I became quite fascinated by the material,'" he recalls. "You have to touch it – it's tactile, smooth, cold to the touch and reflects its mould beautifully."
Feeling that it was a material underused in furniture applications, Bayes, now 44, set himself a mission to "make concrete more acceptable for use in an interior environment". He founded concrete design company, LowInfo, producing bespoke bars, reception desks and worktops, running the business for 15 years. "It was exciting, but it was like reinventing the wheel for each project, so five years ago I switched focus to Kast, the concrete basin company I set up in 2011," he explains. There are now 29 basin 'families' which make up the collection, available in 28 colours, and all are produced at Kast's 3,000sq m HQ, design office and factory on the edge of the Sherwood Forest in Nottinghamshire.
"More than 20 years' experience comes into play in our products – in terms of the quality of the material and our sealing process," says Bayes. All basins are made from traditional, aggregate based concrete and sealed with a one-time sealer prior to leaving the factory for a waterproof, stain-resistant result. Retail prices start from £1,182 for the Rena A1 rising to £7,200 for the Aura pedestal A1.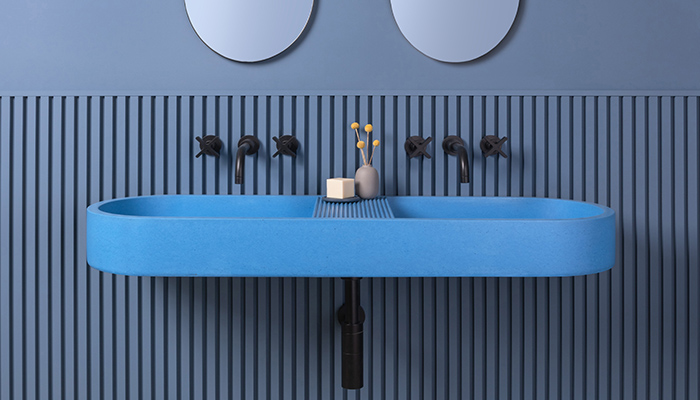 "Our philosophy is to keep it simple," he continues. "To design really beautiful basins, true to the word 'concrete', and to open up different markets, not just nationally but internationally as well – we are becoming known in the US as well as Europe." Current annual turnover is now about £3million, there are 69 retailers in the UK, and Bayes heads a team of 35. "We've come a long way from the days when I worked in my Dad's garage with a Belle mixer," he laughs.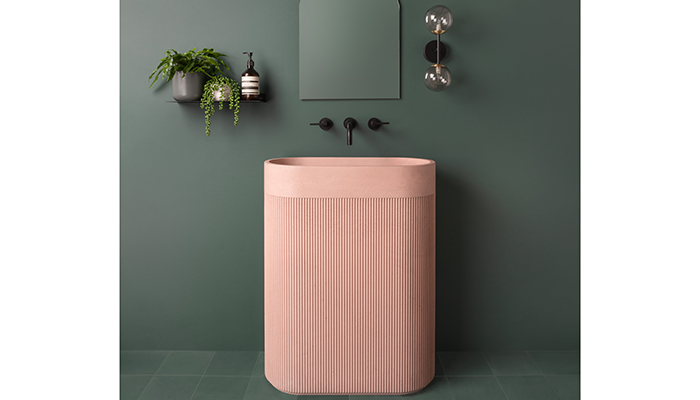 And to those who say that concrete basins may go out of fashion just as quickly as they've come in? "We're changing things all the time," says Bayes. "We have led the way in terms of using concrete and showing people what it can be, by introducing colour and using the material in a more expressive way." The latest range, Aura, pictured, is part of Kast's Canvas collection of facetted and patterned designs. Defined by their contemporary pill shape and fluted surface details, the range includes a single, double and freestanding pedestal basin, each available in any of Kast's concrete colours.
Bayes says we can expect more new products later this year, which he describes as "counterparts to basins" and possibly washstands. They are, however, unlikely to be baths, in part because of their weight. "Once you crane a concrete bath into a building, it's probably not going to come out," he says.
While sales have been growing, Bayes says that Kast had a lull in the middle of last year because of the pandemic. "But we've had a great start to this year," he reveals, "and are looking to be up by 20% to 30% this year." And what motivates him to continue? "It's still very exciting, even after 25 years – every cast is different."