Jo Oliver, director for Stone & Ceramic Warehouse, reveals how large-format tiles have made their way from walls and floors, through to bathroom vanity units and bath surrounds, as well as kitchen work surfaces, islands and even cabinet door fronts.
"Large-format porcelain tiles have transformed the market since they were first introduced, and it's a trend that is still increasing in popularity.
"Using oversized tiles in a small room tricks the eye into thinking that the space is much bigger than it really is, so can help to create a sense of scale. Thanks to their large surface area and fewer grout lines, using large-format tiles also results in a continuous, uninterrupted finish – a look that is proving very popular with our customers.
"Another benefit is that porcelain slab tiles need very little maintenance to keep them looking good, with no need for sealing, polishing or specialist cleaning. Fewer grout lines also mean easier cleaning in general, plus the slabs can withstand the harsh chemicals found in some cleaning products.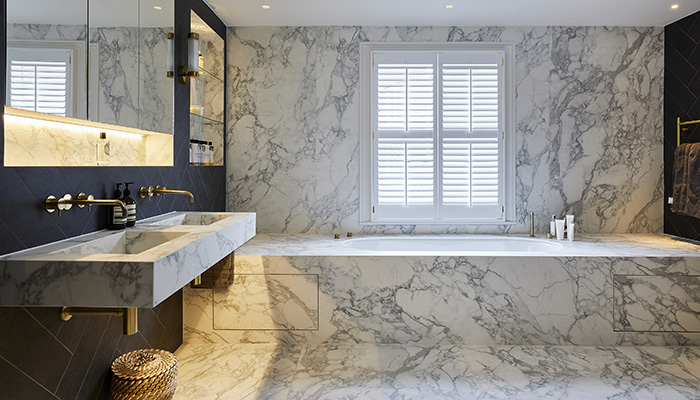 "Marble and stone-effect porcelain slabs are also a fraction of the cost of the real stones they are imitating, both in the supply of the material plus installation too. Real stone slabs are much thicker, making them extremely heavy and more difficult to manage. Porcelain slabs that are 3mm or 6mm thick can all be cut on site by the installer, whereas when laying real stone each section needs to be templated, fabricated off site then installed by a specialist team, which is more expensive.
"Porcelain slabs have proved a popular choice for floors and walls over the last few years and now these stunning statement tiles are making their way onto kitchen worktops and cabinetry too. Having introduced 12mm and 20mm porcelain for worktops, and 3mm variants for cabinet door fronts, we have seen an increasing number of clients using porcelain to create a seamless look in their kitchens and bathrooms.
"Unlike many other materials, porcelain is extremely hardwearing, lightweight, scratch and stain resistant. These are all ideal qualities for high-traffic areas such as kitchens, bathrooms, and surfaces such as worktops, especially when you consider that this means hot pans and trays can be placed directly onto the surface, with no fear of irreversible scorching.
"It is also worth noting, the 12mm and 20mm porcelain need not be limited to kitchen worktops. It can also be used to great effect on tabletops, bathroom vanity units and for bath surrounds. This works especially well when using marble-effect 1000 x 3000mm slabs on the walls and floor, and the matching thicker slabs for vanity tops and bath surrounds.
"Another advantage of porcelain tiles is that they are manufactured in a whole range of realistic finishes, including marble, natural limestone and concrete. Thanks to advances in technology, digital printing has allowed porcelain tiles to be produced with a 'natural' variation from tile to tile; just as you would see on the actual stone and marble. This reproduction is so accurate that these imitation porcelain tiles are now often indistinguishable from the real thing. This makes it possible to achieve the look your client wants at a lower cost, and without the challenges and maintenance issues that come with materials such as marble, limestone and polished concrete."