British kitchen manufacturer, Masterclass Kitchens are synonymous with quality. Designing modern, classic, and true handleless kitchens that are design-led, beautiful and timeless. Chosen by the award-winning house builder, Stonewood Partnerships, Masterclass Kitchens have allowed the house builder to implement their philosophy of innovative design and high-quality materials used in every single project that they complete. Raising the bar of what a new build home can be.
The latest project has been an outstanding conversion of a historic industrial site in the Wiltshire village of Holt. Stonewood Partnerships chose to take advantage of Masterclass Kitchens British made handleless range of furniture, The H Line Collection.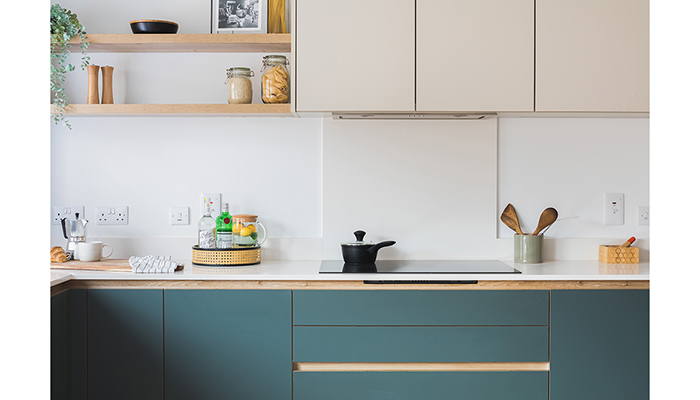 The finished look utilises brand new colours for Masterclass Kitchens, Sutton New Forest with Birch Ply Edging that is further enhanced with Messina Oak handle rail. Complementing New Forest is Sutton Highland Stone, perfectly balanced with Mayfield Oak open shelving. At Masterclass Kitchens, mix and match kitchens are at the heart of their ethos.
Commercial Sales Director, Steve Tough has explained why this has been such a successful partnership, "This project showcases the very best of Masterclass Kitchens handleless furniture. The H Line Collection brilliantly creates a British take on a, historically Germanic, product. We have demonstrated that handleless furniture can be beautifully made by a British kitchen manufacturer and furthermore, that a new build home can stand out from the crowd with fantastic kitchen design and beautiful furniture."