A new outdoor kitchen for Clive Christian Furniture represents a major development for the brand, as global head of sales, Phil Cole, tells Amelia Thorpe.
It has been years since Clive Christian Furniture Co launched a new collection, so the arrival of the brand-new Garden Kitchen is especially welcome, as global head of sales, Phil Cole, explains. "When I was setting out [on my career] 10, 12 years ago, Clive Christian Furniture was a juggernaut, it was very much at the forefront of the industry," he says. "We believe we know how to get back to that [position] by coming out with some new and exciting product, and the Garden Kitchen – what a start!"
"In the more than 40 years of Clive Christian, we've never entered into outdoor furniture, so we wanted our first new collection to be a big splash," says Cole. Anyone who has tried to buy garden furniture or a barbecue over recent months will be only too familiar with the shortage of product, such is the demand for outdoor accoutrements. "Through the pandemic, people's purchasing has been changing – and outdoor living has become a huge part of how people interact with their homes now," says Cole.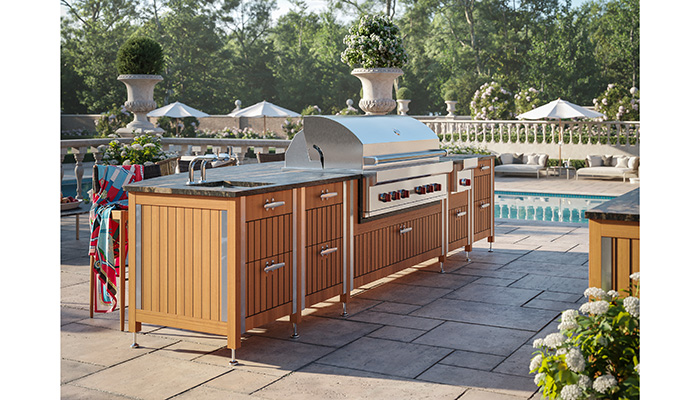 The new collection is clearly aimed at the luxury market true to Clive Christian's heritage, with kitchen prices from £50,000, and like all furniture for the brand, it is made in Farnworth, Lancashire. It is inspired by yacht design and uses durable marine-worthy materials, including doors made from vertical sections of naturally water resistant and hardy, ebonised iroko, inspired by a yacht's classic pinstriped deck, designed without horizontal lines so that water runs off the furniture. The cabinetry is finished with a UV blocking lacquer and marine-grade decorative hardware to ensure longevity and reduce the risk of corrosion, while the leather door dampers are specifically treated for outdoor use.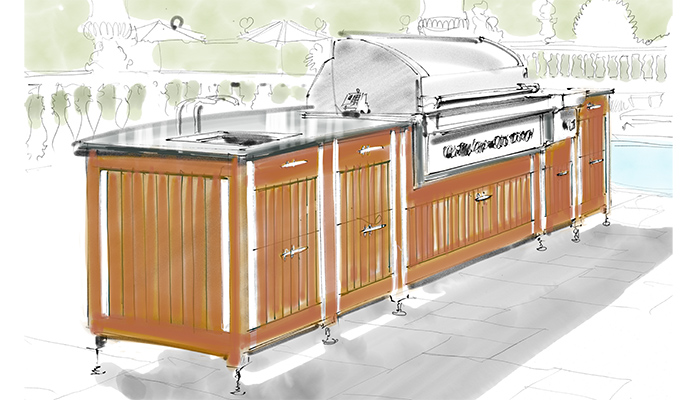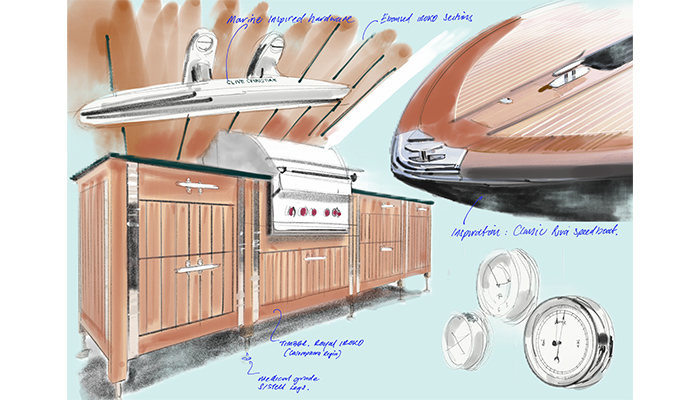 Founded in 1978 by Clive Christian OBE, who sold his majority stake in 2015, the company was bought from Souter Investments in October 2019 by David Dare, the former owner of fireclay sink manufacturer Shaws of Darwen. Phil Cole, 34, joined the business in August 2020, from his role as contracts manager of brassware manufacturer Perrin & Rowe. "If you saw a Shaws sink, you almost always saw a Perrin & Rowe tap on it, so I've known David for 11 or 12 years," he says.
As part of the drive to re-introduce innovation to the Clive Christian Furniture brand, Jack Robinson was employed earlier this year into the new position of product engineer, with a role to "take ideas and make them a reality", while Oliver Deadman has been promoted to head of design with "his wings unclipped". There will be another launch this autumn: a new kitchen and "whole house" furniture collection, with new door style.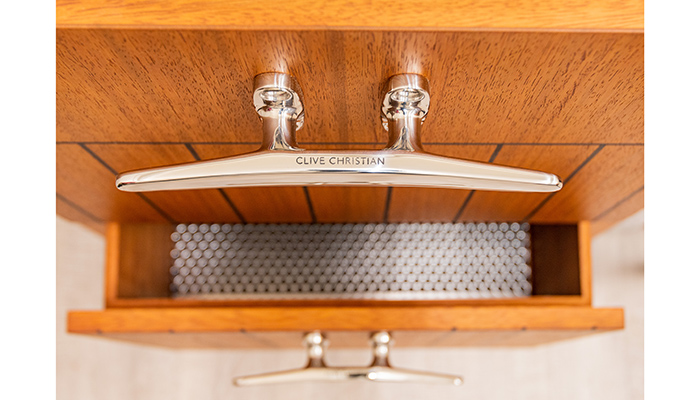 The company operates a franchise model, with some 18 showrooms around the world, including a new 4,000sq ft store opening in Manhattan, and a townhouse in Marbella, Spain, which will also showcase the Garden Kitchen, both due to open this autumn. "We are actively looking for franchise opportunities in the UK and the rest of the world," says Cole.
"Opulence through exceptional design" is how he describes the company approach. "Oli is breathing new life into the brand and there will be some exciting new products, all around that word 'opulence'," he says. "All of our conversations at the moment are around what exciting new materials we can use and what can we do to innovate."