The latest collection from Perrin & Rowe has been launched in response to the demand for transitional-style products – House of Rohl brand manager bathrooms, Emma Joyce, explains how Langbourn is the perfect blend of modern style and traditional elegance.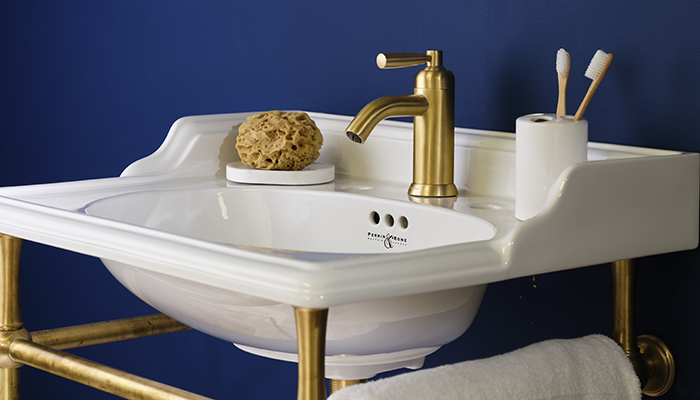 Perrin & Rowe's new Langbourn range takes its inspiration from the ancient ward of the City of London – itself a stylistic melting pot, and a vibrant example of how centuries-old ornate architecture can sit comfortably alongside stark contemporary silhouettes. Created in the brand's Wolverhampton factory, the collection aims to reference timeless style and blend it with an up-to-date Metropolitan flavour, allowing it to appeal to a broad range of palates. So why is the collection so relevant now?
"We believe there is a demand for a high-quality, comprehensive bathroom brassware collection in a transitional style, suitable for a wide range of bathroom designs," explains Emma Joyce, brand manager bathrooms for newly launched House of Rohl, which is the umbrella brand behind Perrin & Rowe, Shaws of Darwen, Victoria + Albert, and now Riobel too. "The bathroom brassware market seems to be developing increasingly Avant-Garde designs. Beautiful though some are, many people are seeking brassware with a more subtle charm," she says.
The products are all designed and manufactured in England, and Joyce believes that its their provenance that sets them apart. "They all benefit from Perrin & Rowe's exceptional manufacturing standards – they're hand cast in small batches, precision-machined and then polished by hand, with every single tap fully tested," she says.
The collection comprises everything from deck and wall-mounted taps to shower fittings and valves, along with a selection of complementary accessories for a fully co-ordinated bathroom look. The products are classically styled but based around clean tubular shapes, and come in a choice of six finishes – Chrome, Nickel, Pewter, Polished Brass, Satin Brass and – most extravagantly – 24-Carat Gold. All brass finishes are unlacquered so will develop their own unique patina over time as the surface reacts with its environment.
Joyce describes the collection as "less traditional than our most well-known ranges", but believes it fills a gap in the Perrin & Rowe portfolio. "It fits between our modern Hoxton range and our classic Georgian collection," she says. Its flexibility makes it attractive to both trade and consumers. "Its appeal lies in its balanced proportions and attention to detail – it works seamlessly with a broad range of styles. The collection is extremely comprehensive, so that any combination of bathroom brassware can be specified to match, making it an appealing new option for bathroom designers," she concludes.
House of Rohl's new showroom in Design Centre Chelsea Harbour is set to open this month, and will showcase all four brands to trade and consumers.