When it comes to creating kitchens, the boundaries between indoors and outdoors are being increasingly blurred – is the SmartGrow Life from BSH Home Appliances a natural next step? We talk to BSH product designer Sascha Leng to find out more.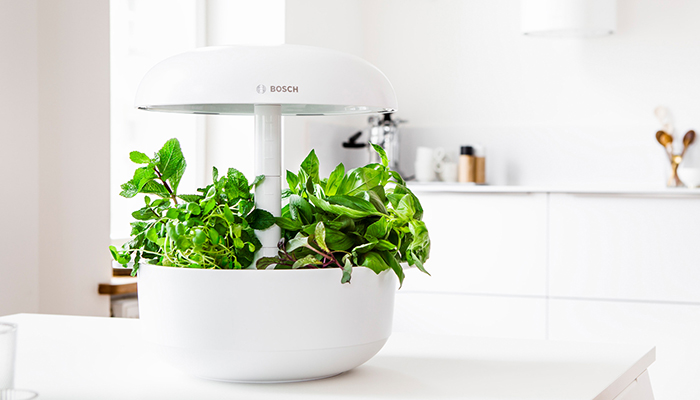 If you take a heightened concern for the environment, mix in a desire to be closer to nature, and then add to that a lockdown experience that amplified a real need to be self sufficient, then it's easy to see the potential appeal of an appliance like the SmartGrow Life, which was first unveiled on the Bosch stand at IFA 2020. While it has yet to make it to the UK market (and there are no plans to bring it over yet) it has been launched in Europe with great success, and understandably so. With so much technological innovation being devoted to keeping food fresher for longer, an indoor smart garden seems like a logical progression when it comes to living sustainably and having the freshest food possible to hand.
The SmartGrow is described as "an appliance tailored to fulfil consumers' demands and preferences" and is based on extensive consumer research. It is an all-in-one indoor gardening system for growing herbs, greens, and even tomatoes at home, and thanks to its patented lighting and irrigation technology, users can grow nutrient-rich plants in their kitchens all year round. An app enables users to track the growth of plants and access valuable tips.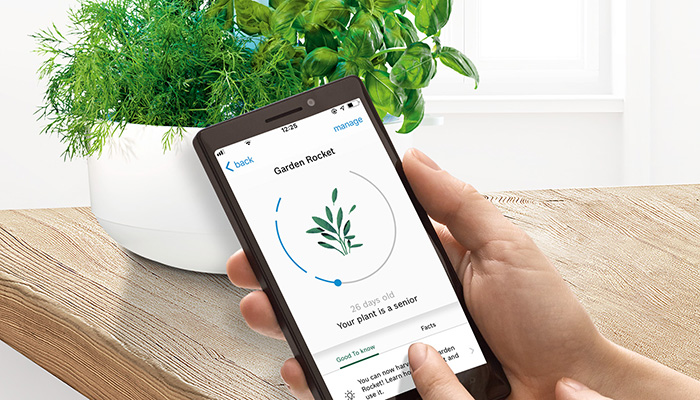 "To kick off the design sprint we immediately got in contact with existing and potential target consumers via digital channels and customer support in order to understand wishes and concerns," explains Sascha Leng, lead product designer for the BSH SmartGrow appliance. Feedback included keeping noise levels to a minimum, which is why the smart pump was designed to carry an almost inaudible water level checking.
"We also addressed feedback like 'the cable is in the way when cutting the plants' by creating a bowl which is separated from all electronic components. With that, we not only solved the cable concern but also created a 'wow moment' for the consumer, as the bowl can easily be taken out for serving directly at the dinner table," Leng adds.
The SmartGrow's futuristic slim look also comes from consumers' input, and harnesses the popularity of biophilic design in kitchens. "We were working quite closely with our future target consumers within several design thinking sprints to understand what fits best into their home and lifestyle. A slim shape was a clear favourite among the majority, mainly due to its space-saving and aesthetic appeal. SmartGrow Life being a lifestyle product and not a device, we also wanted to put the plants in the focus. So we designed it in a way to give the plants a stage to shine", says Leng.
As well as looking great, the SmartGrow is geared towards successful outcomes for the end user, with the app making everything easier and taking the popular kitchen 'herb trough' element to a whole new level. "You get everything you need there in the app. Be it notifications when to refill, checking on the growth phase of your plants, a lot of inspirational stuff or just help if something is not working the way it should," says Leng. "One thing I really like is the possibility to have a peek at the little plants when they are in the germination phase through the transparent light hat. I actually do that every morning to see how they do when they are still small. It's kind of like with little babies and watching them growing bigger each day," he says.