When interior designer Alison Henry set about creating her own bathroom design, she knew she wanted to open up the space. But the first thing she did wasn't to knock down a wall – instead she removed the ceiling. We find out more.
According to Alison Henry, one of the most important tenets of her design philosophy is to bring the outside in. "Extend the windows, knock down the ceiling," she advises. "Our bathroom is basically a glass box that opens up to the sky and overlooks our garden."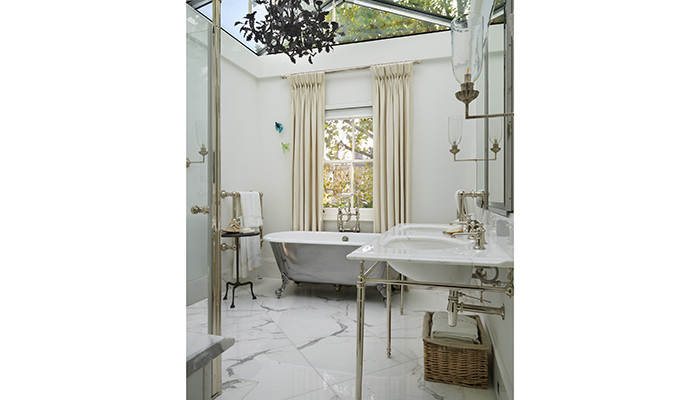 Having removed the original roof and replaced it entirely with glass so that natural light streams in and everywhere you are in the space looks onto the outside, she then needed to select products that were impactful enough to draw the eye back into the room. She decided to opt for Drummonds.
"For me, that's where a bathroom brand like Drummonds comes in, with modern detailing and classic shapes, not to mention strong scale," she explains. "From their 'shamrock' showerhead (three round showerheads, fused into one, stand-out shamrock shape) and cast iron tub with claw feet, down to their heated towel racks, which sport a hefty radius, everything about their collection makes a serious statement in scale, which I absolutely love," she says.
"White marble walls, sinks and so on bring in the light and lend airiness. I tend to go for 'white statuario' for my own home with its subtle grey veined texture as I like to keep it bright creating a gentle sense of serenity and balance," she says.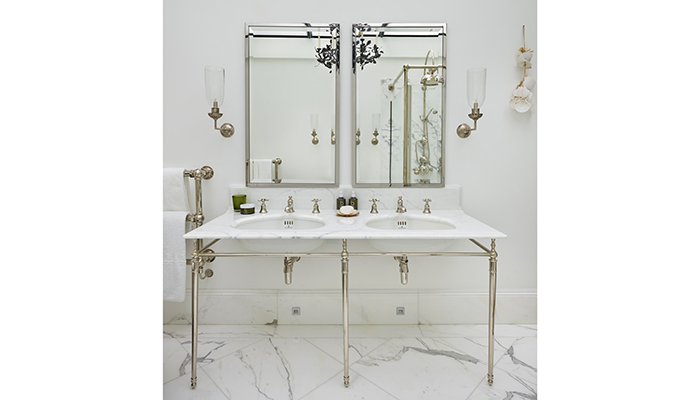 As well as using glass to open up the space, Alison maximises the room with mirrors. "Mirrors aren't just key in making a room appear more spacious, they also reflect the light from outdoors and make the room sing," says Alison. "They also work to reflect and amplify the mix of textures and finished in the room. The brushed nickel hardware and textured white marble dance across the room when reflected in the mirror."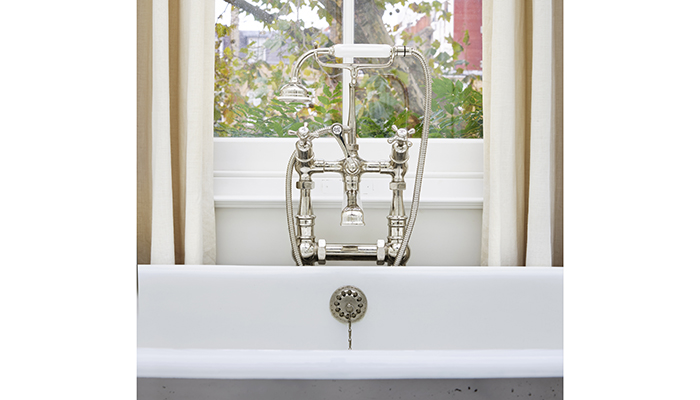 But the pièce de résistance is the freestanding Ashburn bath, which Alison positioned infront of a large sash window. The polished exterior also reflects the light and co-ordinates with the nickel bath fittings.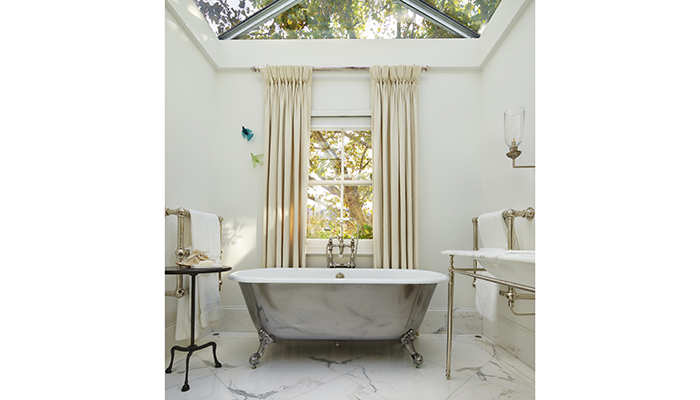 Focussing on the practical elements was also key, and Alison made sure she had as many lighting options as possible to supplement the central chandelier and meet different bathroom requirements. "The bathroom has many uses – makeup in the morning, spa time in the evening – it should have just as many lighting options," she says.
She also addressed the issue of water pressure to ensure the showering experience was just right. "When I shower in the morning I feel as though I'm under a glorious waterfall, and it's all down to the rather unglamorous but oh-so-necessary water pump!" she says.
But after all the hard work, she's delighted with the result. "My new bathroom has quickly become my personal sanctuary," she concludes.