In light of the Government's new National Disability Strategy, Häfele UK's product group manager Jo Cole considers how the design and function of kitchens can be improved to meet the needs and improve the lives of those who use them.
"In July 2021, the Government announced its new National Disability Strategy, which sets out to improve the everyday lives of disabled people. Creating more accessible, adapted and safer homes forms a key part of the strategy.
"According to Government figures, more than one in five people in the UK are disabled, but at present, many live in homes that are not suitable for their needs. A recent UK Disability survey reported 47% of people with a disability have at least 'some difficulty' getting in and out of where the live. Further research from Habinteg estimates that over 400,000 wheelchair users are living in homes that are not adapted or accessible.
"Immediate steps outlined in the Strategy include boosting the supply of housing for disabled people by raising accessibility standards for new homes and accelerating the adaptation of existing homes by improving the efficiency of local authority delivery of the Disabled Facilities Grant. This £573m pot can be used for improvements such as widening doors, installing ramps, and introducing heating or lighting controls that are easier to use. And while these steps are all necessary in improving the accessibility of homes, thought also needs to be given to the design and function of rooms to ensure people with disabilities can use them comfortably and safely. In particular, kitchens, which are often seen as the heart of the home, require careful consideration.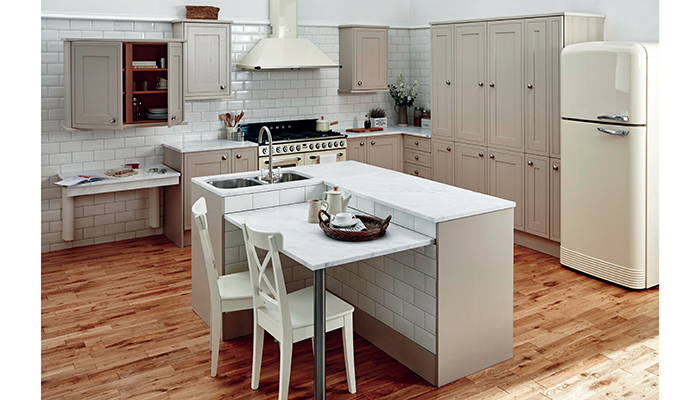 "Firstly, it's important to think about the kitchen layout so that you can maximise the usable space based on how the room will be used. For example, if you're designing a kitchen for a wheelchair user then you'll need to make sure it meets all their requirements, such as having turning circles and space to move safely around. Depending on the space available, a one-sided kitchen or L-shaped kitchen layout may be better suited for a wheelchair user, giving more room to turn and move around. On the other hand, a two-sided kitchen might not be as appropriate for a wheelchair user but may be more user-friendly for people with mobility impairments as they can lean on the worktops running across the sides of the kitchen.
"Secondly, fixtures and fittings that are safe and easy to use for people with different disabilities, while making effective use of space and looking stylish, are crucial. Corner wirework solutions can help people access everything in the cupboard without reaching in, making it a good choice for people who can't bend down or have mobility challenges.
"There are also linear-style induction hobs on the market. Because these products allow users to place pans in a row rather than in a group formation, it means people don't need to lean over hot pans to reach the ones at the back. Likewise, boiling water taps may be a more suitable option for some people with disabilities as they don't have to lift heavy kettles with boiling water.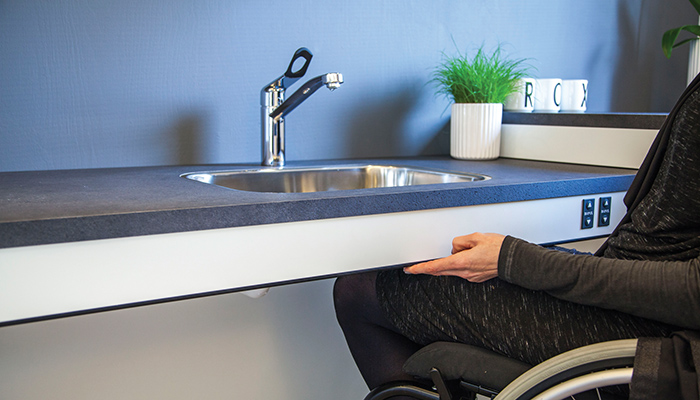 "Electric height-adjustable shelves allow people to easily reach items inside a wall-mounted cabinet without reaching up. Manufactured in the same way as traditional cabinetry, these systems are attached to an electronic framework that is controlled by a switch to drop the cabinet vertically.
"As well as considering permanent structures such as cabinets and worktops, movable furniture could be a good option too. For example, trolley-style, mobile work surfaces can help people who may otherwise struggle to move heavy or hot products around the kitchen safely.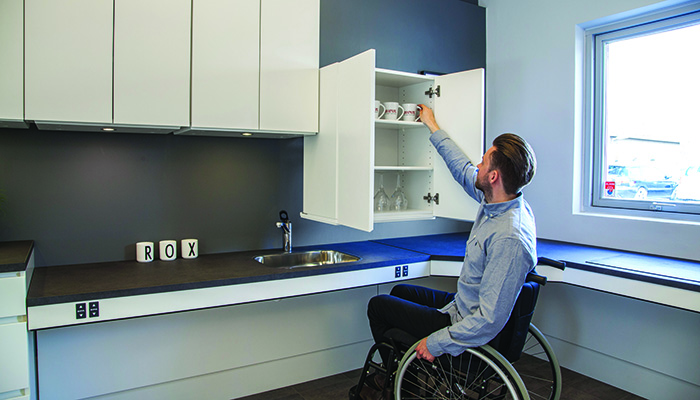 "Handles and levers can also dramatically improve the functionality of a kitchen. In some instances, removing the need for protruding accessories with handle-free cupboards may be beneficial. In other instances, J-pull doors that can open cupboards and drawers from a variety of angles may be easier to use. Even considering how handles move and operate can make a big difference – for example, some people may struggle to grip and turn circular handles.
"The Government's National Disability Strategy outlines a number of "practical actions that will help us to level up opportunity and improve the experience disabled people have going about daily life" – and improving our homes is an essential part of this. With 14million people with disabilities in the UK, it's vital that everyone, from manufacturers and architects through to retailers and installers, considers how to make homes accessible and inclusive. Thanks to the latest innovations and continual research and development in this area, the industry can make accessible living a key focus – and not an afterthought – to help millions of people now and for generations to come."