Blanco is one of the leading manufacturers of kitchen sinks and taps in the world. Its 2019 group turnover was 395million Euros and, in the UK, it offers some 2,000 sink 700 mixer options. "We offer virtually too much choice because we try to offer in every material and every design, with multiple colours and finishes, and different shapes and sizes of sinks," says Blanco UK MD Simon Hart, 59.
Getting streamlined
Recent efforts have focussed on streamlining the offer: at the end of 2019, Blanco completed its withdrawal from cooker hoods and hobs. "We want to absolutely focus on where our strengths are," says Hart. Those strengths, he says, are in a complete integrated solution for the sink hub, covering three core areas: drinking, preparation and cleaning. The concept is called the Blanco Unit, with dedicated packs of sinks, taps and bins designed as 'everything you need to make kitchen life easier everyday'.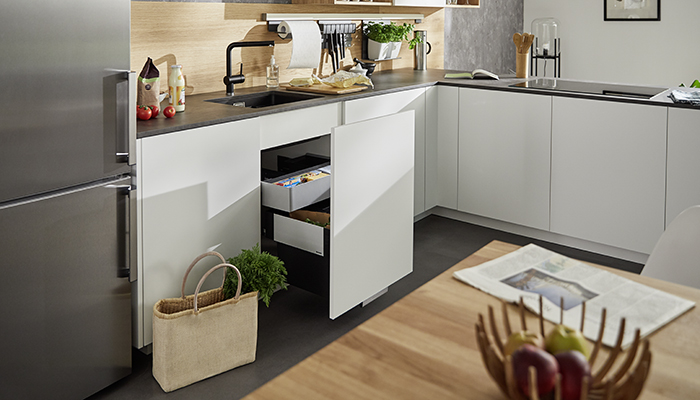 New products
There is an ongoing development of its Silgranit sinks in shapes and colours. "We think they are fantastic," says Hart. "They can be moulded into any shape the customer demands and the material itself is hygienic, doesn't scratch or burn." This summer Blanco launched a black colour option in line with the trend for black appliances.
Blanco is also focussing on high-end smart tap solutions, including hot taps, sensor taps (with their hygiene benefits demanded by the pandemic) and soap dispensers (for the same reason). But isn't Blanco late into the hot tap market? "We wanted to make sure we had the right product for the market," he says. "It is a different expertise and we also wanted to develop more of a range than just a hot tap." It means, he says, that Blanco has worked on developing its filtration systems, its Evol tap which has a measuring function for delivering exact water volume, and sensor taps. "Yes, we were slightly late into the game, but that doesn't mean that our offer isn't the right offer for the market," he adds.
Current challenges
Blanco continued operating throughout lockdown, albeit with reduced staff. "2019 turnover was just over £30million," says Hart. "This year will be less than last year, but all depends on the level of recovery we get. The first three months of the year sales were growing, the next three months saw a dramatic drop, and since then we've had a bit of an astonishing recovery with pent-up demand."
To prepare for Brexit, Hart says he is "hoping for the best and preparing for the worst", taking on extra storage to add an extra month's stock to their current 2.5 months' holding. Most products are made at Blanco-owned factories within a 50-mile radius of its warehouse in Germany, the country where the company was founded in 1925 by Heinrich Blanc. It is now part of the Blanc & Fischer Group and remains family-owned.
"We have not stopped developing new products," continues Hart, who manages a team of 75 staff in the UK. "The most important products coming are in the smart tap sector, launching at the beginning of 2021."