Tile manufacturers were back in force at this year's Cersaie, and from small-format decors and mosaics to porcelain slabs and 3D wallcoverings, there was plenty for keen trendspotters to get their teeth into. We take a tour with tile manufacturers' association Tile of Spain to find 5 key new bathroom tile trends.
1. Crazily colourful
Colours come and go, of course, but it's predicted that a post-pandemic philosophy of going crazy either with vibrancy of hue or the bold placement of tiles is sure to pervade bathroom design well into the future.
2. Marbleous stone
Richly striated marble, stone and terrazzo effects continue to be popular, and there's no longer any shyness whatsoever about using designs that are obvious exaggerations of the raw material. Dramatic swirls of colour and large flecks give porcelain wall and floor tiles the ability to transform any interior. The more marvellous the better.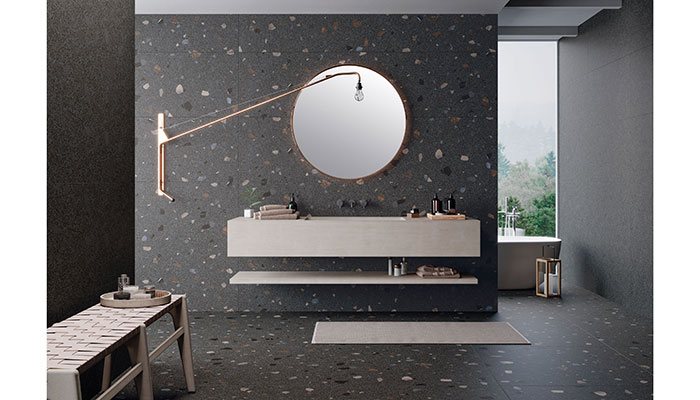 3. New Wave
Life has been rocky and wavy designs are everywhere. Undulating 3D lines can be deep and sculptural or more subtle, perhaps inspiring a calming effect. Often seen on white tile formats, these relief surfaces are frequently digitally printed with beige or gold veining, reminiscent of patterns in the sand and froth in the surf.
4. Mosaic magic
Many of the Spanish brands produce mosaic versions in their ranges, whether stone, cement or whatever the material effect, but recent times have seen mosaics come into their own. There's been a resurgence of mosaics as the stand-out design in a series. What's more, mosaic specialists are also offering some truly sensational contemporary takes on the classic mesh-backed format featuring penny-shaped tessera.
5. True to nature
There is always a counterpoint to any mainstream trend and products offering a softer look for bathroom settings will win considerable market share. Wood-effects and warm, earthy tones dominate and are often contrasted with simple white formats