When it comes to successfuly pulling together a cohesive kitchen scheme, making sure cabinetry handles are front of mind pays huge dividends, says Heritage Brass co-director Narendra Karnani.
Q: Tell us about choosing the handles for a kitchen design – at what point in the planning process should they be factored in?
A: Hardware for a kitchen can easily be overlooked, but the right cabinet knob or pull can elevate the design of the room and create a lasting impact. There are two things to consider when choosing kitchen or bathroom handles: finish and design. The finish should be considered early in the design process when thinking about materials and tones for the kitchen. You want your metallic finishes to work with the cabinetry, work surfaces and backsplash materials. Although the exact design of the knobs and pulls doesn't have to be pinned down from the outset, it is important to consider the general style of handles early, as they should reflect the overall style of the kitchen.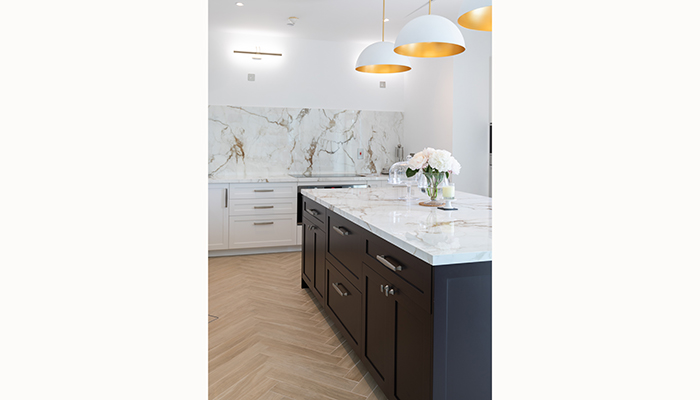 Q: How important are they to the finished kitchen scheme?
A: Cabinet knobs and pulls are incredibly important as they provide a natural focal point for the eye and accent the entire design scheme. Given that cabinet handles flow through the entire kitchen and are the points with which the user interacts on a daily basis, it is important to encourage clients to invest in good quality pieces.
Q: Does it work best to co-ordinate handles and electrical accessories or can you mix and match?
A: Some designers and homeowners choose to co-ordinate handles and electrical accessories for a continuous and considered aesthetic. Others may opt for a statement handle with a more discreet finish for electrical accessories. It's to do with personal style and it's just as important to put thought into these details as they tie the whole design together.
Q: What about handles and other elements such as taps?
A: Again co-ordinating your handles with taps, lighting and even kitchen appliances can create a beautifully unified design. Some may prefer mixing two or three finishes for added depth. The important thing is to consider all these elements together early on in the design process.
Q: What are the current trends when it comes to handles?
A: The trend focus in kitchens continues to be brass hardware, which brings elegance into the space and makes a statement. The mix and match aesthetic which comes from combining traditional and modern hardware styles remains a popular choice, with contemporary bars and classic knobs mixed in the same finishes to create a cohesive and timeless kitchen. Geometric forms and contrasting or bold combinations will continue to grow in popularity too.