We talk to Utopia Bathrooms' head of design, Richard Shore, about how bathroom design is evolving, and which are the 5 essential bathroom trends to look out for in 2022.
It is said that in this world nothing is certain except for death and taxes! What's also very true is that trends will forever drive our passion for style and reinvention. History tells us that after periods of great depression there is great innovation, and I think after the last two years the world is ready to reinvent itself with a confidence never seen before. 2022 is going to be an explosion of colour, texture and style, that will defy convention and empathise with all that we hold most dear. So here are my key predictions for next year:
1. Colour Statements
Colour trends always deliver with impact and in 2022 they will not be holding back. Sumptuous greens with endless depth and subtlety, calming pinks, cutting corals and earthy terracottas giving warmth and the occasional attitude. A spectrum of blue, graduating from uplifting aquamarines to imperial teals – colours that are individually confident and exhilarating when brought together. 2022 colours also have the firepower to challenge and make a statement when needed. Natural opulence is driving colour in 2022, with a respectful acknowledgment of the riches of nature.
2. Colour Grouping
Unicolour interiors offer a sophisticated look. By incorporating products, accessories and furniture into the same colour scheme you can give a concept a sense of consideration and balance. Neither the product nor the room are controlling the concept – they are in harmony and only the subtle differences in texture and tone can separate them.
3. Texture Fusion
The combination of natural and geometric patterns has been a growing trend for several years now. It allows designers to create a unique look by combining historically opposing styles in a balanced look with a real feel of originality. This is accentuated further by introducing a third 3D element to the concept that lifts with texture and depth. Whether it's an organic pattern embossed with a 3D geometric structure or an organic form over geometric lines the effect is equally impressive. Whether you are looking for subtlety with edge or an out-and-out statement, Texture Fusion will always enhance a design.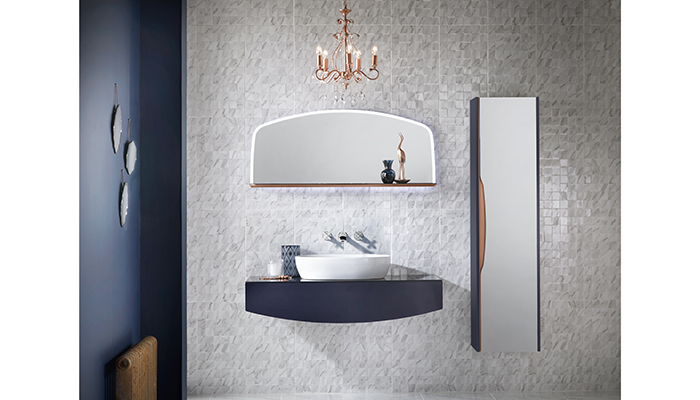 4. Organic Therapy
Plants make us happy! It's official and it's scientifically proven. It's no exaggeration to say that we would not be drawing breath if it weren't for our organic friends, and if the last two years has taught us anything, it's that we need the natural world more now than ever before. We shouldn't need the scientific community to tell us that plants make us feel better, but it is a good excuse for a study. And various surveys emphatically conclude that yes, plants not only look amazing but they also positively influence our mental health and physical wellbeing. A fact neither missed nor underestimated by the interior design world.
5. Industrial Accents
Industrial inspired design is hugely popular across all sectors and our homes are full of industrially inspired or reclaimed pieces. Designers are now using our industrial heritage as inspiration in more subtle ways, not necessarily as the dominant theme but more as a complementary accent. Techniques like applying a knurled surface to an elegant brushed gold handle combines industrial with sophistication. Black open frame structures can show off large scale pieces without them dominating the space, they can also create simple and elegant furniture pieces while minimalist brassware has more impact when finished in a brushed stainless steel.