From bespoke projects to stunning sculptural statements, there's no better way to make an impact above a client's kitchen island than with an epic extractor. Lisa Hibberd talks to those in the know and explores the latest options combining exceptional extraction power, high-tech features and cutting-edge design.
The days of box-like chimneys suspended above the hob are long gone, with the latest extractors designed to be a focal point rather than an afterthought. These important appliances not only need to look stylish, however, but must provide efficient filtration to remove cooking odours and grease – especially important in today's open-plan living spaces. "The evolution of cooker hood technology and design has turned extractors into a powerful tool and a beautiful art form in one," explains Laura Gardiner, marketing manager at Faber, which is known for its bold, all-singing, all-dancing kitchen extractors. "Creating a focal point can be a challenge for large, open plan kitchens, but by choosing a grand, designer cooker hood the eye is automatically drawn to these beautiful centrepieces. Faber not only offers showstopping designs, but takes these hoods to the next level with its exclusive 'up&down' technology. With the touch of a button, these hoods descend down from the ceiling towards the island hob to optimise efficient extraction. They can then be simply returned back to the ceiling after cooking to create more space."
"Suspending an extractor above an island interrupts the eye line," adds Alex Fuidge, marketing manager at Caple. "Therefore, it should make a statement – an intentional design element to elevate the kitchen's overall look. That's why we offer Vela in three colours to match a client's kitchen's hardware or colour scheme." By offering choices in both colour and finish, retailers can ensure that they cater to all requirements.
As well as eye-catching good looks, kitchen designers should make practicality a priority too. "A statement extractor that has adjustable illumination is the ideal option for those seeking to include powerful extraction with stunning lighting over a kitchen island," recommends Owain Harrison, country manager at Novy. "This will range from cold colour temperatures for task lighting to much warmer ambient tones when dining or socialising. Novy manufacturers all of its lighting components and the brand specialises in incorporating dimmable lighting within its overhead cooker hood models. Light can be adjusted using a remote control or via the Novy Connect app on a smartphone or tablet."
Jo Sargent, sales and marketing director at Franke UK, suggests designers bear in mind that, as well as good design, consumers are increasingly concerned with functional qualities such as quiet operation, effectiveness and energy efficiency, especially since having a deeper experience of their homes during lockdown. "When it comes to island units, the task of cooking is centre stage and part of the social interaction with family or guests. Naturally, everyone wants to be able to hold a conversation without an extractor drowning out your words. Designers should consider models with brushless motors that operate more quietly as well as those that have a premium energy rating of A and above which operate more effectively to eliminate unsociable lingering odours, while helping to reduce carbon footprint and household bills."
Adam Norris, product manager for ventilation at BSH Home Appliances Ltd, explains that although there are two methods of extraction – ducted and recirculation – some models can work with either method. "Ducted hoods extract steam and odours from the air and take them outside through ducting pipes. If a client is installing a ducted ceiling extractor, they will likely need space in the ceiling void above the hob for the ducting. To keep performance high and noise levels low, it's best to take the shortest possible ducting route, avoid bends and use rigid ducting with a large diameter. Recirculating models filter air through a charcoal filter and recirculate it back into the room. With no ducting route to plan for, these are easy to install. Filter technology has improved over recent years. Siemens Long Life Regenerative filters, for instance, last up to 10 years and are simply regenerated in the oven every four months."
"Extraction is generally the ideal and most effective solution but if this is not possible, a good recirculating model is better than a poorly functioning extraction system," recommends Annabelle Riches, Senior Brand Manager for kitchens and refrigeration at Miele GB. "The client needs to be made aware that the charcoal filters will need to be replaced periodically (although the frequency of this is reduced when selecting long-life filters that can be rejuvenated by placing them in the oven). Always ask about the types of cooking your client likes to do – if they cook richer dishes with butter or oil, the cooker hood should be installed closer to the hob, to enable it to catch as much grease as possible, as grease is a heavy particle it does not rise as high as vapours. When designing for an induction hob, the cooker hood should be wider than the hob as the vapours dissipate outwards. With gas, the vapours rise vertically in a candle-like shape, so going for a cooker hood that matches the width of the hob will work effectively."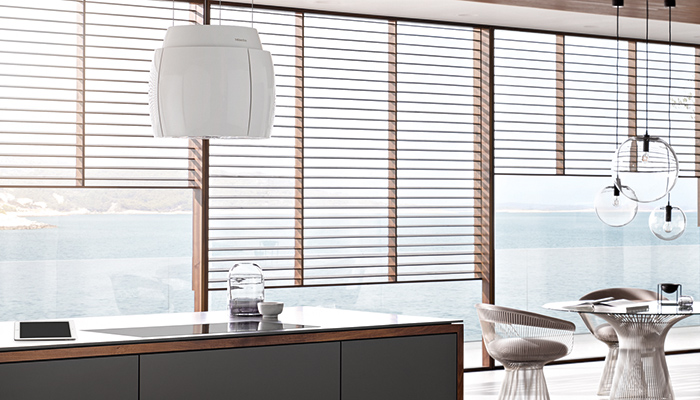 James Raynor, brand and export manger at Westin, reports that recirculation has come a long way in a short period of time, but still has its limits. "The key is to think about extraction as early in the design process as possible. Extraction can sometimes be an afterthought, but planning at the earliest stage ensures that the hood is perfectly suited to the client's lifestyle. One question that is vital that often gets overlooked is how does the user like to cook? On an island this information is crucial, as downdrafts and other surface mounted types of extraction may be ruled out immediately if the potential user likes to cook intensively, creating fumes and heat very quickly."