The kitchen needs to work harder than ever before to accommodate busy modern lives. Neil McDonald, design manager at Moores Furniture Group, discusses the key considerations for building a kitchen that is fit for purpose in 2022.
"The kitchen is no longer just a place for cooking and dining; it's the hub of the home. Over the last 18 months many professionals have adapted to working remotely and as a result the kitchen has become one of the most common places to set up desk space for those who don't have access to an office.
"A kitchen space that can double up as a working area now appeals to many, and the good news is there are lots of ways that this can be achieved whilst still maintaining the overall kitchen flow. With the kitchen needing to serve multiple purposes, the balance between eating, cooking, working, and socialising must be right to meet the needs of homeowners.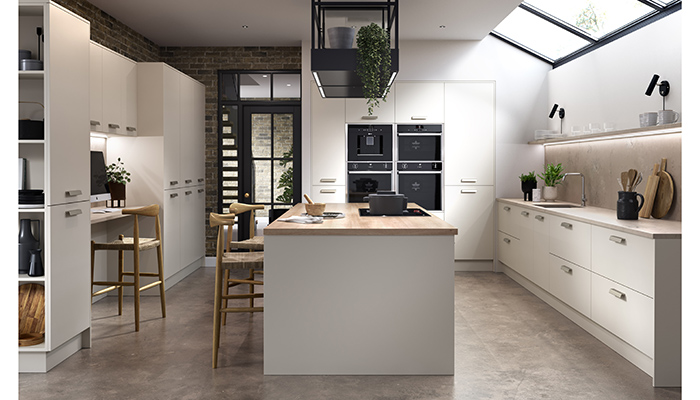 "Breakfast bars and island units that double up as desks with ample space are very much in demand. Combined with tall wall units to help to keep office and kitchen items separate, and integrated technology such as built-in audio systems and pop-up sockets, this offers up a very effective solution to a home-office for those who are short on space.
"The kitchen has also become the main place for entertaining, whether hosting a dinner party with friends or an intimate meal, with lots of design features available to help create the perfect space to catch up with friends and family.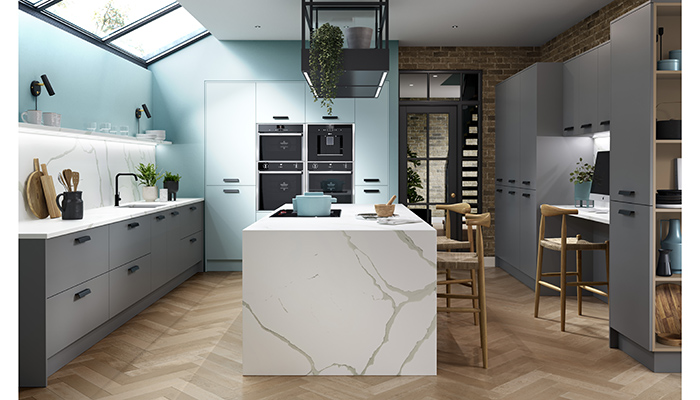 "Integrated seating areas which can be custom built to suit any kitchen are a versatile solution for when friends and family visit but can also be an effective working space or somewhere to sit and help with homework.
"There are a whole host of accent lighting options available to help set the mood in a new multipurpose kitchen, including drawer lined strip lights and built in cabinet lights which are both aesthetic and practical, taking the kitchen seamlessly from day to night.
"Likewise, there is also ample choice when it comes to built-in storage solutions. Whilst space can sometimes be at a premium, the development of smart kitchen storage designs can now meet the demand of busy modern households, making use of all the available space. Through media units, sideboards, storage towers, and seating units, kitchen designs can be adapted to make the transition from mealtime, to work to leisure time easier than ever, successfully blurring the lines between the kitchen and living area."