Proving to be one of the most sought after finishes for kitchen surfaces, the trend for marble has many consumers lusting after the opulent look of this natural stone. Fortunately all the latest imitations are really authentic – and much more suited to kitchens than the real thing. Lisa Hibberd takes a look at the best alternatives around.
"Among the many materials that are on-trend in interior design, marble ranks among one of the favourites," says Simon Boocock, MD of CRL Stone. "It is easy to see why, with the distinctive veining creating a very individual look and effectively bringing nature indoors. From a practical viewpoint, however, marble has its drawbacks, particularly when used in the kitchen." A kitchen worktop needs to be hardwearing, non-porous and easy to keep clean. "Marble is a material that absorbs liquid, causing staining unless the material is sealed and resealed over time," adds Boocock. "Marble can easily be scratched and chipped too, and can be costly to repair. Quartz and ceramic surfaces in marble-inspired styles offer a highly practical alternative. As non-porous materials, no sealing is required, yet quartz and ceramic won't let in water and they are scratch and stain-resistant. Cleaning and maintaining the natural lustre is also simple."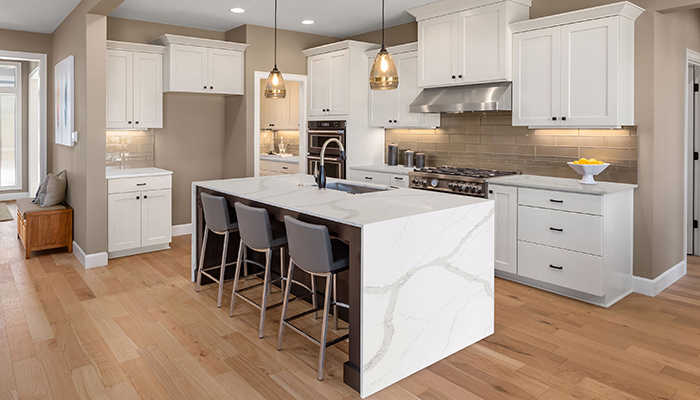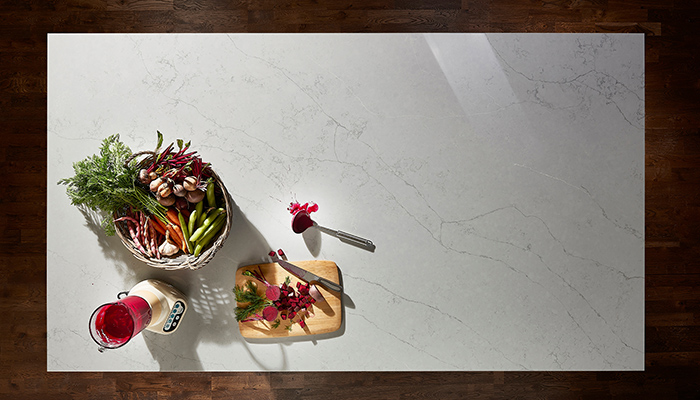 The limitations of natural stone are well documented, meaning it is not always the best option available for kitchens," agrees Jonathan Stanley, VP marketing at Caesarstone UK. "Marble in particular, is relatively soft, making it susceptible to scratching and staining, chipping and cracks. Once damaged, it can be expensive to fix. The truth of the matter is, there are far better modern materials out there. In terms of the best performing work surface material to choose, quartz worktops are paving the way to elevated, design-led kitchens, offering unique aesthetic elements which can be intentionally manufactured in, such as striking veins or flecks of colour. You can't always guarantee this with marble – if a client has their heart set on bold, striking veining, it may be that the end result isn't the case as natural stones are as they come. Quartz, on the other hand, has been specifically designed, and Caesarstone quartz in particular has a dedicated design team that work to the finest detail to create the stunning surfaces we have come to expect – each and every element has been designed with intention."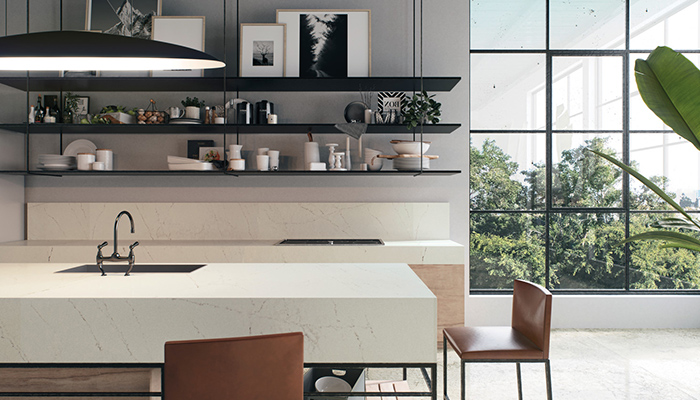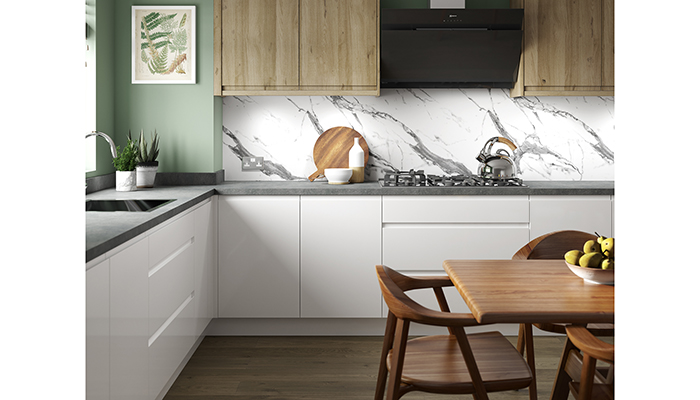 Ben Bryden, sales and marketing director of RAK Ceramics, suggests that porcelain also offers a practical alternative to real marble in the kitchen. "The material itself is very easy to care for, water resistant and highly durable so understandably a popular choice in busy family kitchens. With a wealth of marble-inspired porcelain tiles to choose from, the elegant and luxurious look of marble can be enjoyed, with peace of mind that the material is less likely to chip or stain. Porcelain also doesn't need sealing, and can chosen in a range of sizes, including large tile formats for use over extensive areas such as splashbacks and island units for a seamless look."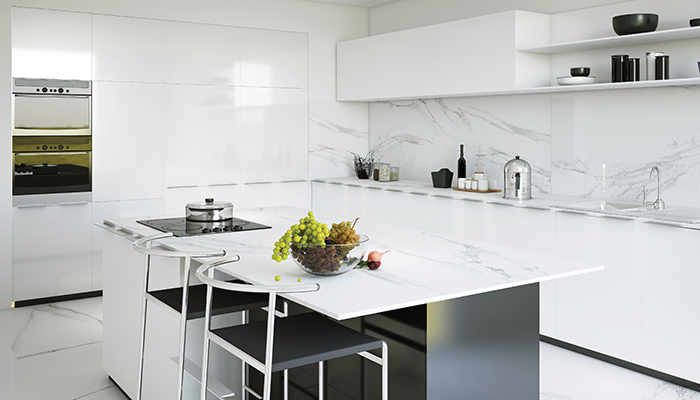 Another advantage of porcelain tiles is that they are manufactured in a whole range of realistic finishes, including marble, natural limestone and concrete. "Thanks to advances in technology, digital printing has allowed porcelain tiles to be produced with a 'natural' variation from tile to tile; just as you would see on the actual stone and marble," explains Jo Oliver, director of Stone & Ceramic Warehouse. "This reproduction is so accurate that these imitation porcelain tiles are now often indistinguishable from the real thing. This makes it possible for consumers to achieve the look they want at a lower cost and without the challenges and maintenance issues that come with materials such as marble, limestone and polished concrete."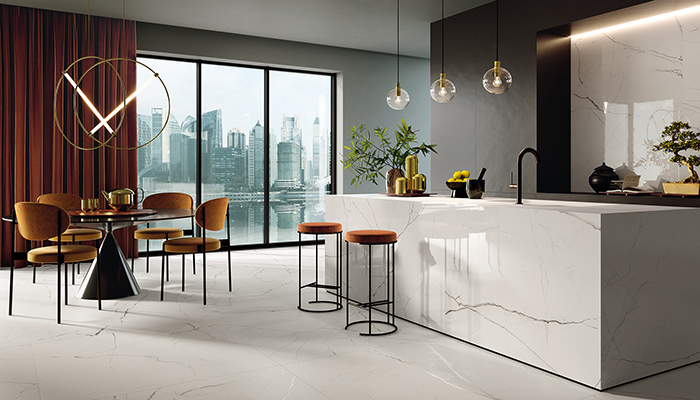 So how can kitchen retailers showcase these marble-look surfaces to maximum effect? We asked Laura Davie, marketing manager at Cosentino UK. "The ideal display would be one or two full sized kitchen displays to showcase the product in situ, plus full sample towers to allow customers to see and feel the surfaces first hand. We know from our studios that customers are taking even more time to consider their work surface choice, often wanting to see full sized slabs – we can help with that at one of our eight Cosentino Centres across the UK, where we stock a full range of large-scale slabs, so studios can direct their customers to visit us should they wish to.
For branded products such as ours, the focus should be on the benefits of investing into a quality, premium surface – so highlighting the product warranties and showing the product benefits first hand. We provide our studios with test kits for our Dekton, Silestone and Sensa surfaces, which allows them to wow customers with the physical demonstration of the stain-resistant properties."