The defining looks of 2022 spring and summer collections were revealed in fashion houses across the world early last year – and now they're working their way through to bathrooms, says Alex Bradley, operations manager at MHS Radiators.
When Pantone reviewed the top fashion shows across Europe, it showcased the colour trends that would emerge from the catwalk for 2022. From people embracing colour to make them feel better to bold choices that energise and rejuvenate the mind; what's being seen in the world of haute couture is also appearing in bathroom décor trends.
'Super Blue' is one of the key colour trends across the fashion industry for 2022. The bold hue is being used by brands from Stella McCartney to Rokh. And we're already seeing blue predominating as an accent colour in bathrooms. For example, our ever-popular Nina towel rail in Denim Blue is flying off the shelves as consumers want to bring the mood-enhancing hue into their bathrooms (so much so that we've made it a stock colour so designers can capitalise on this trend without delay!).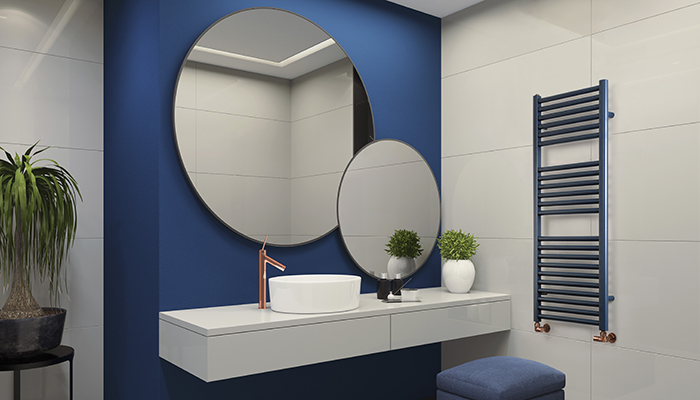 Complementing the trend for blue in bathrooms is a colour combination which Pantone defines as 'Primal Clays'. This palette includes deeper browns and copper, which were highlighted at London Fashion week. These warm tones are a perfect complement to the longstanding love for 'Chalky Neutral' palettes in bathrooms – the creams, beiges and off-whites, which are also on-trend for 2022/23.
Designers are incorporating some of these darker, richer tones in their designs using metallic finishes that add depth and contrast in their designs. We have already seen brass and copper used much more as an accent in bathrooms, such as brassware and shower enclosure trims. However, consumers are becoming bolder and embracing bigger splashes of metallic finishes to add more industrial and elemental styles. At MHS Radiators, we're seeing demand for towel rails in Antique Copper and Antique Brass finishes outperforming the once popular Chrome, which is now considered a more 'clinical' look.
Elsewhere, metallics are also proving a must-have for designers and consumers who are looking to adda touch of shine that's a little more fashion forward. Black nickel is a darker twist on traditionally 'bright' metal work with a subtle nod towards the pre-eminent use of black in fashion. As French fashion designer Yves Saint Laurent once said: "I love black because it affirms, designs and styles."
MHS Radiators may not be based in Milan, or Paris, but that doesn't stop us from keeping an eye on what's happening in the world of fashion, as well as interior design trends. We understand the strong link between both industries – working with concepts like colour, space, shape, and function. High fashion might not be on most people's radar, but its influence is strong. What we see on the runways today, will inspire the choices of homeowners tomorrow.